Nowadays, space-saving in the home is crucial. In a world where living conditions are getting smaller, saving space in the home is not only practical but necessary and multi-purpose furniture has become a must-have.
Whether you live in a small flat or house, or you just want to fully utilise every square inch of your home, furniture that serves two or more purposes, or gives you just that extra bit of much-needed storage space, is an overall great way to save space in your home.
Below we will be taking a look at some of the different types of space-saving beds that are suitable for small spaces, are multi-purposed and/or give you extra storage space.
These space-saving beds come in many of the standard bed sizes and – for the most part – are suitable for most ages, from children to teenagers to adults.
1. Bunk Beds
A bunk bed is a very common and well-known type of bed and is especially beneficial for growing families that have two or more children near in age, allowing for more than one child to occupy a space that would usually only allow for one.
A standard bunk bed is comprised of two beds stacked on top of each other with a built-in ladder or steps to access the higher bed. Most bunk beds are twins but in some cases, the lower bed can be a double bed or a futon-type sofa that can be pulled out into a bed.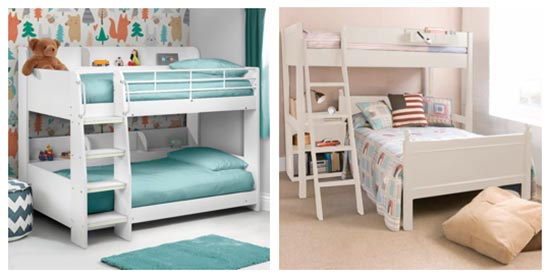 Bunk beds can be made from either wood or metal and can come in various styles, and recently the more modern bunk beds have evolved to be not only multi-sleeper but also multi-functional with space for desks and/or storage.
Different designs can incorporate three or even four beds which in terms of a space-saving bed is pretty great!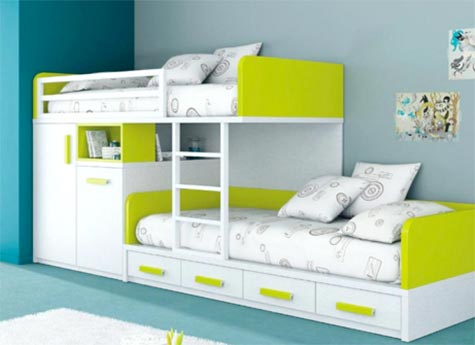 As mentioned above, the bunk bed is very common in kids and teenagers rooms, especially in homes where sibling have to share a room as it saves on floor space, allowing for other furniture to be placed where a second bed might have gone.
Bunk beds are also great in university halls or room/house shares for the same reason, as these are usually very limited on floor area.
2. Lofted Beds
Similar to the bunk bed, a lofted bed, as the name suggests, is a single bed that has been raised from the floor on a frame or stilts with space underneath for a second function such as storage, a study or living area, or even a second unattached bed.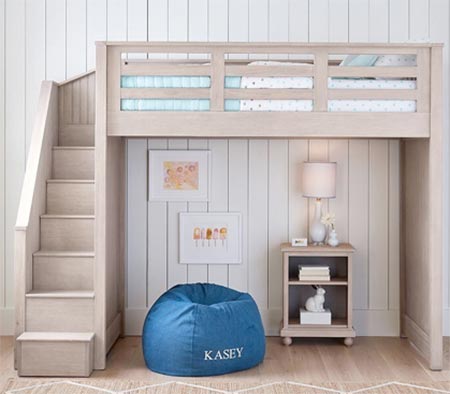 Most commonly, lofted beds are free-standing and, like the bunk bed, a great space-saving solution for a child or teenager's bedroom to free up floor space and allow for two or more functions to occupy the same space where usually there would only be one.
There are various designs and styles for lofted bed, and different heights depending on the sleeper's need, from mid-risers to high-risers.
Some designs come with built-in desks, shelves, sofas, etc, but most commonly a lofted bed is just the bed frame, in either wood or metal, so that the user can arrange their furniture underneath.
Another type of lofted bed is built either directly into the wall and ceiling or onto a type of mezzanine.
These are a great space-saving solution for very small houses or studio flats with high ceilings, and are advantageous for keeping the bed off of the floor entirely, allowing for the space underneath that would usually be taken up by a bed to be used for something else such as a living space or office.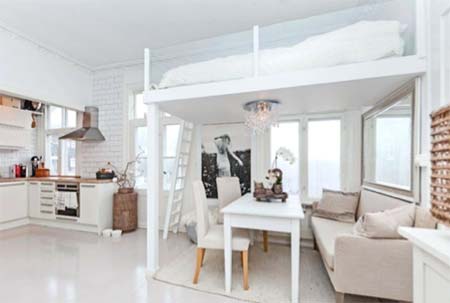 3. Cabin Beds
Similar to a lofted bed, the cabin bed is a bed that has been raised from the floor with space for storage underneath.
The two main differences between a lofted and cabin bed is that a cabin bed is not usually raised as high as a lofted bed as they tend to be either low or mid-risers.
With a cabin bed, the storage is designed and built into the frame of the bed itself rather than being a separate entity as is common with the lofted bed.
The designs for a cabin bed can vary from something simple with drawers and shelves to something more complex with built-in wardrobes, pull-out desks, drawers, mirrors and more. Some cabin beds can virtually substitute a whole rooms' worth of furniture with all the storage and function in an all-in-one piece of furniture.
How's that for saving space!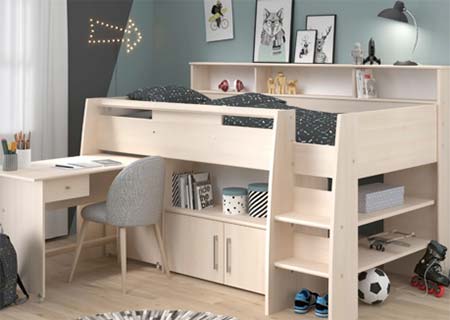 As with the lofted and bunk beds, cabin beds are commonly utilised in children and teen's bedrooms and can be very convenient in university halls where there is usually not a lot of space for extra furniture.
For families who have multiple small children who are sharing a room, e.g. twins, triplets, or siblings close in age, a cabin bed is a great way to give each child their own space for their clothes and toys and can help to teach them to be responsible for their belongings.
The rest of the room then acts as a sort of communal space for the children to play together.
4. Trundle Beds
A trundle bed is a bed that is stored under another and can be pulled out on sliders or wheels for guests.
Most commonly, trundle beds are usually combined with bunk beds for an additional third bed but are also used with regular beds so long as there is enough space under the bed to store it.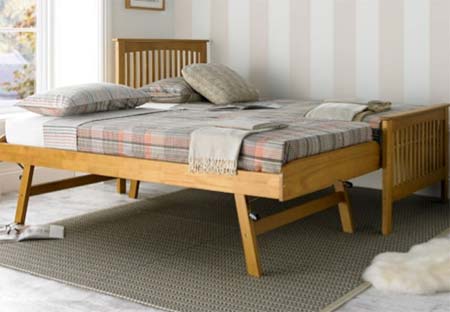 In some trundle bed designs, the trundle is attached to the main bed frame, but with other designs, it can pull free altogether to be a separate bed.
Most trundle beds have legs that are tucked under which can be pulled out or screwed on to raise the bed to a normal sleeping height. Others are designed to stay at a low level, and sometimes stay attached to the main bed frame.
Trundle beds are a great addition to any kid's room as they are handy if you have more than one child sharing a room.
It's also fun for little ones when they have sleepovers with friends. No more dragging out that lumpy spare mattress from the garage, or blowing up that air mattress! Trundle beds can also work well in a guest room for extra sleeping space.
5. Murphy Beds
A Murphy bed, or wall bed, is a mattress and frame unit that is stored vertically or horizontally against the wall and can be pulled down when needed.
The use of hydraulic hinges means that a Murphy bed is very easy to pull down and up with very little effort on your part. Murphy beds often use straps or bars to hold the mattress and any bedding in place whilst in its upright position so that they don't sag and slump.
Murphy beds can come in various designs and there are many places to buy one, ranging from simplistic to complex.
There are also several tutorials on how to make one yourself and kits you can buy for the mechanisms and springs.
Murphy beds can be hidden inside a wardrobe or cupboard – either one ready-made or one you custom build yourself – and be made to look just like any other storage space.
Murphy beds are great for small rooms with limited floor space or rooms that you need to be multi-functional such as an office or study that doubles as a guest bedroom.
With the right mattress, this space-saving bed is not only comfortable but also a pretty great feature in any home.
6. Cabinet Beds
Similar to the Murphy bed, a cabinet bed is a mattress and frame that folds back into a cabinet or chest to store the bed out of the way when not in use.
There are different designs and styles to find and, as with the Murphy bed, a cabinet bed is great for smaller or multi-purpose rooms and where a full-sized Murphy bed would be unsuitable such as in rented accommodation where you are not able to drill into the walls.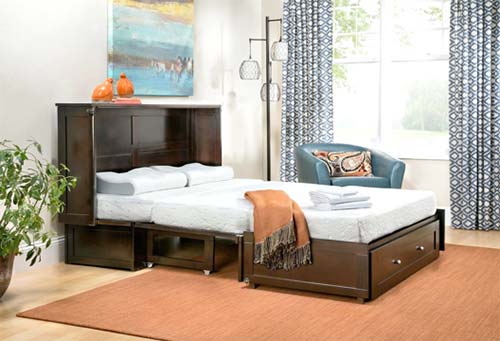 7. Folding Beds
A folding bed is a bed that is made from a metal frame with either a mesh or wooden slats to support the mattress and a pivot-and-lock mechanism that allows the bed to fold up or down and lock into place, keeping it from accidentally folding by itself.
Depending on the size of the bed and the thickness of the mattress, the bed can be stored behind a sofa, under a bed, or in a closet, tucked away and out of sight until it's needed.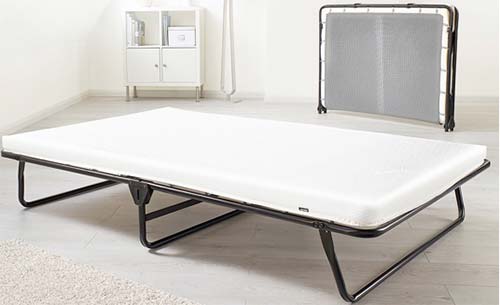 Folding beds are not recommended for everyday use as it is not a comfortable long-term solution, but for one-off use now and then or for out-of-town guests or sleepovers it is a reliable option and preferable to sleeping on the floor.
8. Sofa Beds
As the name suggests, a sofa bed is a sofa that can convert to a bed, with a built-in frame and mattress that folds out from inside the sofa to create a bed.
Most sofa beds are double beds, but depending on the size of the sofa in question they can range from single to queen.
There are two main styles for a sofa bed; a mattress and frame that are stored in the base of the sofa under the seat cushions which can be pulled out, or the back of the sofa itself folds back to lay flat and create the bed, with the sofa seat cushions and back doubling as the mattress.
These are useful in small houses or flats that don't have a spare bedroom, they look and feel just like a regular sofa and are very comfortable in both states.
Most commonly, sofa beds are used in living rooms or home offices and have been known to be used by uni students. A great way to save floor space by putting the bed and sofa all in one place.
9. Futon Beds
Similar to the sofa bed in where the back of the sofa folds down, a futon frame – either metal or timber – will fold back to lay flat.
The futon mattress is different from a standard mattress as it has to be able to fold to allow for the sofa.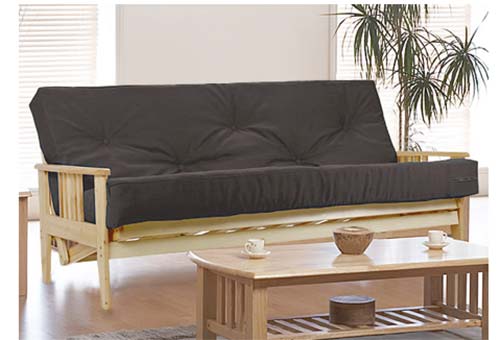 Futons often have a bad reputation for not being very comfortable and for the mattress to start to sag after a while, which is not only unpleasant to sleep on but also bothersome when it's in the upright position.
However, modern futons have come a long way and can be a great solution for a multi-functional bed/sofa combo. Futons are a low-budget solution and are very popular with uni students and first-time renters.
10. Divan Storage Beds
When it comes to bed frames, a divan is essentially a platform base usually made of two parts joined together with brackets. The base can sit on wheels or feet and often have drawers built into the base to provide under-bed storage which can save a huge amount of space on additional storage furniture.
Divan beds are a great solution for a bed that also offers extra storage space that can be hidden behind drawers and sliding doors.
A divan bed base comes in two styles, the traditional sprung edge and the newer modern platform top base.
The sprung edge design is made up of coil or pocket springs that provide cushioned support for the mattress, and the platform top has a hard-top and gives an overall firmer feel to the bed.
The Divan bed can work in almost every bedroom for any age as they come in all the standard mattress sizes, and the extra storage space is always a bonus when looking for space-saving beds.
However, it is most commonly found in master bedrooms or an adolescent's bedroom due to its no-nonsense and simple design.
11. Ottoman Storage Beds
An ottoman bed is similar to a divan bed to some extent as it also has storage space hidden within the frame of the bed itself.
An ottoman bed base allows you to easily lift your mattress, without disturbing the bedding and pillows, to access the storage compartment underneath.
The frame is built so that the platform the mattress sits on is able to lift easily using hydraulic hinges.
This means there is practically no effort on your part to lift the mattress and the hydraulic hinges keep the bed held up for you, allowing you to use both hands when rummaging underneath.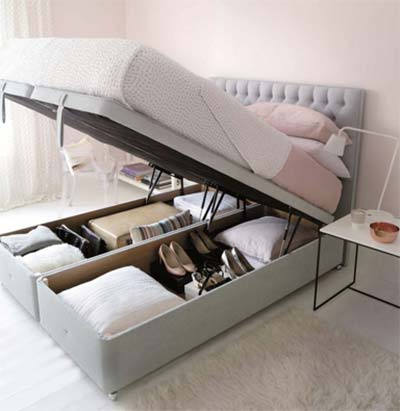 However, unlike the divan base, an ottoman bed can utilise the whole space under the mattress and can sometimes be divided into sections, offering a greater storage layout.
Whichever you choose, the space is always accessible by lifting the mattress. When you need to store something, just lift up the bed portion and there you go. Space-saving at it's finest.
As with the divan, an ottoman bed will work in any room for any age, although if you decide to have one in the bedroom of a younger child you'll want to be sure that there are no accidents and that only an adult will open and close the bed, just in case. We don't want any little trapped fingers.
All of the space-saving beds mentioned above can be found at almost any bed and mattress retailer, as well as online.
Beds that can save floor space and have additional storage are very in-demand these days which is why we think there has never been a better time to get behind the trend.
There are also many tutorials and plans on how to make various versions of some of these yourself, and as this is a DIY site, we do encourage you to do so.
Not only could you save yourself some money, but it is also very satisfying and rewarding to see the product of all your hard work when you've finished.
We have plenty of projects on woodworking and carpentry, as well as in-depth knowledge on joinery which will be very helpful and valuable information if you were to ever decide to make a bunk bed for your children or a Murphy bed for the office/guest room.