Shower trays come in a range of shapes and sizes and the one best suited for you will in many ways be dictated by the space you have available so take a good look round before you purchase.
More importantly take accurate measurements of your installation space before you start looking as you don't want to buy one just to find that it is too big to fit in the space you have for it.
Additionally, also take not of the type of shower enclosure you want to install over the shower tray. Some shower enclosure doors open outwards so you will also have to allow space for this. To find out about the different types of shower enclosure, see our project here.
If you are just looking to replace an existing shower tray we would advise replacing with a tray of the same size and style as in pretty much all cases it will slot straight in and you can use the existing waste pipe without the need to change too much.
As a summary, the most common sizes, types and shapes of shower tray, including common construction materials are as follows:
What types of shower tray are there?
Essentially, there are four main types of shower tray; low profile trays, raised trays, wet room trays and walk in trays. Each of these types of shower tray can come in a range of different shapes including square, rectangle, offset and quadrant and also in a range of different sizes such as 800×800, 900×900, 1000×1000, 1800×900 and many more.
The type of shower tray best suited for your particular bathroom will depend on several factors such as available space, the type of floor you are installing it on and the type of waste that's there, if any.
Low Profile / Low Level Shower Tray
The low level, or low profile shower tray as it's also known is a great choice for any bathroom. Their low-level appearance looks both modern and suits pretty much any type and style of bathroom and shower enclosure. Due to this they are one of the most common types of tray found in UK homes.
They are also fairly easy to fit as they are generally installed straight on top of the floor surface, whether the floor is a floating timber floor or solid concrete floor, however what ever floor it's going on, it needs to be dead flat and level!
The trickiest part of installing a low profile shower tray is that the waste will in most cease need to run below the floor. This isn't too bad when you're working with a floating timber floor as you can easily cut a hole in the floor, but can be tricky if installing on a concrete floor.
In general, low profile shower trays will be somewhere between 30mm and 50mm in height.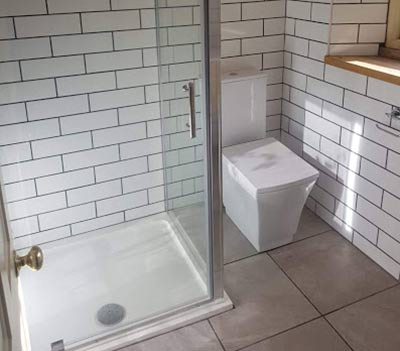 Raised Shower Tray
As I'm sure you can gather from the name, a raised shower tray is raised off of the floor. The main reason for this is to allow easy access to the shower waste trap below the tray.
Due to the fact that the waste sits above floor level, this makes the raised shower tray very easy to install and also a popular choice.
In essence, a raised shower tray is just a standard shower tray that has been raised off the ground by using purpose-made shower tray legs or any other sturdy solid material such as timber or concrete blocks.
As with the low profile tray, whatever surface you are installing on to ideally needs to be totally flat and level and fixed firmly in place so that it cannot move.
The one advantage of using purpose made legs or feet is that the majority are height adjustable, meaning that you can easily raise or lower the tray to get it totally level.
Once the tray is installed and the waste connected, the gap around the tray is then simply covered over using timber, a purpose-made clip on covering or a similar moulding.
Standard flat shower trays are usually made of stone resin which is very strong and therefore does not need legs to sit on, however if you want to raise one it requires a base to be purposly built for ease of access to the waste trap and pipework.
A DIY base can simply be made from 4 inch x 2 inch timber with a plywood top and cuts made for the waste to go through. The shower should be installed in a position where you can get to the waste relatively easily and the opening left out for access to the trap can be covered by a piece of skirting or similar moulding.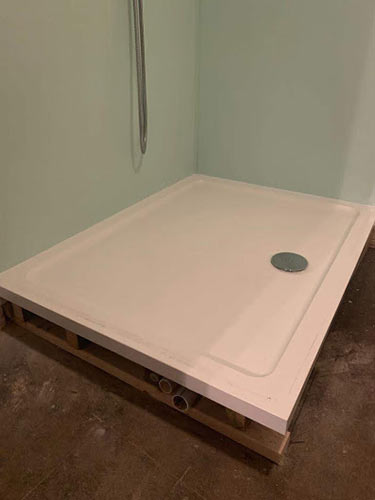 Walk in Shower Tray
The walk in shower tray is similar to a low profile shower tray, but where as the low profile tray still has a raised lip, a walk in shower tray is generally flush and level with the floor surrounding it.
Walk in shower trays are generally found in new build properties due to the amount of work needed to install them so that they are level with the floor area around them and also to ensure they are fully supported underneath.
Additionally as the tray is sunk into the floor, the waste can sometimes be tricky to install. In most cases a special "slim-line" or low level waste will need to be installed, but this will obviously depend on the available space below.
There can also be a little confusion between walk in shower trays and walk in shower enclosures. As we have mentioned, a walk in shower tray generally assumes that the user can simply walk in to the shower with out the need to step up or over the tray itself.
However, a walk in shower enclosure assumes the same, in that the user can simply walk in without the need to open any doors, but with many "walk-in shower enclosures", these use a low profile shower tray and glass screens that allow the user to walk straight in. Despite the fact you have to still step over the lip of the tray, they are still referred to as a "walk in shower", so be aware of this.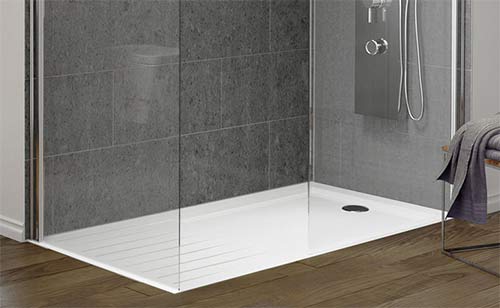 Wet Room Shower Trays
Wet room shower trays are rather unique in that, in a similar way to the walk in shower above, not only are they installed flush to the level of the surrounding floor, in many cases, the floor itself is used to form the actual tray.
It is possible to purchase specific "wet room" kits that feature a tray with integrated waste outlet that is then sunk into the floor. These types of trays are usually then tiled over up to the drain or covered with special vinyl.
One other alternative to using a tray is to use existing walls and floors but tank everything to ensure it's water proof. This process can be seen in our project on wet rooms here.
As with both solutions, the entire bathroom floor area can be covered that then gives the floor itself a seamless appearance.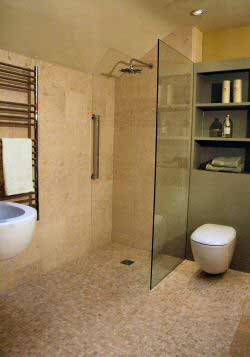 Over-bath showers
Although not technically a shower tray, if space is limited within your existing bathroom and you have a bath, why not simply use the bath as a shower tray!
In most cases the wall areas around the bath will be fully tiled to the roof, if not they can simply (and fairly cheaply) be tiled and then all you have to do is to fit a shower screen and a shower mixer tap to the bath – simple!
Although some regard this type of solution as not ideal, done right it can be rather striking and stylish!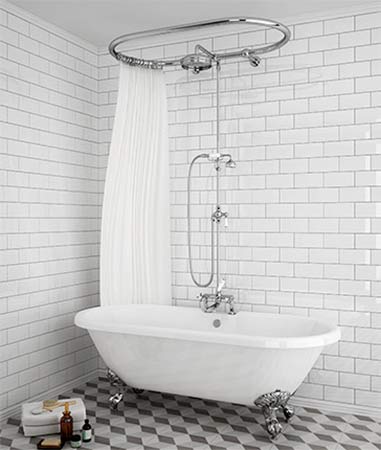 What different shapes of shower tray are there?
Bathrooms come in a great many shapes and sizes and to ensure there's a shower tray to suit every possible variation, each of the above different types of shower tray are available in a range of different shapes, the most common of these are as follows:
Square shower trays
The square shower tray is a great choice for any medium sized bathroom with a corner suitable for installing a shower enclosure in.
One of the best things about a square shower tray is the variety of different types of doors and enclosures that can be used.
For bathrooms with a bit of space you may opt for some open outwards-style doors allowing plenty of area for access, but for bathrooms with limited space, bi-fold style doors can be used instead.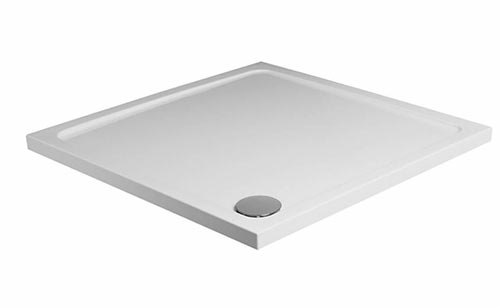 Rectangle shower trays
Fairly similar to the square shower tray above, the rectangular shower tray offers slightly more usable space due to the fact that it's longer.
Due to the fact that rectangular trays are larger they are generally more suited to larger bathrooms, but again they also benefit from a wide variety of types of doors and enclosures.
Due to this a great solution for even small bathrooms is to use a larger rectangular tray (as long as the tray will actually fit) but as the tray is longer you can then use and enclosure with sliding doors, so not only do you get a nice sized shower, you don't have to allow space for any outward opening doors etc.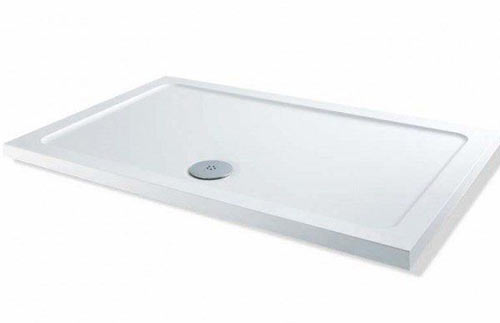 Quadrant and offset quadrant shower trays
Many modern homes these days are built with limited space and this is also the case when it comes to the bathroom, so any amenities that are installed have to provide the maximum amount of usable space for the area they cover and this is where the quadrant shower tray comes in.
As the rear edges of the quadrant tray are set at right angles they fit perfectly in to the corner of any bathroom and with they're semi-circular curved fronts, they provide a decent amount of internal space, almost as much as a square tray, but at the same time save space due to not having squared, angular front edges.
If you have a little more space in your bathroom but still want to utilise the space saving features of a quadrant shower tray you may want to take a look at the offset quadrant shower tray.
As with the standard quadrant tray you benefit from the curved front edge in terms of saving space in the bathroom, but unlike the quadrant tray where the right angle edges are of equal length, the offset quadrant features one edge longer than the other, making it more rectangular and thus providing more internal space.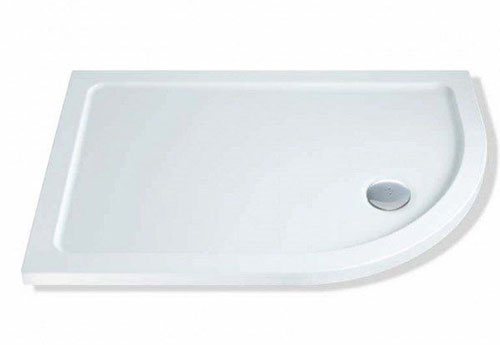 Other shapes of shower trays
The above trays are generally the most common types of tray found in UK homes but there are several other less common types of shower tray:
The D-shape shower tray, as I'm sure you can imagine is shaped like a "D". The main purpose of this type of tray is to fit flat against a long wall and allow space either side of the tray and enclosure.
This type of tray is ideal for longer narrow bathrooms, but a downside is that they tend to provide less internal space.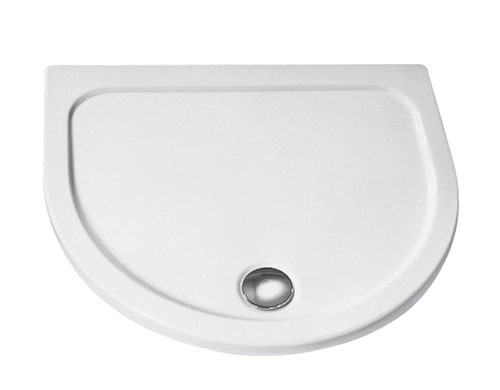 One other less common shape of shower tray is the pentagonal shower tray. These types of trays are similar to the quadrant shower tray but as opposed to having a curved front edge, it's flat.
As with quadrant trays, they are ideal for bathrooms with limited space but as a downside they don't provide as much internal space as a quadrant tray (although you can also get offset pentagonal trays that provide a bit more space) and also pentagonal-shaped shower enclosures are fairly limited.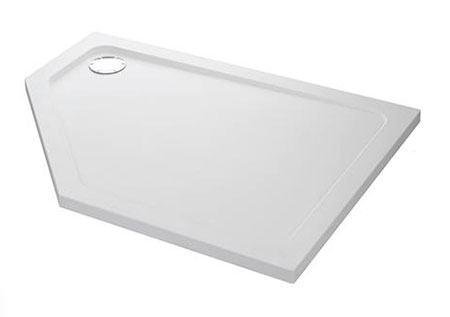 Different materials shower trays are made from
Most standard shower trays found in UK homes today are usually made of stone resin, however there are several other different construction materials for shower trays that includes ceramic, acrylic/ABS, marble and slate/stone.
Ceramic / Marble
More often that not, ceramic or marble shower trays and similar amenities are reserved for both high end bathrooms and public areas such as swimming baths, public toilets, leisure centres etc due to their extremely hardwearing and robust properties.
As they are really high quality you may be thinking why they aren't used more widely, although ceramic used to be, it's now fallen out of favour due to the cost of manufacturer. This is due mainly to their cost but also the fact that they are very heavy.
As many UK household bathrooms are on the first floor, this makes them unsuitable as the additional structural work needed to support their weight is often deemed unnecessary, especially when stone resin trays are a good substitution.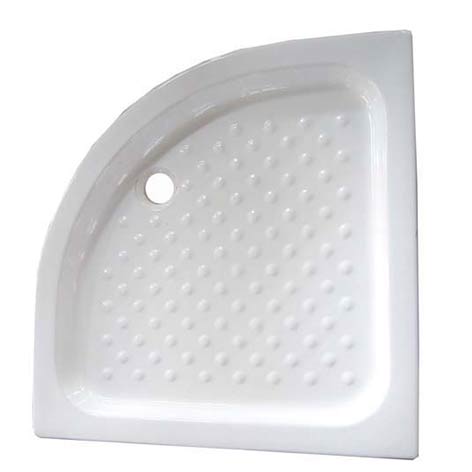 Acrylic/ABS
Acrylic or ABS shower trays are made in pretty much the same way as modern acrylic baths. As a material, acrylic is very lightweight and when correctly reinforced, can provide a good solution.
However, they do need to be fully supported and mounted solid. If not supported correctly they can easily crack and if not mounted on a solid surface, due to their flexible nature they can move causing leaks.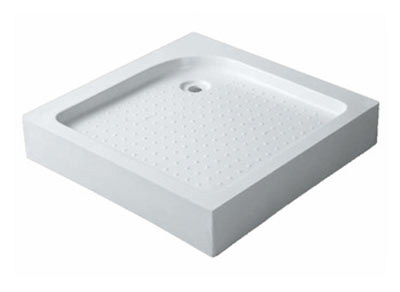 Stone Resin
Stone resin is very strong non-porous composite material made using epoxy, aggregate particles (including marble dust), acrylic resins and also colouring pigments and is pretty much today's "go-to" choice when it comes to shower trays.
They are solid, sturdy and robust, contemporary, easy to clean and maintain (especially when coated with acrylic) and also fairly heavy, enabling them to cope with anything that's thrown at them!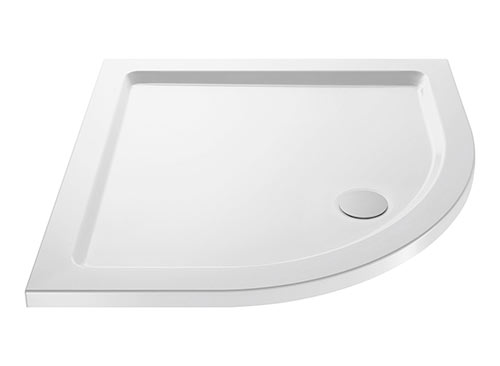 Shower tray wastes
Aside from the size and type of shower tray to go for, one other very important consideration is the position of the waste outlet on the shower tray itself.
If you are simply replacing your existing shower tray like-for-like then go for a new one with the waste in the same position as the old tray, or at least a tray that can be rotated so that the waste is in the same position as the old tray as you will be able to connect in to the existing waste pipe easily.
If it's a brand new install then go for a tray with a waste position that allows the easiest possible run of pipe work from the tray to the point that it drains in to a main drain or exits the property.
For more information and help with fitting shower wastes, see our project here.
Remember also that most trays can be turned 90&deg, 180° or 270° around if needed to not only change the orientation of the tray and how it sits but also the position of the waste.
Straighter runs are also good as they limit the number of joints required and minimise the chance of any leaks.
There are special waste traps made for shower trays which allow you to keep the tray as low to the floor as possible. Very low level shower trays sometimes need a section of the floor removing to install the waste and you must then make provision to access it should you need to.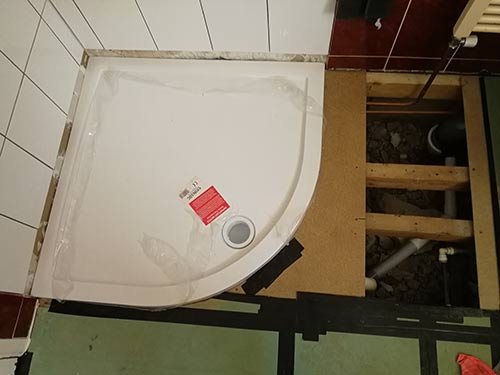 When it comes to the actual waste outlet itself you will need to ensure that it drains at a sufficient rate to remove all the excess water in the tray and that it also drains in to a suitably sized pipe, normally at least 40mm.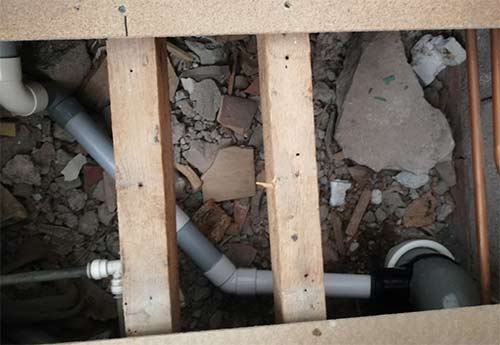 For example, if you have a large waterfall-style shower that has a high flow rate e.g. 15 litres per minute, a 10 minute shower will produce 150 litres of water and if your waste and pipework are not up to the job of removing all that water, the tray will fill up and eventually overflow!
Most shower trays these days are sold with the correct sizes waste for that particular tray, but if not you will need to go with a "Fast Flow" or "High Flow" waste (generally around 90mm) to ensure water is removed at the correct speed.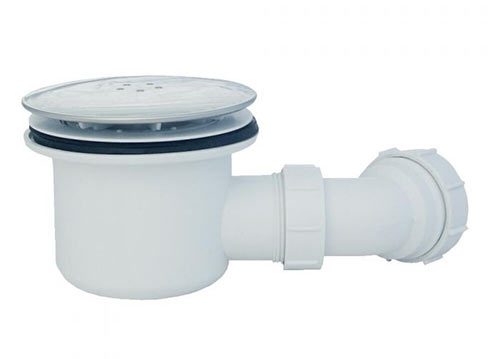 There is a huge selection of different types, shapes, styles and designs of shower tray and the one that's best suited for your bathroom is generally the one that fits correctly, allows enough space for a decent sized enclosure and also enables waste pipes to be connected with the minimum of fuss.