Installing or fitting a shower tray is very much dependent on the type of tray you are installing. Fitting or installing shower trays can be a DIY job but the utmost care must be taken to ensure a waterproof seal around the edges. Shower trays come in a range of shapes and sizes so take a good look round before you purchase.
Also, always make accurate measurements of the space you have available for your tray as you don't want to buy one just to find that it is too big to fit in the space you have for it.

Standard trays are usually made of stone resin which is very strong and therefore does not need legs to sit on. It requires a base to be built if you want to lift it off the floor for ease of access to the waste trap and pipework.
A base can simply be made from 4 inch x 2 inch timber with a plywood top and cuts made for the waste to go through. The shower should be installed in a position where you can get to the waste relatively easily and the opening left out for access to the trap can be covered by a piece of skirting or moulding.

There are special waste traps made for shower trays which allow you to keep the tray as low to the floor as possible. Very low level shower trays sometimes need a section of the floor removing to install the waste and you must then make provision to access it should you need to. Living House shower trays are made in a wide range of colours and shapes and are available in all price ranges. They are also very strong strong and hardwearing.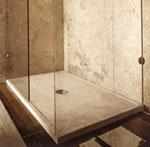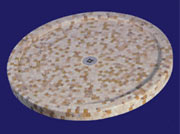 The first step of the installation is to decide whether you need a tray which will sit on the floor or on a stand. We always recommend that the tray is installed before the walls are tiled as this allows for a much more water tight joint.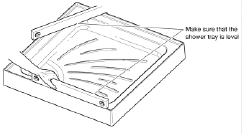 Sit the tray and make sure it is level. The bottom of the tray is sloped to make sure the water runs out of the waste so you do not need to tilt it in any way.
Insert the waste and connect it to the pipework you have run to the location. The tray should sit on a bed of sealant or sometimes, on a concrete floor, sand and cement, to assist in getting it level and to make sure it does not move.
As explained above, whether the tray is sitting on legs or on a base, the waste should be placed in a position where it can be accessed when necessary. The front (in this case) can be covered by simply fitting skirting board across.