Showers are today an essential feature in nearly every bathroom due to the fact they take up a lot less space in a bathroom than a bath, are more water efficient and energy saving than baths and in todays fast-paced world, are much quicker to use.
To suit the many different potential sizes, shapes and layouts of bathroom, there will certainly be a shower enclosure to suite the space available, so the best type of shower enclosure for your bathroom will be the one that makes the most efficient use of the space available but at the same time provide the most space for showering.
In this guide we give a run down of all the different types of shower enclosure available and the size, shape and type of bathroom they are most suited for.
What are the Different Types of Shower Enclosure?
There are essentially 8 different types of shower enclosure and these include quadrant, pentagonal, square. rectangle, alcove, walk-in and frameless enclosures. The type and size of bathroom and shower tray you have will in many ways dictate the type of shower enclosure that can be used.
The shower tray itself is the foundation of the enclosure and it is imperative that it is installed correctly. Using a spirit level, ensure that the tray is perfectly level. If it is not, then problems will occur throughout the rest of the installation (for more information see our shower tray project here).
Quadrant Shower Enclosures
Arguably, the quadrant shower enclosure is one of the most popular types of enclosure and found in many homes, especially in new build properties as their curved glass front is designed to fit into tight corners and make the best use of any space available.
Quadrant shower enclosures are available in two different types; standard quadrant meaning both sides are of equal length and offset quadrant meaning that one side is longer than the other. Offset quadrants are a little bigger due to this and offer more space within the enclosure itself.
Due to their popularity quadrant shower enclosures are available in a huge range of designs and styles to suit any tastes, and also a range of sizes with the most common being 800×800 or 900×900.
In almost all cases, quadrant enclosures will feature sliding doors as they are the most efficient in terms of space saving but it's also possible to find them with hinged outward opening doors.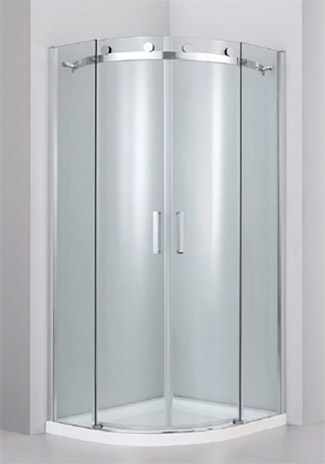 D-Shaped Shower Enclosures
The D-shape shower enclosure is very similar to the quadrant enclosure in that they are designed to make the best use of space in a small bathroom, but in some ways they go one step further.
Whereas quadrant enclosures are design to fit in a corner, the D-shape enclosure is designed for a small bathroom with limited space that may not have an available corner, but instead only has a flat wall.
In terms of sizes, D-shape enclosures are available in widths that range from 800mm up to 1050mm.
D-shaped shower enclosures normally come with sliding doors but again can feature left, right or twin outward opening doors.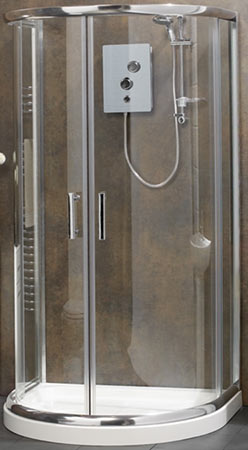 Pentagonal Shower Enclosures
The pentagonal or pentagon shower enclosure is again fairly similar to the quadrant enclosure and is very suited to small bathrooms as they provide decent space for showering and also minimise the area they take up within the bathroom itself.
The main advantage of pentagonal shower enclosures over quadrant enclosures is that as they essentially have a flat front, this allows more options in terms of what doors can be fitted, so instead of sliding doors, you have the option for hinged, pivot or bi-fold doors.
When it comes to sizes, again, pentagonal enclosures offer a range that includes the usual 800×800 or 900×900 but also some more offset sizes such as the 1400×900.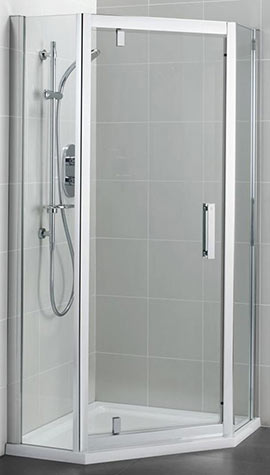 Square Shower Enclosures
The square shower enclosure is, as the name suggests, square in shape and due to this offers considerably more showering space than any of the quadrant-style enclosures.
Square enclosures are more suited to bathroom areas that are not short on space. In most cases they are installed against a flat wall, but where space allows, can be installed anywhere, even in the middle of a room!
Due to their square shape, this allows for many more options in terms of the type of door or frame that can be fitted.
Again, sizes vary and range from 700mm all the way up to 1000mm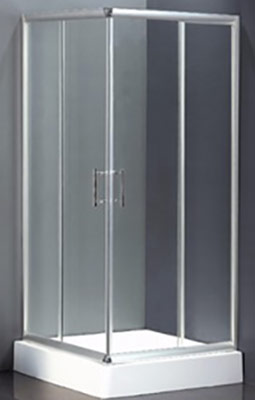 Rectangular Shower Enclosures
Again, as the name suggests, the rectangular shower enclosure is rectangular in shape. If space in your bathroom is of no concern at all, then this is the enclosure to go for!
As with their square counterparts, rectangular enclosures benefit greatly from the range of different doors or frames that can be fitted.
In most cases they are again installed along a flat wall but can be placed pretty much anywhere.
Sizes of rectangular shower enclosure range greatly, with small enclosures being somewhere around 800×1200 and larger ones all the way up to 900×2000.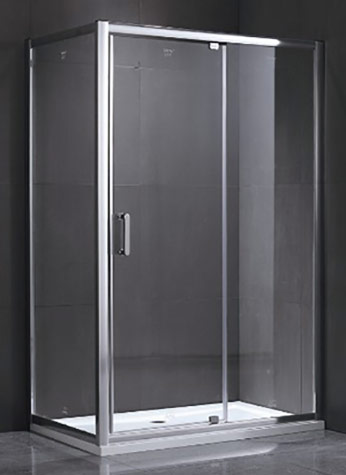 Alcove Shower Enclosures
The alcove shower enclosure differs slightly in that it is created within an existing alcove space within a bathroom, meaning it's surrounded by 3 existing walls and then you simply fit a door or curtain in front to create the enclosure.
As you can only essentially fit a curtain or door (door being the preferred option) you do have several options including hinged, pivot and bi-fold outward opening doors. In some cases, you might also be able to use inward opening doors, but this will depend on how much space is available.
The size of alcove shower enclosure you can have will be dictated to you by the size of actual alcove. If you're lucky you might be able to find a shower tray to fit the space but if not you may have to go down the custom route.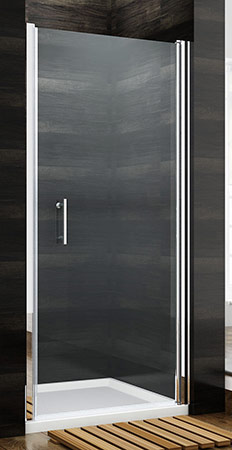 Walk-In or Fixed Divider Panel Shower Enclosures
A walk-in shower enclosure normally allows the user to simply "walk in" to it without the need to open any doors which differs slightly to other enclosures.
In most cases, walk-in enclosures are constructed from thick (usually at least 10mm) toughened glass panels. Normally, the panels are fixed to the surface of a wall and then down on to the shower tray to prevent movement.
As mentioned, the walk-in element normally indicates that you simply walk in to the shower so no doors are present (although they can be fitted if required), and it's the way that the glass panels are arranged that prevent water spilling out into the rest of the bathroom.
Walk in shower enclosures are increasingly popular due to their minimalist stylish looks and are often compared in appearance to a 'wet room' but are generally more practical as all the water is enclosed.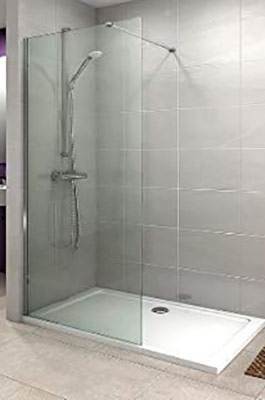 Frameless Shower Enclosures
The frameless shower enclosure is in essence very similar to any other shower enclosure but as the name indicates, doesn't feature any kind of frame to hold the glass panels in place. Instead, similarly to walk-in/fixed divider enclosures, the glass panels are fixed to a solid wall and shower tray/base.
As there is no supporting frame, the glass itself needs to be structural and strong enough to support itself and any knocks or bangs it may receive. Due to this the glass panels are normally at least 8mm thick tempered (heat treated) glass.
Due to the weight of even smaller glass panels of this type, they need to be securely fixed to a solid brick or block wall and not a stud partition.
To fit a frameless shower enclosure is slightly harder than other models but the final streamline appearance is worth the extra effort.
If you would like to find out how to fit a shower enclosure, see our project here.
Other Types of Shower Enclosure
Now that you know what the standard types of shower enclosure are, there are in fact 2 additional types which are bath screens and wet rooms.
The reason for not including them in the list above is that they aren't technically shower enclosures in the traditional sense but as they do essentially create a shower area, it's essential that we do mention them.
Bath Screens
In a similar vein to the quadrant shower enclosure, bath screens are generally used where space in a bathroom is limited, but both a bath and shower need to be fitted.
Essentially, the shower itself is installed above a bath and the bath itself acts as the shower tray and a fixed or moveable screen is fitted to the open side of the bath to prevent water spilling into the rest of the room.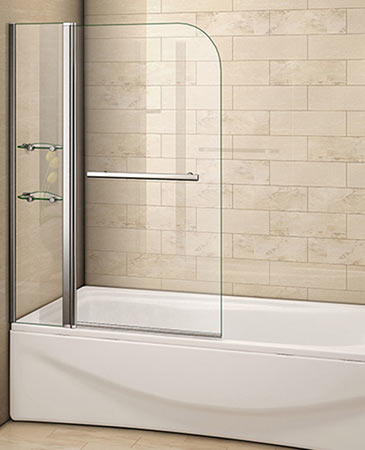 Wet Rooms
The wet room is in essence, very similar to the walk-in shower, with the only major difference being that the bathroom as a whole acts as the actual enclosure.
In most cases a fixed divider panel will be installed also to prevent water from the shower soaking the entire bathroom but if the room itself is big enough there may be no need.
Wet rooms are a fairly modern idea and although they make great use of any space due to the fact that there are no actual fixed enclosures, but the down side is that water does get everywhere even when you have a divider screen.
Different Types of Doors for Shower Enclosures
There are in fact 5 different types of shower door and these include hinged, pivot, sliding, bi-fold and in-swinging shower doors. Each different type of shower enclosure has a door that's best suited to its design, but it's also possible for a given enclosure to have a range of different door-types.
For example, most quadrant shower enclosures come with sliding doors, but it's also possible to get them with either single left-hand or right-hand opening doors or in some cases double opening doors.
The range of different types of shower enclosure coupled with the range of different types of door ensure that there no matter what type, size or shape of bathroom you have you are certain to find a combination that works for you.
Hinged Shower Doors
As the name suggests, a hinged shower door is attached to the enclosure frame or glass diving panel using a hinge.
Hinged shower doors offer the most accessibility to a shower enclosure as by their nature, they can be opened 180° from their closed position and due to this tend to be one of the most common methods of fixing a shower door in place.
In the majority of cases, there will be at least 2 hinges holding the door to the frame or panel but if the door itself is heavy then 3 or even 4 may be used.
Hinged shower doors are commonly found on square, rectangle, alcove, frameless and pentagonal shower enclosures.
Pivot Shower Doors
Pivot shower doors also provide decent access to a shower enclosure and allow the user to open the door just a little wider than 90° from its closed position.
In some cases, some pivot doors can open both outwards and inwards.
Essentially the door is fixed top and bottom a few inches in from the non-opening edge of the door via pins that fit into brackets on the head and base section of the enclosure frame.
Although the opening provided by a pivot shower door it less then a hinged door, the fixing itself is much stronger and due to this is often used for thicker and heavier doors.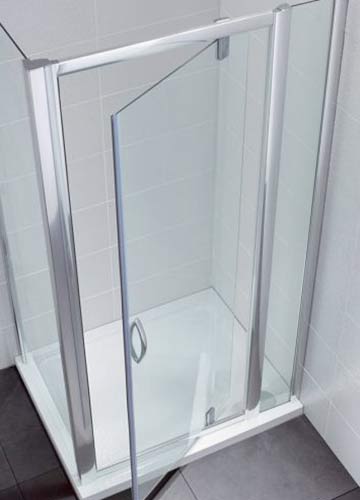 Sliding Shower Doors
Sliding shower doors are often used where space is limited as they slide back into the enclosure itself as opposed to opening out into the bathroom.
They are generally featured on quadrant shower enclosures due to the additional space saving abilities but can also be used on both square, rectangular and pentangular enclosures.
Sliding doors generally have runners fixed to them that sit within recesses in the top and bottom of the enclosure frame and as the door is opened, the runners slide the door back within the frame.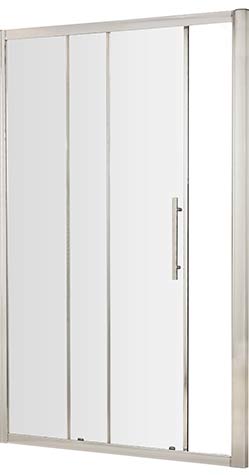 Bi-Fold Shower Doors
Bi-fold shower doors are again very suited to situations where space is limited. They work on a "concertina" basis and are hinged in the middle. The opening end of the door generally features a sliding bracket fixed top and bottom that pivots allowing the door to slide open or closed.
In most cases, bi-fold doors open into the enclosure, allowing the user to enter and then slide them closed behind them.
Bi-fold doors are ideally suited to a range of enclosures that include quadrant, square, rectangular, alcove and pentagonal.
In-Swinging Shower Doors
In-swinging shower doors are in a way a combination of both pivot and sliding mechanisms that work together to allow the door to open into the shower enclosure.
They feature a clever concealed track that enables a full size door to slide open into the enclosure without the need of any folding or bulky sliding track to keep the door away from any walls or other surfaces.
In-swinging shower doors are a great space-saving solution that suits a range of different enclosures including pentagonal, square, rectangular and alcove.

One final point to mention that we have briefly touched on above is the different ways that a given shower door can open.
Shower doors come in essentially 6 different types; left-hand or right-hand outward opening, left-hand or right-hand inward opening, sliding or folding.
When looking for the best shower enclosure for your bathroom, pay close attention to the items in your bathroom and where they are e.g. is the toilet to the left, right or side of where the shower enclosure is going to be? Where is the sink to? Is it right in front or slightly to the left etc.
This is very important to note as if you buy an enclosure with a right-hand opening door but your bathroom is fairly small and the sink is in front of the enclosure, it might be that when you open the door it hits the sink and you can't actually get in!
In general, sliding shower doors are the best solution as they make the best use of space, but it's not always possible to fit your desired type of door to the type of enclosure that's best suited to your bathroom space e.g. fitting sliding doors to an alcove shower enclosure would be almost impossible.
Different Types of Shower Enclosure Glass
Aswell as deciding what type of enclosure and door works best for your bathroom you also need to decide what type and thickness of glass you want to use.
In terms of glass thickness, shower enclosure glass is measures in millimeters and thicknesses include 4mm, 5mm, 6mm, 8mm, 10mm and in some cases up to 12mm thick. Generally the thicker the glass the more expensive and heavier it will be but also the more hardwearing and structurally.
With most cheaper, more basic enclosures, they will mostly be constructed using 4mm clear glass. Although relative thin, it most cases it will be tempered (toughened) so will be fully up to the task of everyday use.
The thicker glass tends to be reserved for more expensive enclosures or those that need to be structurally sound such as the glass used in a frameless or walk-in style enclosure that in some cases will need to support its own weight.
As well as glass thickness there are also several different types of finish, these include:
Clear Glass: As the name suggests, this type of glass is perfectly clear and translucent. Clear glass is the most commonly used type of glass used in a shower enclosure
Frosted Glass: Features a "frost-like" appearance that reduces the opacity of the glass to obscure the view of any one inside the enclosure. Generally, only one side of the glass is etched to create the frosting effect leaving the other face flat and smooth
Rain Glass: Rain glass is a form of patterned glass that creates the effect of rain or water drops running down it. As with frosted, rain glass obscures the view of anyone within the shower enclosure and is only patterned on one face
Polar Glass: Polar glass is also a form of patterned glass and produces some of the highest privacy levels
Tinted Glass: This type of glass as you may guess, is slightly coloured, normally either bronze or grey. While not producing the privacy levels associated with rain, frosted or polar glass, it does go some way to reducing the ability to see within the enclosure
If you have read through the above you may have picked up on the terms tempered and hardened. This describes the process of heat treating glass to make it tough and strong as opposed to brittle and easily breakable so that it's safe to use without the fear of it shattering and causing injury.
Aside from tempered glass, there are also 2 further types that include laminated that features an internal film that holds the glass in one piece if it's broken and coated glass.
If you are embarking on a complete bathroom makeover, then alongside a new shower enclosure you may also be fitting a new shower. This is the last job to be done once the enclosure has been fitted.
For more information on fitting showers and the different types of shower available see our concealed showers project, our electric showers project, our power showers project and also our thermostatic mixer shower project.