Handy Tips for Proper Tool Storage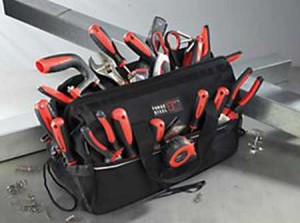 If, like most workmen, you take great pride in your tools, you'll probably be aware of the need to keep them safe and sound when not in use. In addition, tools left lying around can pose a health and safety hazard to others, especially small children and animals. So it's in your best interests to invest in a storage solution which will both protect your tools and keep them out of the way of wandering hands.

Easy Tool Storage Solutions
If you have the facilities, the easiest way to keep your tools safe is to store them in an empty cupboard. But to make such a cupboard an appropriate place for tool storage, you may need to adapt it to suit your needs.
Installing shelves will increase your tool storage space and allow you easier access to your tools when you need them the most. After all, there's nothing worse than not being able to find what you want when you need it! Shelving will also make sure your tools are kept out of the way of children, so make sure you store your most dangerous items closer to the cupboard ceiling. Installing a lock on the door will also improve your security, and make sure your tools are kept safe and sound.

Adapting a Garage or Outdoor Workspace
If you're lucky enough to have a garage or workspace in which to keep your tools, you may wish to think about storage solutions which are a bit more creative than just a cupboard. If you don't have an outdoor space you can use, you may wish to think about investing in wood or log cabins for sale. Affordable, sturdy and easy to assemble, they are a great storage solution for any proud tool owner. They come in kit form so can be put up as a DIY project.
A tool rack is a great idea for anyone who has lots of tools and not much floor space. Not only will it keep your tools nice and neat, it will also allow you to find what you need, when you need it, quickly and easily. There are plenty of tool racks available to buy both on and off line, or you can make your own if you think you're up to the task. Of course, if you have enough tools to warrant a tool rack, you should be more than capable of making your own!
Another great tool storage idea, if you have the space, is a professional work bench with integrated storage solutions. This will be of particular use if you have lots of smaller items, such as bolts, nuts, screws, screwdrivers, tape measures etc.
Protecting Your Tools from the Elements
Storing your larger tools in a garage or outdoor workspace can be very handy, but it's important to make sure your tools remain protected whilst not in use. Larger metal and/or electrical items should be stored on pallets, and covered with dust sheets to ward off rust. It may also be worth investing in insulating or sealing your garage or outdoor workspace, to prevent your tools being affected by the elements whilst in storage.