Chickens can be a great addition to the family. Not only are they great pets they are cheap to keep as they eat a lot of kitchen waste including vegetable peelings and other food waste.
They also produce a regular supply of fresh healthy eggs that are higher in Vitamin E, Omega acids and lower in cholesterol than supermarket-bought eggs and they are also entertaining to watch!
If you are an avid gardener, chicken droppings and old bedding is a great source of manure that can be dug into your soil or added to your compost heap to help enrich it and produce a fantastic organic fertilizer.
If you have decided to keep chickens in your garden you will need to provide a nice safe and roomy run for them to roam about in.
In this DIY guide we are going to run through the steps involved in building a secure and spacious chicken run or enclosure for your chickens to live in.
Keeping chickens healthy, safe and entertained
Chickens are very curious creatures and like nothing better then exploring any and all areas in which they live. By nature, chickens like to roam and to keep your chickens as happy and healthy as possible you need to provide them with as much space as you can.
Generally this involves building your chicken run as big as possible in an area of your garden that features bushes, trees and other objects that your chickens can entertain themselves with.
If you have a fairly enclosed garden area then in some cases you can allow your chickens to roam freely around it during the day if family members are around in the day to keep an eye on them and lock them up in a nice safe coop during the night.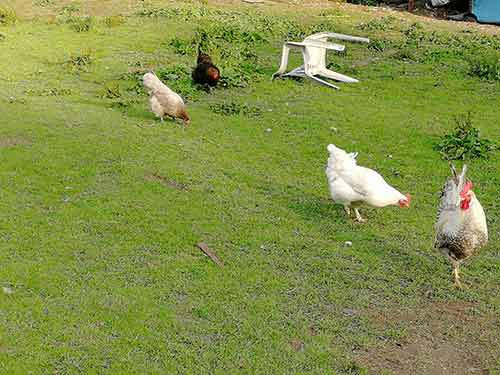 Although allowing as much freedom for your chickens as possible is ideal, it's not always safe to do so, especially if you live in an urban area where cats, foxes and other predators are abundant. In these situations you need to plan your chicken run to be as big as you can and also provide as much entertainment as possible.
Some great sources of entertainment for chickens are as follows:
Swings and perches provide chickens with hours of entertainment allowing them to swing back and forth and hop from perch to perch
Hanging vegetables such as cabbages and cauliflowers on string from the top of your run allows your chickens to peck away for hours and hours, not only keeping them active but also giving them a healthy snack
Piles of straw and hay are great for chickens as they love to scratch and root through them for bugs and other insects
Rocks and stones are a haven for bugs and insects and will give your chickens a plentiful supply of insect-based snacks
Chickens love to preen themselves and take great pride in how they look so adding a mirror to your chicken run will let your chickens prance around in front of it allowing them to keep themselves in tip top condition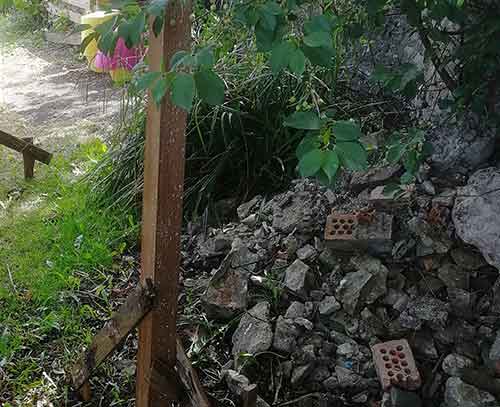 A healthy chicken should be very active, pecking about at the ground, chasing bugs, chasing and sometimes pecking at other chickens and drinking and eating regularly.
Their eyes should also be bright and clear and their comb (the fleshy crest on a chickens head) should be a wax-coloured bright red.
Keeping your chickens in top health is of prime importance and to keep them happy and healthy pay close attention to the following points:
Spend time with your chickens and allow them to not only get used to being around you but also so that you can learn their individual personalities. By knowing how an individual chicken acts you can tell if they are under the weather or not
Regularly inspect each of your chickens feet and ensure they are free from cuts and scratches and also check that their feathers are nice and plump and fluffy and that their skin is free from lice and other parasites
Fresh drinking water is an absolute must! Water should be changed every day and checked twice a day when its hot. One tip is to add a small amount of apple cider vinegar to your chickens water (about half a tablespoon per litre of water). This will help ward off bacteria and other harmful organisms and also help your chickens digestive system
Keep your chicken coop and chicken run clean and tidy. Remove any droppings, damp bedding and other debris and replace with clean and fresh bedding daily. Again apple cider vinegar is a great cleaner. Mix some in a spray bottle with some clean water and spray your coop down and give it a good wipe down
Give your chickens a good diet! Be sure the food you give them is correct for their age. Some great information on what you should feed your chickens can be found here
Maintaining your chicken run and chicken coop is also very important. Spend a little time each week going over both to inspect for wear and damage and repair if required
Chickens love a good dust bath and this helps to keep their feathers in top condition and free from lice so providing an area where they can create a dust bath is a must
Ensure NO food is left lying around at night! Unfortunately chickens are synonymous for attracting rats due to the "easy pickings" so don't leave any food lying about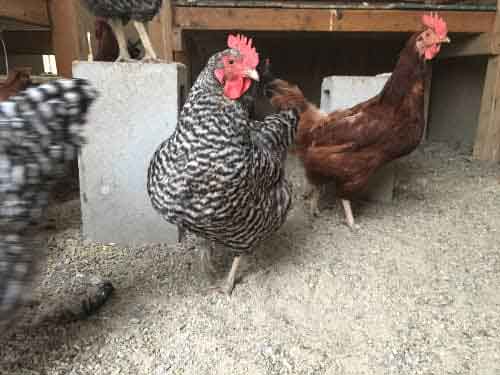 Ensuring that you keep both your chickens and their run and coop in top condition will be reflected in both the joy you will get from watching them and also the bounty of nice fresh eggs you'll receive in kind!
What different types of chicken run are there?
There is a huge range of different chicken runs available to suit any type of garden and number of chickens. Some are fairly small and compact and only suited to 2 or 3 chickens where as some as fairly vast and can easily accommodate an entire flock.
The type of chicken run that you go for will very much depend on the space that you have available. For the purposes of this guide we are going to build a medium size run for 4 chickens in a currently unused area of a garden.
The particular design that we have gone for can be increased or decreased in size as needed, the principles of construction are pretty much the same regardless, only the volume of materials required will change.
As the owner of the property was aiming to make chickens a permanent feature in their garden, the chicken run itself was constructed as a permanent feature but with also the scope and space to extend it in the future if needed.
Before we get stuck in with our chicken run construction it's worth familiarizing yourself with some other designs. This Pinterest board has a great selection of different shapes and sizes of chicken run.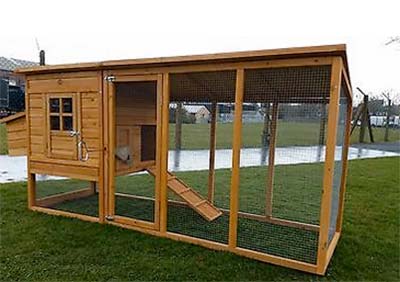 How big does a chicken run need to be?
The recommended absolute minimum area for a chicken is around 1 square metre per chicken, but this is an absolute minimum!
As far as we are concerned this is no where near enough space so as mentioned, build your chicken run as big as possible to allow your chickens as much space as possible for the number of chickens you have.
Whatever you do, do not overcrowd your run with too many birds, this is both cruel and will ultimately cause your chickens distress meaning they won't lay anywhere near as many eggs as if they were happy and not fighting for space.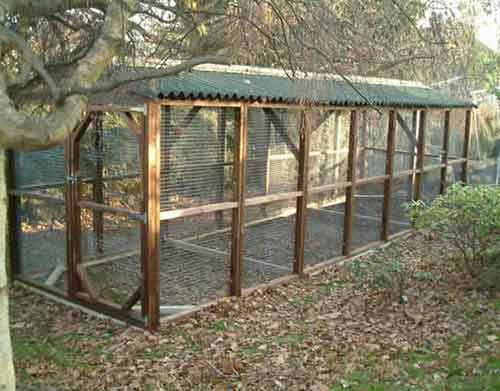 How to build a chicken run
As we have mentioned above, we are going to build a permanent chicken run in an unused corner of a garden. The spot was chosen not just because it was currently unused, but also as it featured a tree, pile of stone and also some small leafy shrubs, all ideal for keeping chickens entertained.
As also mentioned, if this particular design is too small or large, simply increase or decrease the size by adding or removing posts.
As this was a lockdown project, we used timber fence posts for this particular design as they were the only materials we had to hand that were up to the job. You can easily substitute timber fence posts for concrete posts or even pressure treated 4×2 inch timbers or similar if you wish.
One other bonus was that the area featured a solid stone wall that could be used to form the rear of the run that allowed us to reduce the number of materials used, so consider features such as these when planning your own chicken run.
Mark out fence post positions
As we were using fence posts for our chicken run, the first job was to mark out exactly where each of our posts was going to go.
As it was pouring with rain when we did the initial planning for the run, accurate measurements were taken and then we planned out the entire structure on paper that included all of our measurements and posts positions.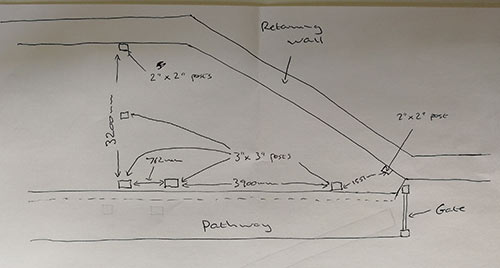 As we already had an old gate knocking around we decided to put this to good use so we spaced the doorway posts to reflect the size of our existing gate.
As you probably won't have an old gate hanging around you can size your entrance opening as desired. In this case the run entrance was going to be 726mm (720mm for the gate and 3mm spaced either side).
Once the rain has subsided we then mapped out all post positions using stakes hammered into the ground
Dig fence post holes and insert posts
With all our post positions marked out it's now time to start digging some holes. Where any kind of fence post is involved it's normally suggested that at least 25% if not more of the post is buried in the ground to provide adequate support for fences and the similar.
In this case as we are only supporting chicken wire and we are going to be tying the whole structure together we are only going to sink the posts down 450mm (or 1 1/2 feet). This will provide more then enough structural rigidity.
Although the fence posts we are using are treated, before installing them we are going to add a little more protection to them by coating the end that will be sunk in the ground in bitumen paint.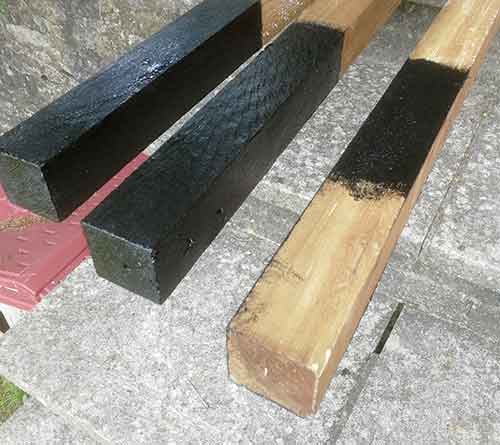 With our posts treated we then started to install them, firstly starting with the entrance.
Our holes were dug to 450mm and we then inserted both posts, ensuring that they were spaced to our required 726mm. A string line tied between stakes was also used to keep the entrance opening posts in line with each other and also the other posts when installed.
They were then leveled using a post level and held precisely in place using some braces made from scrap timber.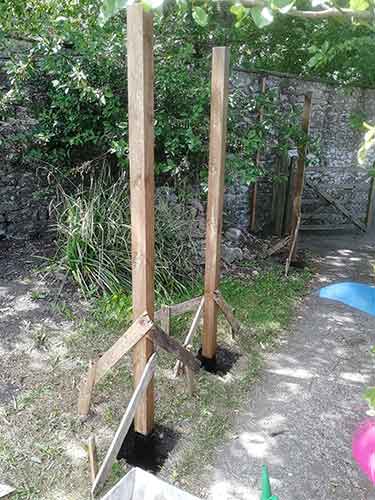 As we were also using the back wall to form the rear of the chicken run, instead of fully sinking the post into the ground we only sunk it down by 100mm. We then fixed our post to the walls surface using frame fixings, making sure it was vertically level before doing so.
As the wall was going to provide all the structural rigidity necessary, instead of using a full sized fence post we used a 50mm x 50mm timber instead.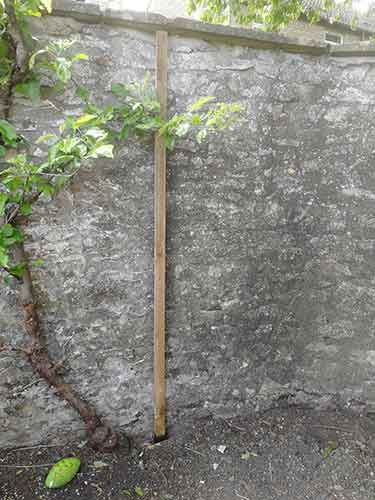 This was also the case at the opposing end of the run. As we were butting up to another wall we again used a 50mm x 50mm timber that was fixed to the wall, with the base being sunk down into the ground 100mm. Again, the base was also given a coating of bitumen paint to protect it.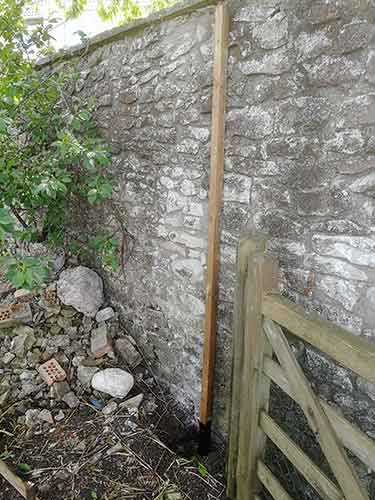 As the area we were using was slightly triangular, the next post that we installed was placed at the point where the run would start to run diagonally off to meet back wall. As with the others, a string line was used to keep this post inline with the posts used to create the opening.
The final post that we installed was placed between the timber fixed to the wall and the entrance post that defined the corner of the run.
To keep as much space inside the run as possible for the chickens, the coop was going to be placed outside the run so we wanted a nice secure stable point to fix secure the coop to.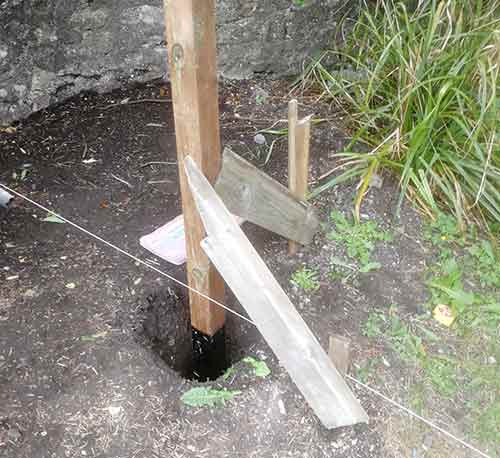 Now that all post holes had been dug and the posts installed, lined up using our string line and braced so they were totally square and vertically level we could now get them cemented fully in place.
Level posts and concrete in
With all our posts now sunk down in their respective holes and braced so they are totally square to each other and vertically level it's now time to get them cemented in place.
As they had been left for a few days, before getting stuck in with cementing them in place we first went over each of them with our post level to check they were still level. If not, they were adjusted.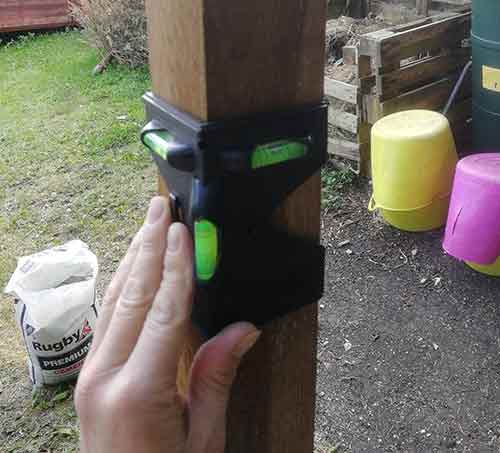 We then mixed up what is known as a C20 cement mix (1 part cement, 2 parts fine aggregate, 4 parts course aggregate – more information on mixing cement in our project here) and then filled each of our post holes.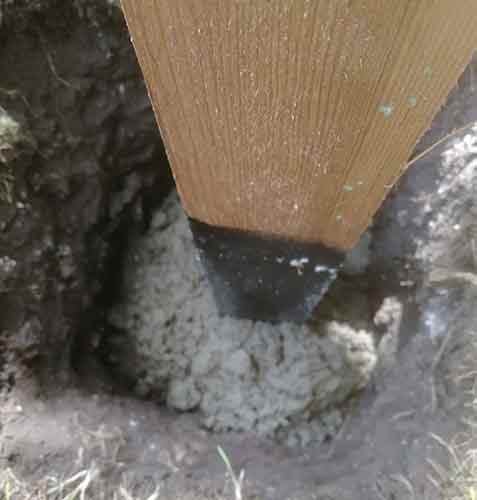 As the cement was added to the hole it was tamped and compacted down using a 3×2 inch timber offcut.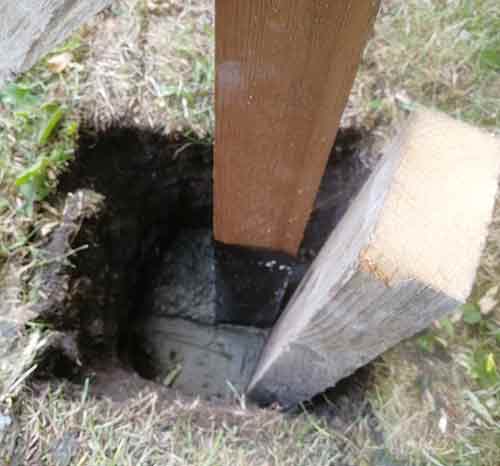 The posts were then left for 48 hours for the concrete to fully cure. Once cured an inch or so of soil was compacted over the top to finish.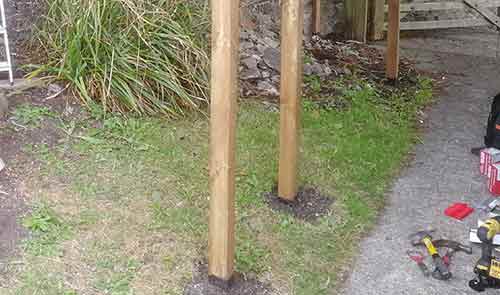 Fix rear timber framework
With all fence posts now cemented in place we can now fix the timbers to the wall at the back that will be used to form the rear of our chicken run.
As the top of the wall featured coping stones that overhang the edge of the wall we had to drop the timber frame work that was to be fixed down by 100mm. This would then provide enough room for us to hammer in our chicken wire staples to hold the wire firmly in place.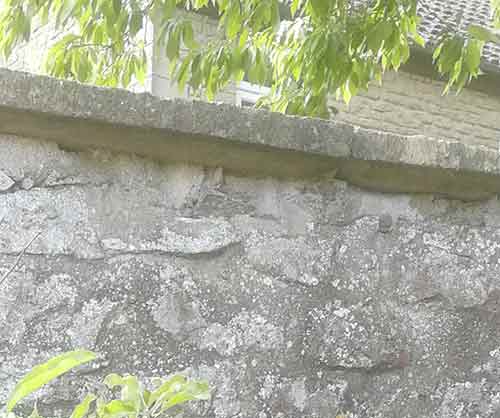 The first timber that was fixed in place was a short section that would run from the left rear upright to the point in the wall that it began to run off diagonally (remember the shape of the run was going to be triangular).
The timber was cut to length to the point that the wall changed direction. A sliding bevel was then used to form the exact diagonal angle that the wall ran off in and this angle was then transferred to the end of our timber and it was cut to this angle (more on using a sliding bevel can be found in our project here).
Cutting the timber to this angle would allow us to butt the joining timber up to it accurately.
The timber was then placed in position and leveled using a spirit level. Pilot holes were then drilled through the timber to mark the drilling points on the wall and then it was fixed to the wall using frame fixings.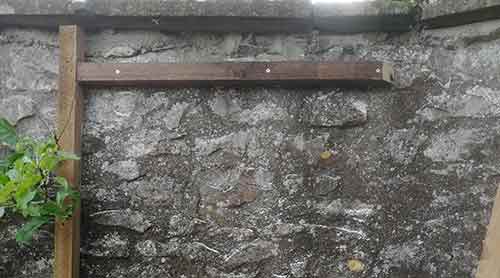 Using the above technique we then fixed the remaining timbers in place that then ran all the way to the upright timber at the opposing end of the run.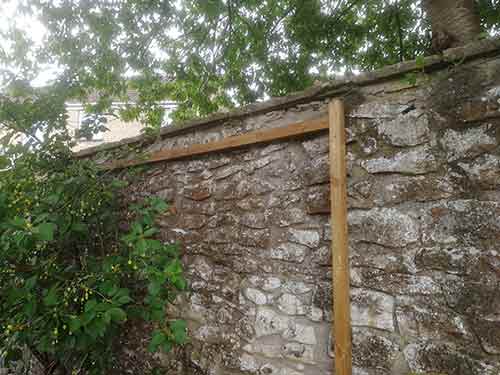 Prepare and install gravel boards
The next job was then to install some gravel boards around the base of the chicken run. This would allow us to both fix our chicken wire securely around the base plus also allow some added resistance to burrowing invaders as we were going to sink them 2 inches down into the ground.
As with the posts, to provide some added resistance to rot, we painted all the gravel boards with bitumen paint.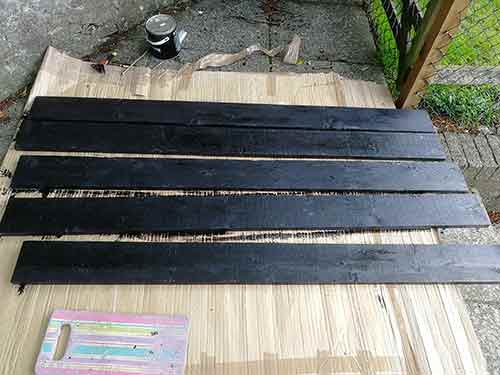 Due to the triangular shape, the gravel board to the far right of the run would run at an angle from the upright fixed to the wall out to the first fence post. For the board to fit accurately it would need to be mitred to the specific angle at each end.
The board was placed on the outside of both the posts and our sliding bevel was used to transfer the angle onto the top edge of the board. The mitre was then cut using a mitre saw set to the correct angle (find out how to use a mitre saw in our project here).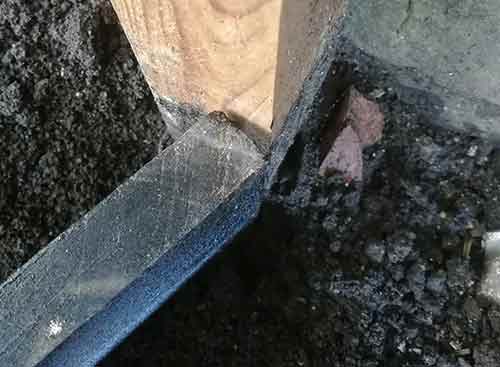 With the first mitre cut the board was put back in place and the mitre for the other end was marked on top. It was then cut, again using our mitre saw set to the correct angle.
We mentioned above that we were going to sink our gravel boards down into the ground so before it was fixed in place we dug a 2 inch deep trench between all the posts.
With the trench dug our board was then fitted and then screwed firmly in place using rust-resistant decking screws screwed through from the inside.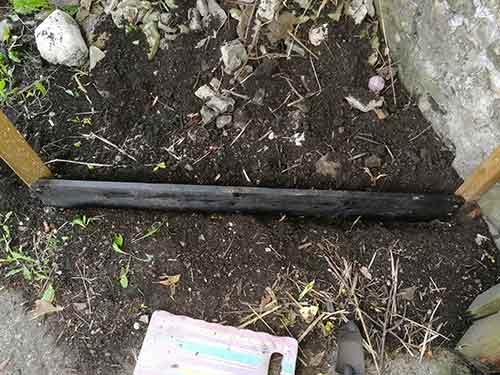 The next board to be installed was to be the longest one that ran between the right entrance post and the post that we had just fixed our first board to.
As the gap was larger than the length of the gravel board we joined 2 together using a halving joint (find out how to cut a halving joint in our project here).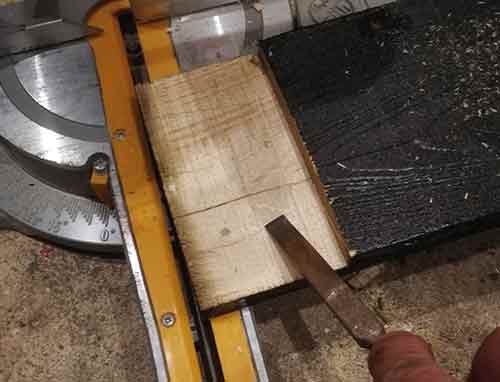 The 2 sections were then bolted together using 3 40mm M6 bolts and the newly joined board was then cut to length and fixed in place using 40mm decking screws.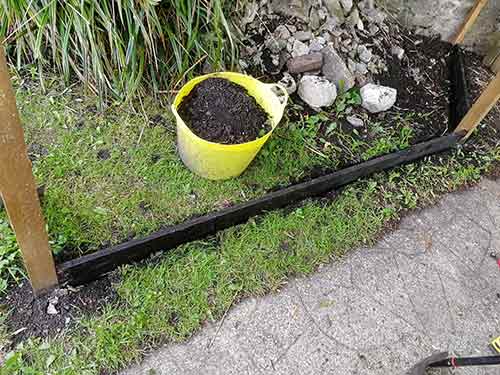 The final two boards to be fitted would run from the left rear timber upright down to the left side entrance post. As this would run over a slope the gravel boards would again need to be mitred to fit accurately.
To do this we simply placed each board, one at a time, flush with the outside of the posts, ensuring that the base of the gravel board was sat flat on the base of the trench (we widened the trench slightly for these boards so they could sit on the outside).
We then simply marked a line up the board following the inside of the fence post that would then give us our exact mitre angle to cut the board at so that it would fit exactly in the space between the 2 posts.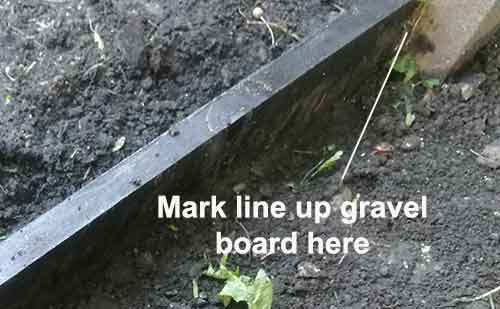 This was then repeated for the other end of this board and then for both ends of the other board.
Once done, both boards were then screwed in place using 40mm decking screws.
With all the gravel boards fixed in place we then backfilled any gaps in eth trenches with soil and compacted it down.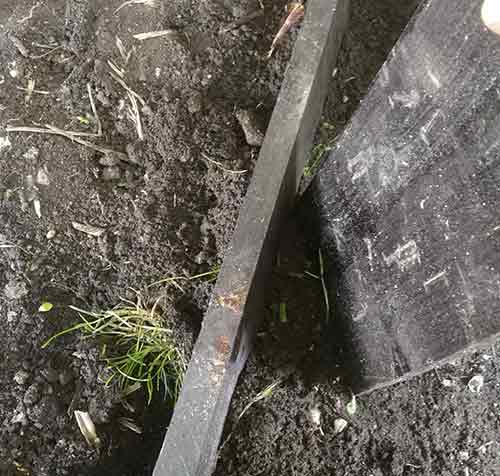 Install timber framework
With the gravel boards completed we then had to install the remaining timber work to form the rest of the chicken run. This was simply a case of running timbers around the top of the posts.
As we again had a few slopes to deal with we used the same technique that we used with the gravel boards. Using a helper to hold each timber on the outside of the posts at each gap and ensuring each timber was totally flush with the top of each post, we marked a line up the inside of the timber to give us bot the exact size to cut the timber to and also the exact cutting angle.
This was then repeated for the remaining timbers and once all cut to size each was screwed at the top to the posts using 40mm decking screws.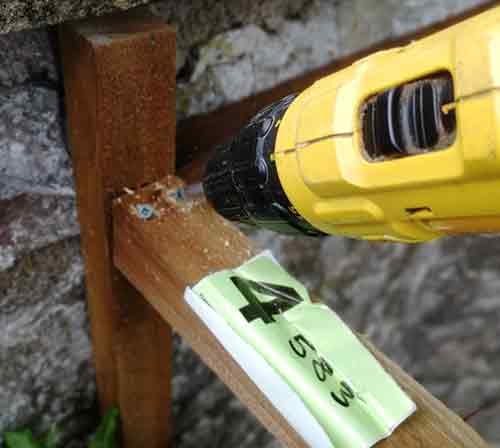 As with the gravel boards, the top timber that ran between the front posts was a little short so we used a halving joint to joint 2 timbers together. The eagle-eyed amongst you may notice a brace below the joint.
Unfortunately when installing it, the hop up we were using gave way and in a panic to regain balance it was grabbed and the joint snapped – whoops!!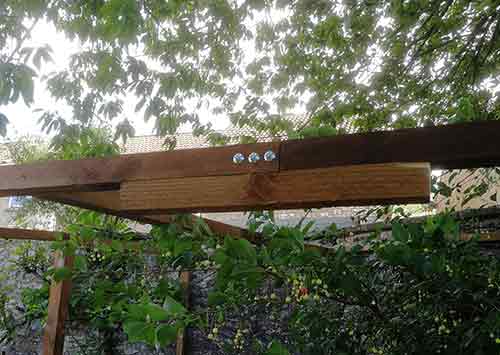 As the right hand side top timber ran both diagonally and sloped down this was a rather tricky cut as we had to mark and cut across two different angles (one horizontal and one vertical).
To get the cutting lines accurate, we again held the timber on the outside of each post and used a straight edge to transfer the horizontal and vertical cuts onto the timber.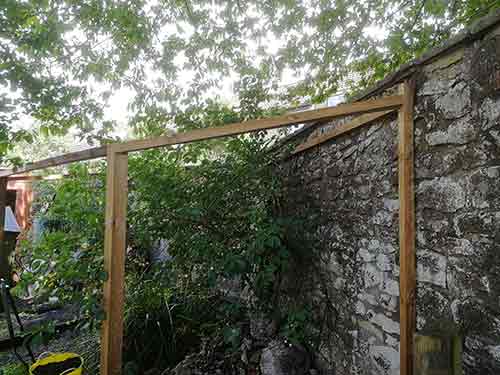 With all the top timbers cut and fixed in place the final task was then to run some timbers down from the framework on the back wall to meet the to timbers along the front. This would provide some support and fixing points when the chicken wire was laid over the top.
Construct and fit door
As we mentioned above, we already had an old gate hanging about that we were going to use as the door to the chicken run.
This was screwed to the right hand post using heavy duty T-hinges. As with installing any door, ensure that the gap around the perimeter is equal on both sides.
As you probably won't have a spare gate lying about you will need to build one. You can build your own gate using the basic plane detailed below.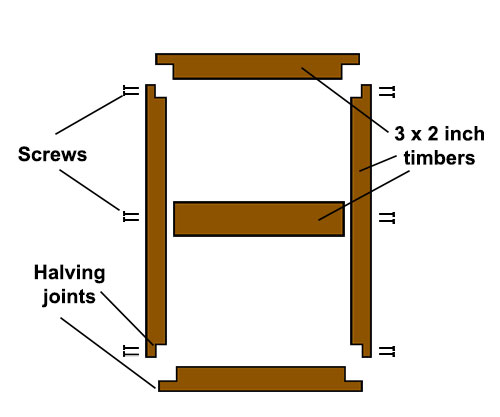 Once you have constructed the gate using the plan above you can then cover it with chicken wire.
Fix chicken wire around timber framework
With our framework all now screwed firmly together and our gate on, it was now time to start cutting and fixing some wire in place.
As mentioned, this was a "lockdown project" so the only wire that we had to hand was 2 inch chicken wire (each hole being 2 inches in size). Ideally you want to use wire with the smallest holes possible (1 inch or smaller) to prevent rats and other critters from getting into the run itself.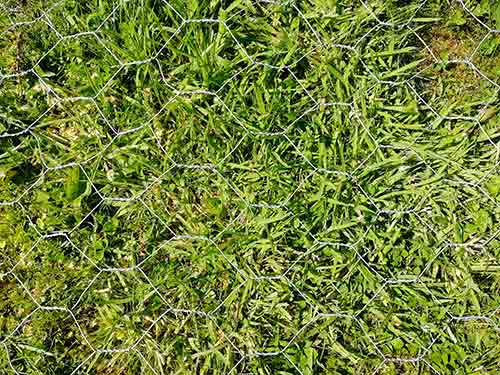 As we had miles of this particular wire, if the holes proved to be too big we could easily over it with a second covering that was slightly offset to bring the holes down to 1 inch in size.
A substantial roll of chicken wire such as this is heavy and extremely awkward to handle so in this case it's much easier to measure, cut and hang one panel of wire at a time.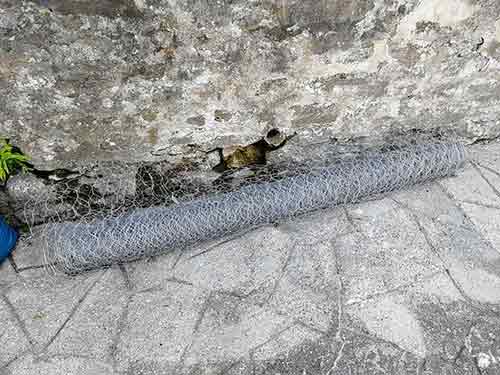 We started with the left hand side of the run first. As the shape we were covering over was essentially a parallelogram we would need to allow some excess at either end to account for the odd shape.
To cut the chicken wire to size, use wire snips of the cutting edge of a pair of pliers.
Hanging chicken wire isn't easy at the best of times, especially if you are doing it on your own so a tip is to knock in some nails at the top corners so that you can hang your chicken wire on it while you fix it in place instead of trying to hold it and fix it at the same time.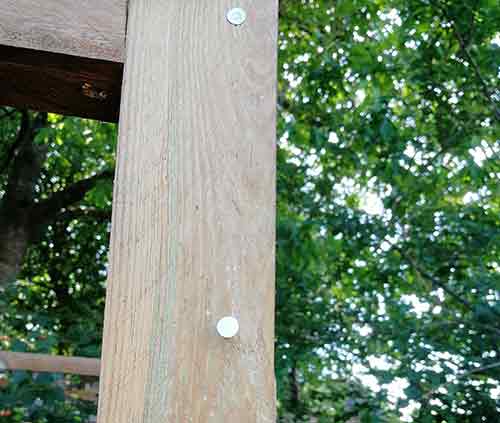 Using this method you can get the wire positioned exactly right before it's fixed in place and you don't go to all the effort of fixing it just to find that it's not lined up correctly and you then have to remove all the staples and start again!
With your first section of chicken wire hanging in place you can now adjust it so that it fits correctly and covers the area you're covering fully and then start to fix it in place using fencing staples.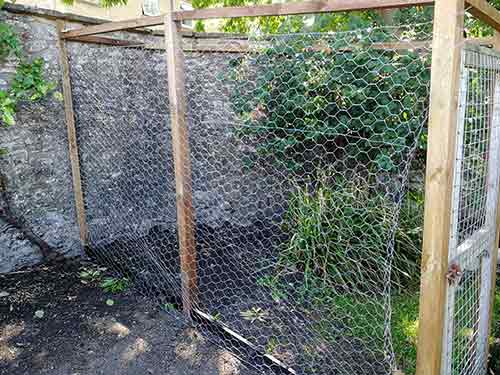 The best method is to fix the wire at one vertical edge first and then move over to the opposing edge and roughly fix here. Occasionally as you stretch the wire out, it can start to pull up and away from one of the horizontal edges to the point that it no longer covers it correctly.
To prevent this, once you have roughly fixed at the other end, move over to the horizontal edges and start to fix here also, gradually working your way around the 3 remaining edges until the wire is fully fixed in place.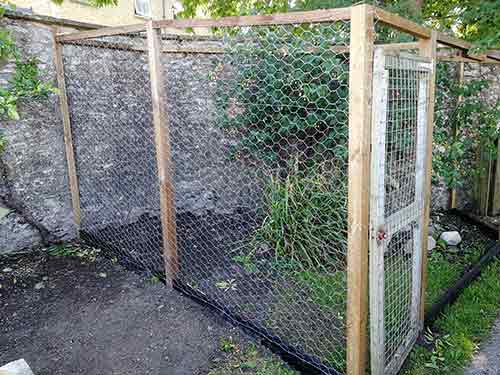 As you fix the wire in place keep it as taught as possible to prevent any creases and slackness.
Once your section of chicken wire is fully fixed to the side of your run, trim off any excess wire as required to prevent any jagged edges.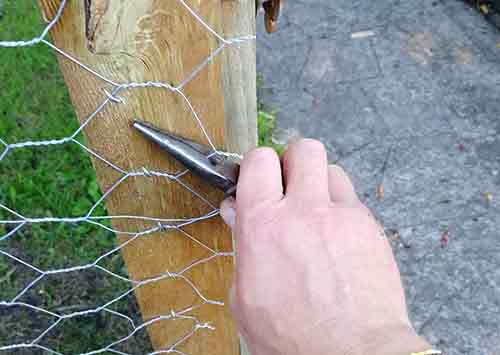 With one section of wire now covering one side of your chicken run, repeat the steps above to cover the remaining sides and the top.
As you may imagine, laying out the wire and fixing it to the top of your run is no easy job so you may need to get some help to get it positioned and fixed in place.
Additionally, trying to hammer staples into the middle of one of the timbers that spans the roof gap while it's bending and flexing about is almost impossible.
To give yourself a solid surface to hammer against, you can temporarily screw a prop in place at the centre of these times that runs down to the floor. This will prevent much of the flex a firm up the surface your hammering against.
One tip in respect to securing your chicken wire across centre span timbers if you don't fancy trying to nail it is to use some coated garden wire. You can poke this through the holes and then twist it up tightly to hold the wire firmly down to the timber.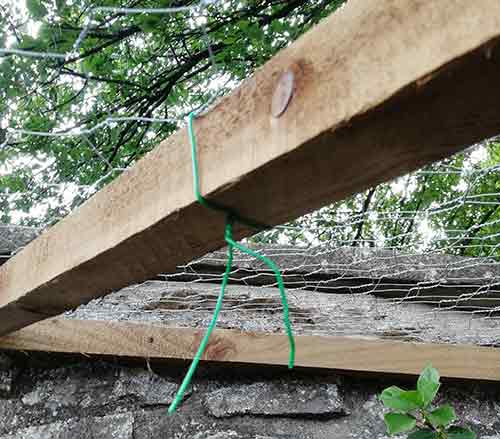 Once all the chicken wire is securely fixed and your chicken run is fully covered it's now time to add a chicken coop (see our project here on how to build a chicken coop) and then introduce your new feathered family members to their new home!