Take a Load Off – Your Roof! Form Tiles as Alternatives to Traditional Roofing Materials that can Save Weight and Money
Traditional roofing material like slates, pantiles and clay tiles can be expensive and are generally pretty heavy. There are a number of alternatives that are cheaper and lighter which can help save a considerable amount on a new build or even when replacing an existing roof. Some of these roofing materials are contemporary in looks, but others are designed to look like the traditional roofing material that they are designed to replace.
Out With the Old – Roofing Materials
It is important to note that you might be restricted in your choice of roof by the planning authorities. The pitch of the roof (the angle that the roof surface slopes) will be another constraining factor, although most alternative roofing materials are less restrictive than traditional materials in this respect. The final factor to take into account when considering changing from a traditional roof material is the aesthetics; your new roofing must look good and fit with the environment that your home is in.
For more information about roof tiles types please see our project about how to use different types of tiles.
Alternative Roofing Materials
There are a number of alternatives on the market that you should consider:
Metal Roofing: If you want to have a very contemporary feel then metal roofing is a great way to go. Most metal roofing comes in the form of either zinc or copper sheets, although it is possible to get steel roofing tiles. It is a specialised roofing material and not a common choice for the DIY-er or self builder.
Green Roofs: There seems to be considerable interested in green roofs at the moment driven by their ecological and environmental benefits. Some suggest that they are hard to substantiate, but there is no doubt that they can look very dramatic. Have a look at our project on how to make a green roof for more information.
Concrete Tiles: These are more common now and make a great replacement for clay tiles as they are around 20% cheaper and share many of the same characteristics. They do not weather nearly as well on the whole, so this is the sacrifice you have to make.
Tile Form Tiles, sheets or panels: This is not a tile at all but a sheet with a "tile form", hence the name. They are made from a range of materials often combined generally laid onto (or around) sheet metal. They are very quick to fit, very strong and can look like almost any type of roofing material you like, so are very flexible.
Tile Form Sheeting and Panels
Tile Form sheeting is an exciting roofing material that is gaining recognition for its many benefits and deserves special recognition here. Because it comes in sheets with multiple tiles effects printed on the sheet it is cheap to produce (and therefore buy) and very quick to fit. They have been developed for commercial applications partly because they are very strong and durable but still cheap. Now they have made the move over to the domestic market.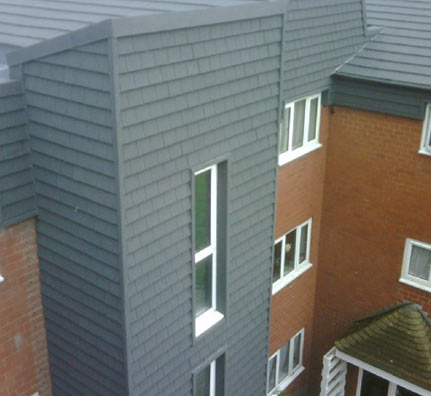 The benefits of a tile form roof are considerable:
Price – they are cheaper to purchase than more traditional roofing materials and cheaper to fit.
Light – they are lighter than a conventional tiled roof, so you can use them where a traditional pitched roof material might not have been possible. The weight makes them easier to fit in many cases and reduces the requirements of the substructure.
Strength – they are generally made with various layers of different material including galvanised steel which makes them very strong and durable. They are strong enough for prisons!
Versatile – they can be used on vertical roofs and on roofs with very low pitches; as low as 12 degrees in many cases.
Attractive – They are not the real thing, which is true. They are getting pretty realistic but you can accept that they are not the real thing and get a roof covering in a more dramatic colour!
Low maintenance – They are very durable and therefore will require very little maintenance.
When planning your new roof, or simply a replacement to the existing one, we think that it is worth considering a few more material than the 'usual suspects'. We hope that this article has shed some light on a few for you.
Thank you to Britmet for they assistance in researching and writing this article. (www.britmet.co.uk). Brit met manufacture Form Tile roofing products in the UK.
Roofing work is dangerous – please find out more about the Competent Roofer Scheme before any works begin.