Saving Your Paving – Revive Your Paving or Patio for That Show Home Look
Whether you are a long-term home owner or new home owner, chances are, the first thing you tackled when you moved in was the inside? If that's a yes then you are almost certainly not alone.
I guess the reason for this (someone has probably done the research) is that we spend a lot of our home life indoors, especially in the UK, mostly due to the weather.
Due to this our outdoor areas sometimes lack a bit of attention and love and considering it's one of the first things that anyone will see when viewing or visiting your property it really needs to look its best as, after all, first impressions count.
To these ends we will now give you a "best practice" run down on how to revive your paving and patios and ensure that they look in tip top condition at all times as can survive in the outdoor extremes.
Maintenance Tips for Paving and Patios
As with all things, if they are not looked after and maintained they will eventually go wrong and break and this is no different when it comes to paving, patios, driveways and other external surfaces. Regularly working through the following list will ensure a long life for your surface:
Brushing: Remove any surface dust and debris to prevent weed growth
Weeding: Remove any weeds that have taken root and started to grow
Washing and power washing: Using a stiff yard brush and warm soapy water, give your outdoor surfaces a good scrubbing
Take care of any joints: Any damaged joints should be cleaned out and refilled
Brushing
It's important to keep patios and paved areas clean! Regular brushing and sweeping will keep the surface clear from dust and debris and by doing so will make sure that no seeds are allowed to settle and take root.
Brushing will also break off and tiny plants that have managed to start growing and prevent them from getting any bigger.
Weeding
Today's modern living is hectic and in the grand scheme of getting by day to day the affore mentioned patio or pathway brushing will understandably get push way down the list so some weed growth is inevitable.
In this case, as soon as you do find the time, make sure you remove all and any weeds that have formed and once removed, give the area a good sweeping.
Washing and Power Washing
Again, as with the above, regularly washing down patios and paving is a bit of an "ideal world" job but if you can you should wash down any areas with hot soapy water at least every few months. This will prevent dirt and grime buildup and also any algae, moss or lichen growth.
If you are lucky enough to have a power washer then this is even better. The pressure produced from the hose will give slabs, concrete paths and tarmac driveways a really deep clean and quite often will make them look almost new again, well worth the time and effort.
Paving and Patio Joints
The condition and stability of any joints is paramount to the longevity of your paved or patio area as they hold everything in place to create a complete and stable structure.
Over time foot traffic and movement will most probably cause joints to fail or crack and if this is the case then any faults need to be repaired before weeds take root or water is allowed to penetrate and freeze.
Additionally, tatty joints look quite unsightly and will spoil the overall look of the whole area.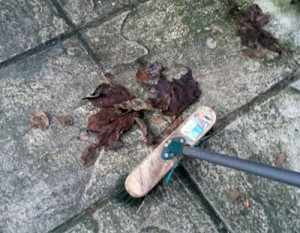 Removing Mortar from Paved Surfaces
During the construction process it's not uncommon for splodges of cement or mortar to get spilt or dropped. If these spillages are cleaned up right away then it's not a problem, you only have a small stain or mark to deal with and in the majority of cases these can be simply scrubbed off.
If it's allowed to set then this can be a problem. The only way to shift it then is to get stuck in with a hammer and bolster.
This can be a tricky job as you have to be very careful not to damage any slabs or surfaces with both the bolster and any vibrations that are created due to the hammering.
Once the actual lump is removed you can then use a suitable patio or brick cleaner and a stiff brush to get rid of any stains left by the mortar.
Moss, Algae and Lichen
The inevitable fact with pretty much all external paved, tarmac or concrete surfaces is that at some point you will get either moss, lichen or algae growth, especially in the UK.
The warm wet climate provides ideal conditions for these three plants to grow and thrive if they are not dealt with swiftly.
To remove Algae and Lichen, the best thing to use is a diluted mixture of household bleach and water and a decent, stiff-bristled yard brush.
Spread the diluted bleach and water solution over the surface, scrubbing with the brush as you go. Remove as much as you can and then wash the surface over with clean water.
Be very careful about where the bleach solution is allowed to flow as it can easily damage other plant life in surrounding gardens or borders.
When it comes to moss a good brushing will in most cases remove the majority or any growth as the roots do not tend to bond that tightly to any surfaces.
If brushing is not your cup of tea then there are various specialist weed killers on the market specifically geared towards moss removal. Read the manufacturers usage directions carefully in respect to when and where it can be used and also be very wary if you have young children or pets that may inadvertently come into contact with it.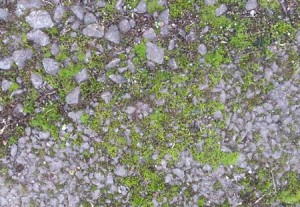 For a full and complete run down on how to care for and maintain paved and patio surfaces see our cleaning paving and patios project here.