Why you Should Seal Paving and Patios
Why is my Patio and Drive so Slippery?
Other than frost, ice and snow, slippery patios, pathways and drives are normally a result of lichen or algae spores growing in the capillaries and cracks of the surface. They are blown there by the wind, carried by the rail and even swept in as you clean up. Even non slip surfaces can become slippery when covered by this kind of growth.
What can be done?
Firstly the surface needs to be cleaned and any remaining spores killed. We suggest using a power or pressure washer to remove all of the obvious signs of green on the surface. Some power washers come with a patio brush as standard, ours certainly do as you can see below.
When the surface has been cleaned it needs to be treated with a fungicide solution to stop the spores reappearing. The best way to do this is with an Everbuild 404 fungicidal wash solution. It should be scrubbed into the surface, left for a while, then washed off. If possible, this should be repeated.
The after-wash should be thorough and all traces of the fungicide should be removed. You are then ready to seal the patio or paving with a very special sealing solution from Rizistal.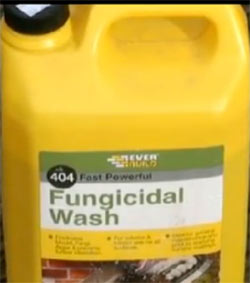 What Types of Sealer are There?
If you ignore the chemistry equations and formulas many companies try to woo you with, including epoxies, semi epoxies, solvents, acrylics and colour enhancers there are, broadly speaking, three categories of paving sealer. They are;
Pregnator Sealers
These are sealers that impregnate the surface of the paving. In other words, they soak in. They are usually solvents (tools and equipment need to be cleaned with Safer Solvent (see below). Having soaked into the cracks and capillaries in the paving they form a deep barrier to water and any other rogue element trying to infiltrate your paving.
Coating Sealers
These are sealers that sit on the surface, a little like paint or varnish. Providing the paving has been prepared thoroughly, they soak in a little to give the covering a key. They are often water based and slightly cheaper but have the disadvantage of wearing off over time. They do however, offer a different (often shiner) finish to the surface.
All In One Sealers
The all in one sealing solutions do both of the above. Usually solvent based for deeper penetration, it soaks in where it can and where the paving is porous enough, but where the constituents of the paving are more tightly packed, more thoroughly vibrated, or simply less porous, the all in one sealer sticks to the surface.
The drawback here is that if your paving has many different levels of porosity in it's make-up, the sealant could well dry patchy.
Enter Rizistal All In One Sealer
DIY Doctor has just road-tested the new All In One Sealer from Rizistal. The verdict is excellent as you can see from our product review.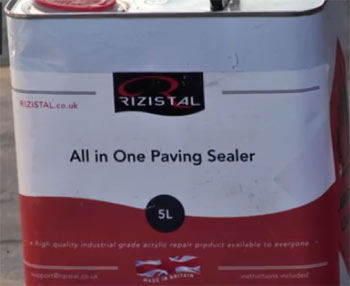 Having tested the sealer on a small area first to ensure we would not get a patchy finish we set about covering what had been (See image above) a very green, slippery paved surface. The result was superb.
The sealer does not need mixing and can be applied straight from the tin. It covers beautifully (5 – 10 sq m per litre) and is dry within 4 hours ready for a second (recommended) coat.
It soaks in fast, enhances the colour of the slabs, is oil and water repellent and cleans easily off the brushes and rollers with the Rizistal Safer Solvent which is so much more user friendly that white spirit and some other brush cleaners.
Follow the video instructions in the review linked above to make sure your patio stays clean during the summer and non slippery during the winter. You really can enjoy the summer properly then.
For those of you who cannot wait to get started, Rizistal are offering a 10% discount off your first order with them. Just click on the banner below to take advantage of this great offer.