In this section and in the roofing videos we have on site you will see how different roofs are constructed and how roof trusses are put into position on their wall plates. You will learn about different roof pitches and how traditional roof s are cut to those pitches allowing for birdsmouth joints and cutting round roof windows such as Velux or Roto windows.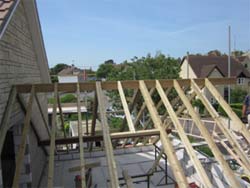 You will learn how to felt and batten a roof with breathable felt membranes and why battens are made out of treated softwood. You will learn how to gauge a roof to get the correct head lap for the tiles so the top course of tiles is adequately covered by the ridge tiles. You will see how a roof can be ventilated, how toilet vent pipes can be positioned through the roof while a pipe collar keeps the hole waterproof. You will see hoe the tiles are laid down to the gutter and the roof is drained.
We show you how the lead flashing is fitted to a roof, how it is chased into the wall and how it is dressed down onto the shape of the tile it covers. We show you how to repair roof joists and rafters and how to make a loft conversion safe. WE look at all of the building regulations involved in roofing and re-roofing together with all the modern insulation requirements.
We work with different flat roof coverings such as fibreglass roofs, rubber roofs, felt roofs and even living roofs where you can mow the lawn while you are 20 feet up in the air. Flat roof construction is explained and how to repair existing roofs is also covered…….No pun intended !
Aslo covered are weatherboards, facia boards, barge boards, roof verges, roof valleys, roof hips and all of the different tiles and how they should be laid. There are many pages on repairing lead flashing and replacing the odd roof tile if damaged or leaking.
We also look and work with the National Federation of Roofing Contractors to make sure the help we give you is accurate and safe