In this section we cover cutting and drilling all types of materials (that you would use in a normal DIY or home improvement project). We explain in detail how you use the different types of drill bit and hole saws.  We even cover a guide about when and how to use router bits.
We have separate section on using Power Tools and also our projects on Hand Tools where you will find specific information about using particular drill types, such as Pillar Drills or our project on Angled Drills, and many more tools.
Let us explain the different types of drill bit and what they are used for here.
The Different Types of Drill Bit and Holesaw Explained
Drill bits and holesaws vary because of the different materials that they are used on in the main, but they do also vary due to the tool that are used to turn them. Here are the most common types of drill bit and hole saw:
Wood (and Plastic) Bits
Brad, Spur or Dowel Point Bits: These have a small sharp point that the tip of the bit which acts as a bradle and centres the bit on the exact spot to be drilled. Behind this are generally two raised spurs at the start of the twists or flutes. These spurs help to keep the bit straight and they start the cut before the centre of the bit cuts which means that the bit does not pull (unlike the auger bit -see below).
They are ideal for both hard and softwood and even some plastics, but nothing else. They will cut a deep straight sided hole very quickly, so are ideal for making holes for dowels, hence the name.
These bits are designed to work in power tools. They can be sharpened but this it is often easier to purchase a new bit. Sizes generally tend to renage between 3-16mm.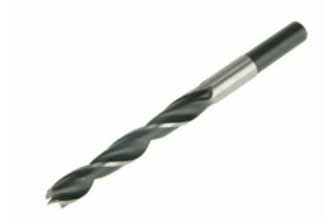 Augur Bits
These are for drilling large and deep holes into all types of wood. Unlike a Lip and Spur Bit (described above) these bits only have one spur which create the straight edge of the hole. The cutting edge of the bit works like a chisel and the cut wood it pushed back into the flutes of the pervious turn. This leaves a deep flat bottomed hole.
These bits are not suitable for power tools on the whole as they pull into the wood making them harder to control particularly at high speeds, and are typically used in a hand or carpenters brace . The can be sharpened relatively easily by using an oilstone of the cutting edge and the spur. Size range from 7-32mm.

Wood spade, Paddle or Flat Bits
These are located on the centre of the hole using the centre spike. The hole is cut by the cutting edge on each side of the paddle. Like the auger bit they create large holes with flat bottoms, in all types of wood. There are expansive bits which are similar but have adjustable paddles to alter the size of the hole being cut.
You cannot use a flat bit to enlarge an existing hole. They are only for use in power tools and the larger the bit the more power that will be required to turn them. Caution needs to be taken when the bit breaks out from the back of some wood, especially when using large bits, as the wood is likely to splinter.
Use a piece of waste wood to drill into and stop this happening. These bits are easy to sharpen using an oil of grindstone. Sizes range from 6-40mm.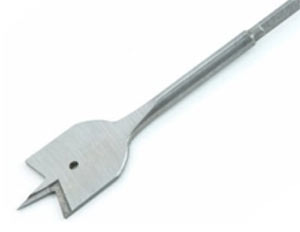 Counter Sink Bits
These are not for drilling but cutting a space for the screw head so that it will sit flush with the surface of the timber. For a neat job you should countersink and then drill the hole, rather than countersinking last.
Most countersink bits are now used in power tools but many still come with handles for use by hand, which can be quicker and easier that changing bits in you drill. They can be sharpened by a triangular file, although this is rarely required. Sizes range from 10-20mm, typically 90° or sized by screw head size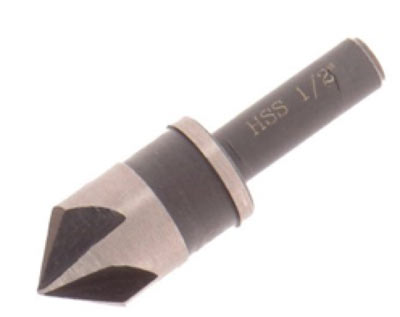 Cutter Countersink Bits
These are a combination of a standard drill bit and a countersink that can be used to drill a hole and countersink it in a single action.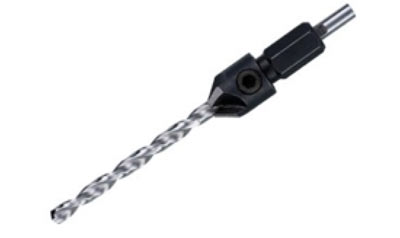 Plug Cutter
These are specialist bits that are used to cut a plug of wood that is then used to cover the screw head once fixed. The plug is removed through the side hole. Sizes typically follow screw sizes from 6-10mm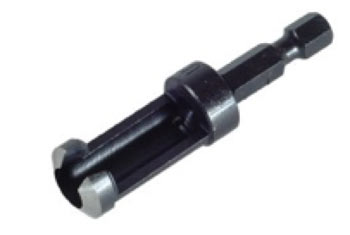 Wood and Manufactured Materials
Hole Saw
These are use for sawing through materials such as plasterboard and wood to make large holes. They have an arbour in the centre to align the centre of the hole but the actual hole is cut using a saw. The arbour can be permanently fix or interchangeable between hole saws of different sizes, which is sometimes called a combination hole saw set.
The typically cut to 18mm depth but this can be more with specialist hole saws. You will need to use a power drill, ideally used at low speed. Sharpen as you would a saw. Sizes run from 14-220mm.
Hinge Boring Bits, Forstner Bits or Hinge Cutters
These bits are used to cut the holes to fit kitchen cabinet hinges. They are generally made with a Tungsten Carbide (TC) cutting edge. Use these bits in MDF or whichever wood material the cabinets are made from.
These bits really need a power drill as there is generally not a central point to align the bit which makes hand cutting very difficult. They can be sharpened with an oilstone. Sizes run from 26mm or 35mm
Core Drill
This is a very tough version of the hole saw which can drill through brick, concrete and even tiles. The best quality version will have a diamond cutting blade and therefore will not be able to be sharpened.
They grind away the material rather than saw or cut as with the hole saw or a normal drill bit. These will need to be used with a power tool and sometimes a specialist drill. They can be considerably more expensive than other bits. Sizes generally run from 28-160mm+.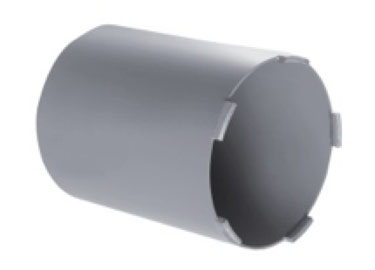 Metal and Multi Purpose Bits
Twist, Jobber or Multi-purpose Bits
These are the all-rounder of the bit world being designed primarily for use on metal, but they will work very effectively on wood, plastic and other materials. This is the essential bit for any DIY-er or handyman. There are two cutting edges on the points and the drilled material is taken away in the flutes. They do clog up easily especially if the wood is green, so will need to be removed to clear the debris away periodically. There are 3 main types:
Carbon Steel – These should not be used on metal as they are brittle and inflexible. They are ideal for wood and plastic
HSS – High Speed Steel; these are designed for metal but are perfect for wood and other materials too. The steel is tempered so that it can withstand high temperatures and is general a black colour
TiN – Titanium Nitride; This is a gold-ish coloured coating that makes the bit harder and therefore better are cutting through metal. It also provides some self-lubrication when drilling in metal (only)
They are for use with power drills and can be sharpened with an oilstone if necessary. Sizes runfrom 1-15mm.
Glass and Tile Bits
Glass and Tile Bits
These use a tungsten carbide tip to drill through the glass or ceramic tile. The will probably need some form of lubrication to keep the tip cool.
They can be used in a hand drill, but really you will find it much easier to use a variable speed power drill. Start at a slow speed and build up. Sizes go from 3-10mm.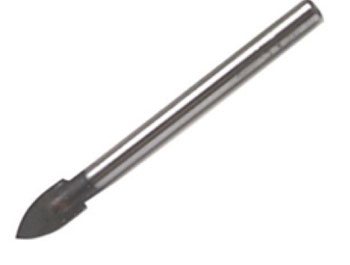 Masonry Bits
Masonry Bits
These are designed for putting holes into brick, stone, block work and concrete. They will have a hard tip typically made of tungsten carbide and there will be a fluted body where the cut debris will be taken away.
Masonry bits should be used in power drills, particularly as they are designed to work with the hammer drill setting, where the tip is turned and hammered back and forth into the hole at very high speed. Sizes go from 4-25mm.
Screw Driver Bits
Screw Driver Bits
These don't cut or make holes but they are bits that attached to a drill in order to make driving in screws easier and quicker. The will generally have a hexagonal shank so the chuck of the drill can hold them securely. The head will come in a huge range of types, designs and sizes to fit the wide range of screw heads available.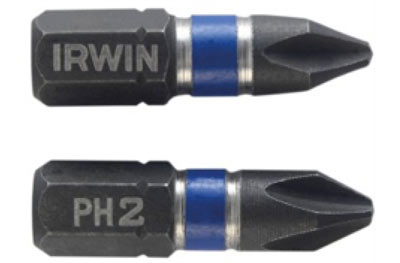 Note: when discussing size we are talking bit diameter unless otherwise stated. Most bits come in different lengths, both of the shank and body.
The Parts of a Drill Bit
It is helpful to know the parts of the bits that we have been describing. Here is a helpful diagram which shows the various parts of a typical drill bit: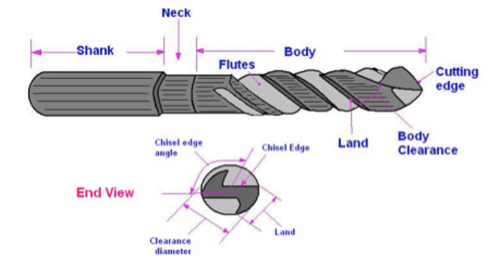 As you can see there are lots of different types of drill bit that you can use for whatever project you have to do. Getting the right bit and using it correctly is half the battle – this is what this section is all about!