Drilling holes in things such as plasterboard, masonry, timber and concrete is a common task and one that's encountered on a daily basis by builders and keen DIYer's alike.
However, when it comes to drilling through metal, this can be a little trickier to do as the techniques required to get a clean accurate hole are a little different.
To these ends, here follows some tips, tricks and pointers to drilling perfect holes in different types of metal.
What are the Best Metal Drill bits?
When it comes to drilling through metal the good news is you don't need to use any specialist all singing and dancing type of drill bit that costs a fortune, you can simply use a decent standard HSS (high speed steel) bit.
Although you can use HSS bits, as with many things, there are varying degrees in levels of quality, so we would always advise that you purchase the best quality bits that you can afford as it will make the job quicker, easier and safe
If may seem like a great deal buying a full set of drill bits for a pound at your local pound store, but cheap metal drill bits go blunt very quickly, catch and bind in the work and can even shatter during use!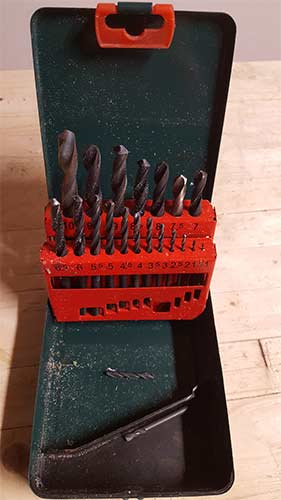 In the majority of cases you will probably be drilling mild steel, but on the odd occasion you may encounter tougher metals such as stainless steel or cast iron and, although an HSS metal drill bit will get through it, there are better bit choices to go for.
Below are different types of metal drill bits available to use in order of increasing strength.
High Speed Steel (HSS) Twist Bits: Standard type drill bit suitable for metal, plastic timber and other materials
Coated (titanium) HSS Drills Bits: Slightly tougher and longer lasting than standard HSS bits as they are coated with titanium, but still contain steel at their core
Cobalt Drill Bits: Great for drilling into harder metals such as stainless steel and hardened steel
Solid Carbide Drill Bit: Extremely hard drill bits, more commonly found in industrial situations and engineering shops, they are very hard but brittle at the same time
Step Drill Bit / Cone Drill Bit:
As a summary, the standard HSS drill bit is an ideal all rounder and an essential in any tool kit as it can be used with such a variety of different materials, but if dealing with tougher and denser metals then it's best to use a drill bit that's more suited to the material you're working with.
What are the Different Parts of a Drill Bit?
Now that we have looked at exactly what drill bits are the best for drilling holes in metal, lets take a quick look at the the bit itself and the individual parts that they're made up from.
Most standard drill bits are commonly known as "fluted" bits due to the two spiral-shaped flutes that run the length of the "body" area of the bit.
Aside from the body, the two other main parts that make up a drill bit; the shank and the tip (or point).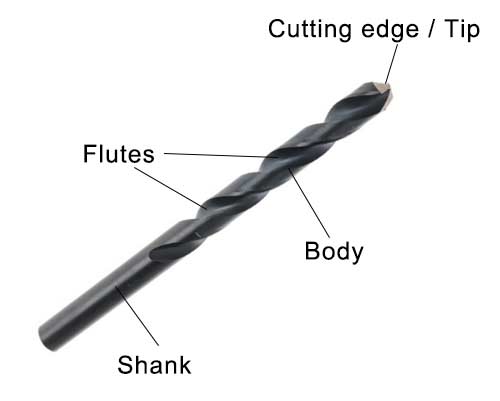 It's not coincidence that pretty much all drill bits are made up of the same main parts as each has a specific role to play in successfully forming a hole:
Shank: This is the part that is inserted into a drills chuck, that the chuck itself clamps down on and ensures the drill bit rotates along with the drill
Body: The body is mostly made up of the flutes, the two spirals that run from eth shank down to teh point. The flutes perform several jobs including curling up the swarf and removing it from the cutting point, allowing lubricant to reach the cutting edge and define the width of the hole
Tip/Point/Cutting Edge: This is the part of the bit that actually does that cutting work. As they rotate, the cutting edges "bite" into the surface, removing chunks of material
What Other Tools are Needed for Drilling Metal?
Aside from your set of HSS metal drill bits there are a few other tools that you'll need in order to drill your hole successfully, these are as follows:
lubrication
When it comes to what drill to use, ordinary power drills can drill through steel, but as a general rule, your drill should be at least 700watt, or 18V if using a cordless and have the ability to control the rotational speed (e.g. speed control settings or variable speed trigger).
If you have access to a pillar drill then you should definitely use it. On the whole, this is really the preferred tool for drilling metal as you can clamp your work piece firmly to the bed (the table beneath the drill).
As the actual drill is fixed horizontally and then wound down via a handle onto the object you're working on, you can also be sure that the hole you end up with will also be totally square and true.
One final point relates to the handle and mechanism that winds the drill down – as this is a very smooth and controllable action, you can control the amount of pressure excerpted onto the drill bit much more accurately, reducing heat build-up and helping prolong the life of your drill bits.
Now that we know exactly what drill to use, lets look at the other required items.
If you're not using a pillar drill then a set of decent clamps is a must in order to secure your work to a stable work surface as drill.
If you're happily drilling away and the object your working on starts to move, the drill bit can easily run out of line causing your hole in turn to run off true.
Also the act of the bit vibrating in the hole as it moves can put huge amounts of stress on it causing it to break off.
Lubrication is also a vital ingredient in the mix as this will help reduce heat build-up that can blunt your bits and also damage the item you're drilling into – more on this below.
Finally we come to the safety equipment. This is an absolute must when working with metal, especially when drilling it. Gloves and eye protection should be worn at all times without exception!
Shards of metal and swarf can easily fly off in all directions and if you get any in your eye this can lead to serious injury, even blindness!
Likewise, sharp, jagged metal can cut very deeply so gloves should be worn throughout the entire process.
Should I use oil When Drilling Metal?
When drilling through metal you should always use drilling or tapping fluid or at the bare minimum a 3-in1 oil as an alternative on thin metals and aluminium.
The purpose of a drilling or cutting fluid as it's also known is to help reduce the build up of heat as this can easily damage and blunt drill bits.
For the drill bit to effectively cut down into and through a piece of metal, the oil that you use needs to lubricate the parts of the drill bit and item you're working with where they are rubbing together and not the cutting parts of the drill bit, as a certain amount of friction is needed for them to cut effectively.
With standard oils such as engine oil, these are designed to reduce the wear and tear in an engine or other object and due to this, have very tightly bonded polymer chains to resist the high pressures and temperatures involved.
With the above in mind you can see why such oils are not suitable for drilling and cutting as, although they may lubricate the parts that are rubbing effectively, they do not breakdown at the cutting edge to allow the bit to cut efficiently, instead they produce a bit of a barrier.
So, if you want your drill bits to last and for your hole to be straight and true, use the correct lubricant!
What Drill Speeds Should you use When Drilling Metal?
As we have touched on above, the build up of heat is a problem when drilling through metal. Correct lubrication can go some way to reducing and controlling this, but there is also another factor that can contribute heavily to the increase in temperature and that's speed!
On a basic level, the faster your drill bit rotates the more heat is produced through the increase in friction, but if temperatures get too high, this can actually burn off any lubricant that's present making the situation worse.
With this in mind, controlling heat build up, maintaining your tools and getting a great end result is as much to do with controlling your drilling speed as any other element.
Unfortunately there isn't a "one size fits all" drilling speed for all types of metal as many different metals need to be drilled at different speeds.
As a general rule of thumb when drilling metal: the bigger the drill bit and harder the metal, the slower the speed of the drill.
As mentioned, it's not an exact science, but the following should provide a good starting point:
Steel (stainless) – Low speed around 300-400rpm
Copper – Low speed, around 300-400rpm
Aluminum – Higher speeds can be used, around 1500rpm
Mild steel – Medium range speed, around 700-1000rpm
Cast Iron – Low Speeds, around 200-300rpm
Whilst drilling, if you start to see smoke or the metal you're working with starts to discolour and darken, you're drilling too fast so halve your current speed and try again.
How to Drill Metal
If you have already read through the above points you should now know exactly what type of drill and drill bit you need to use, why you should add lubrication whilst drilling and what speed you need to drill you hole at.
For the purposes of this guide we are going to drill an additional hole through a mild steel mending plate and then countersink the hole to allow for a screw head.
The final hole size we want to create will be 6mm but we're going to start with a 4mm hole and then work up in size.
Mark the Drilling Point
Before drilling anything at all, you first need to accurately mark the exact point that needs drilling. Using a tape measure and pencil, mark the point that you need to drill.
Next, using a small centre punch, say around 2mm, place the point of the punch on the mark you previously made and give it a tap with a hammer to create an indentation in the surface.
This small hole will now allow the point of the drill bit to sit in it and act as a guide for your drill bit and prevent it from moving or skidding off as it rotates.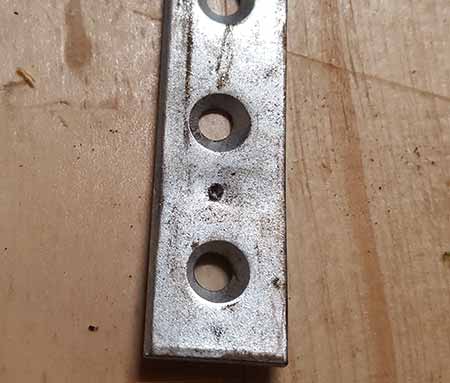 Tip: If you don't have a set of punches you can use a screw. It's not ideal but will do the job!
Clamp Your Work Piece up Securely
Now that we have marked everything up the next task is to get the item you're working on clamped up so it doesn't move during drilling.
Using a solid surface such as a work bench, Workmate or similar, place you item down flat on the surface and use some strong clamps to clamp it up tightly.
If you're working with something that's quite small such as a mending plate as we are here, allow enough space between your clamps and your drilling point to get your drill in comfortably.
You don't want to be stuck in too much of a confined area as this can easily lead to mistakes and potentially injuries.
Add Lubrication
Just before you start to drill your hole, as we have stated above, you need to add some lubrication to ensure that heat build-up is reduced and any chance of drill bit damage is reduced as much as possible.
In this case, we have used a bit of multi-purpose oil.
Put a few small drops over your punch point and around the drilling area.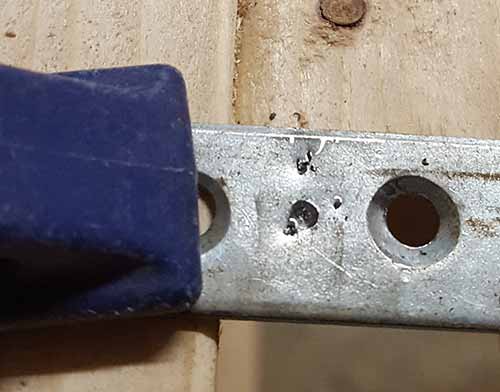 Drill out First Small Hole
With everything now ready to go, it's time to drill out the first small hole. In this example, we are going to start with a 4mm drill bit and move up to our final hole size of 6mm.
Pop a 4mm drill bit in your drill, ensuring the chuck is fully tightened, and then position the tip of the bit directly over the punch point.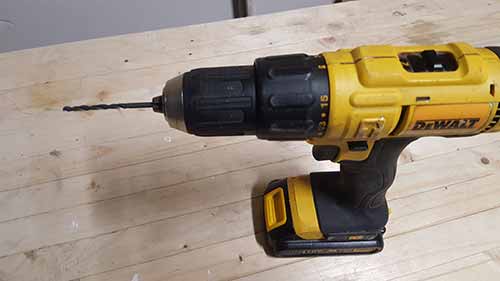 Hold the drill as vertically upright as possible so that the drill bit is as vertically upright as possible.
Start the drill slowly so that the tip of the drill bit rotates and starts to cut into the metal.
In this case we were using an 18V cordless drill/driver with a variable speed trigger (the drill speeds up the further the trigger is pulled in), so depending on the type of drill you're using, adjust it's speed setting accordingly, starting off with a slow setting first.'
As the tip of the bit started to cut into the metal, the trigger was pulled a little more to speed it up until we got to around 800rpm.
Stop periodically to check your hole to ensure it's not discolouring (sign of heat damage and drilling too fast) and add some more lubrication of needed.
Once you have made it all the way through your work piece, withdraw the drill bit and put your drill to one side. Inspect the hole to make sure everything is ok and clean away and swarf.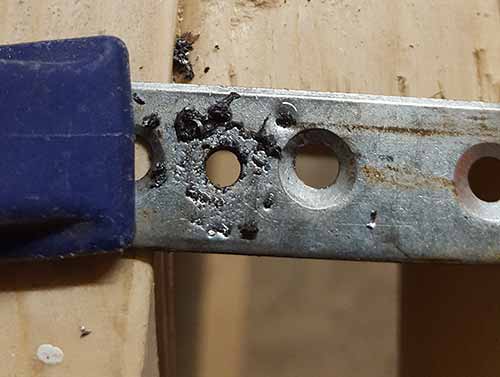 If all is well, swap out your 4mm drill bit for your 6mm bit add a little more lubrication in and around the pilot hole.
As before, position the tip of the bit on to the pilot hole, but this time lift the tip back very slightly as opposed to allowing the weight of the drill to bear down on it.
As we are effectively drilling into an existing hole, if you simply start the drill, the cutting flutes can dig into the existing hole and can gauge out chunks and also cause the whole drill to unexpectedly turn. If the drill is powerful enough and the bit bites to this extent then you easily damage your wrist(s).
With the bit rotating slowly allow it to drop down into the hole and as before, increase the rotation speed slowly until it reaches the desired speed.
Once you have made it all the way through, withdraw the drill bit and put the drill to one side.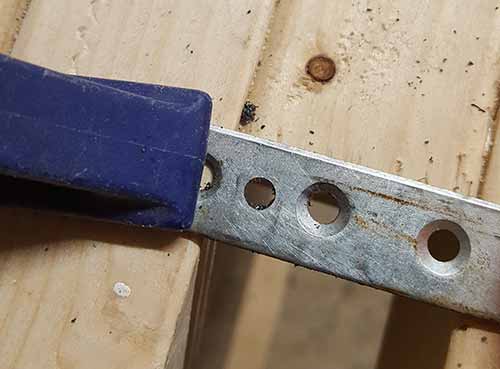 Give everything a good wipe down, removing any swarf and excess lubrication.
Drill out Countersink for Screw Heads
With your hole now successfully completed, the next task is to drill out a countersink so that when a screw is inserted into the hole, its head will finish up flush with the surrounding areas of, in this case, our mending plate.
For this we are going to use a countersink drill bit, these are conical-shaped bits that run down to a point in the same manner as the tip of a drill bit, but are much wider so that they create the necessary recess for the screw head to sit in.
As before, lubrication is essential so make sure you add plenty in and around the existing hole.
In terms of the countersink bit itself, make sure you use an HSS or cobalt countersink bit and not the standard mild steel countersink bit you'd use for countersinking screw heads in timber.
When drilling a countersink into steel, slow speed is a must as is making sure you hold your drill absolutely upright and square. If you don't, the countersink itself will be well off-true and look sloppy.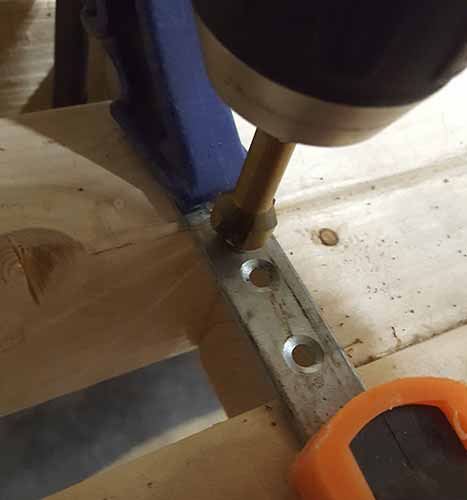 To find out more about drilling out countersinks and also about drilling pilot holes, see our project here.
Clean up and Deburr the Hole
The process of drilling and countersinking will inevitably create some sharp edges or "burrs". These are small, jagged pieces of metal that can sit proud around the edge of the hole that need to be removed.
You can buy special deburring tools but on the whole, these are unnecessary as you can simply run a file over the whole area to file them off.
One other little trick that's normally quite successful is to use a drill bit that's bigger than the hole you've just drilled. Place the tip of the larger bit in the hole and give it a twist.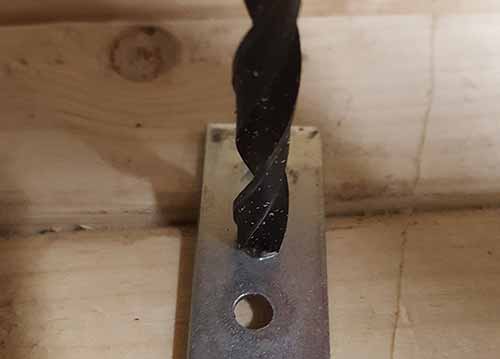 The flutes of the larger bit will bite into the burrs and lift them off leaving you with a perfectly smooth and flat hole.
Once you have cleaned off any burrs and removed any unwanted swarf, check your work piece over to make sure all is well and you're done! Good work!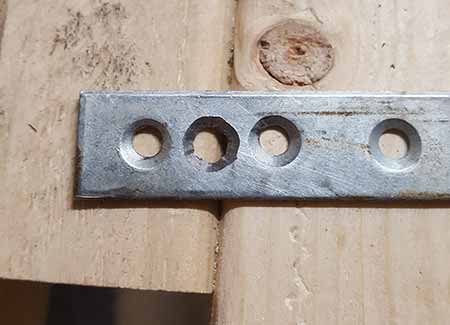 How to Drill Through a Steel Beam, RSJ or Other Hard Metals
As we have discussed above, when drilling through hardened steel, RSJ joists or similar this can be a little trickier than just drilling though a piece of mild steel, so certain other points have to be considered.
The first point to think about is the speed that you drill at, in this case it needs to be slow.
The second point to consider is what drill bit you should use. To drill through hardened steel and other hard metal you would want to use a very hard drill bit such as a solid carbide or cobalt drill bit.
The third point concerns lubrication – When drilling hard metals you must use lubrication. Due to the toughness of hard metals, the forces required to drill through them can be great and a by-product of this is heat.
The presence of lubrication helps to reduce this, but you will need to use the correct lubrication. In this instance, 3-in-1 oil is certainly no good, you will need to use a decent quality cutting fluid.
The final point to consider is the actual type of drill you use. Unfortunately a cheap budget domestic drill isn't really the tool to use as it just won't have the power (or in this case torque) to effectively cut through the hardened material.
With this in mind, a professional level corded drill is probably the item to go for. Some cordless drills can handle the task, but due to the energy required in physically getting through hard metals, this can quickly drain the battery, so a decent battery is certainly required.
Ideally, drilling hard metals should really be done using pillar drill as this will allow much more control over how you drill your hole and generally, they do produce a little more power.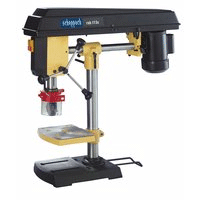 However, if you are unable to actually move the item you're working with and get it onto the bed of a pillar drill then your next port of call is the Mag Drill.
If you are drilling holes in a steel beam then they have to be precise. This means they have to be drilled straight and in the exact spot required. Unfortunately even using a hand drill that's powerful enough to get through the surface and form the hole, they may not be perfectly true.
In some cases, this can even effect the structural integrity of the building they're being used in!
Fear not though, there's a tool ideally suited for jobs such as these – The mag drill (or magnetic drill as it's also known).
The mag drill offers the same levels of precision as a pillar drill, but it's also portable, can be used horizontally and vertically and even overhead!
This is made possible through it's magnetic base as once you've positioned the drill in the exact spot that needs drilling, the magnetic base is engaged and this holds the drill firmly in place with no fear of it moving or your hole running off centre.
Drilling Through Sheet Metal and Thin Metal
If you are new to the joys of drilling holes in metal, drilling out thin pieces of metal may seem like a fairly easy job, but as with most things, this can also present it's own problems.
The main problem is that as the drill bit bores it's way through, as very thin metal is, to a degree, fairly flexible, the bit can kink and stretch the area around it causing it to deform. Once damaged in this way it's never really the same afterwards, even after hammering it out flat.
To avoid this problem, one solution is to "sandwich" the metal between two pieces of timber and then clamp them up. This will ensure the object stays completely flat as you drill through it.
Another solution is to use what's known as a "step drill bit". This is a conical shaped bit that allows you to drill a different sized hole for every "step". Most step bits range from around 4mm up to about 20mm.
They are specifically designed for drilling into thin and sheet metal so will give you a perfectly smooth and rounded hole.
When using a step bit, it's also a good idea to place a flat piece of timber below the item you're drilling. Applying pressure down on the bit by pressing down on the drill can easily bend the metal so placing some thing flat and sturdy below can solve this problem.