Fixing kitchen base units is done using the same principle whether it is a 150mm wide drawer unit or a 1000mm wide sink unit. The basics of getting the unit in place and fixed to the wall are the same.
Firstly you must determine the height of your work top. Most work tops are set at 900mm above the floor to allow for kitchen appliances to be slid underneath. Mark the underside of the work top on the wall as this is the height of your base unit.
Most base, sink and drawer units these days come with adjustable legs. If yours does not have these it is very important you get your floor level. This can be done with self levelling floor screed.
Put the unit in position and check the back against the mark on the wall. Adjust the legs to the mark and place a spirit level on the top of the unit. This should be done in 3 directions. Parallel with the wall, at 90 degrees to the wall and diagonally across the base unit as a double check.
When the unit is in position against the wall fix the angle brackets supplied to the wall as shown in the diagram. These brackets can be bought in the tool store below if they did not come with your base unit.
Once fixed to the wall the bracket can be fixed to the inside of the unit itself. The brackets have slots in them to allow them to be tightened right up against the wall.
If your kitchen base units are standing next to each other they should be fixed to each other as well as to the wall and, at the front of the unit, this can be done by placing the fixing screw behind the hinges.
To see how this is done see our project about fixing wall units. In the bottom right of the images below you can see a screw inserted between two hinge holes. One the hinge is in place, this screw will be hidden. Once fixed the unit is ready to have the doors attached and adjusted. See our project on adjusting cupboard doors for this.
In the related projects list to the left of this page you will find several projects to help you fit the different components of your kitchen including fixing to plasterboard which the units in the photos were.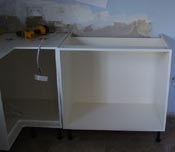 Go to our video section on kitchen cabinets to watch a two part video on "installing kitchen cabinets" for a practical demonstration.