The drawback with using standard six foot fence panels is that, although they vary in height from 3 feet to six feet, the width is always a standard 6 feet. This is great if your garden is divisible by 6 but not so good if its 29 feet 4 inches long.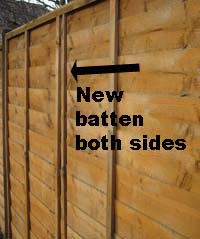 Cutting down a fence panel to size is a really easy job and only takes moments but you do need some new battens. These battens are usually 25 mm or 38mm wide by 19mm thick and you will find these sizes, as standard, in most DIY sheds and timber merchants. The image below is a plan (I. E is looking down on) of 2 fence panels. The top one, A, is a standard panel. The battens which hold it all together are placed, back to back, on either side of the panel. Normally there are a pair of battens at each end and a pair in the middle.
The panel underneath (B) is being made ready to cut down. In this example the panel is being cut down in the middle but it can be any size you need.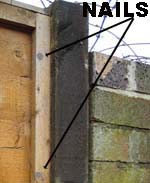 Prize off the original centre battens and remove the staples. Measure the size of the panel you need and mark it on the face of the laps.
Fix a pair of battens either side of the line as shown in image B and in the left hand image. Nail, or screw right through one batten, into the panel and through into the next batten. The nails need to be 35mm galvanised nails or lost heads. See our project on types of nails. If you have help it is sometimes easier to do this job with the fence panel standing upright as shown by the image on the left. The two batten are in place on one side and these have been nailed to two more battens on the back of the panel.
When all 4 battens are fixed simply saw right down the middle. You then have 2, three feet wide panes which can be nailed, or screwed into the new post.