Installing waste pipes for washing machines and dishwashers can be done fairly simply by using long hoses and connecting them into the waste trap of your sink. We do not advise this method as it can take up a great deal of room in your under sink cupboards and the hoses usually need to be extra long which means they have a tenancy to sag and allow stale water to sit in them.
Another problem is that the only way to connect a washing machine or dishwasher hose to a sink waste outlet is to use a jubilee clip onto a nozzle which is tapered. We don't believe this is good practice and sometimes washing machine and dishwasher waste water is under quite a bit of pressure when it is expelled by the machine. This could force the hose off.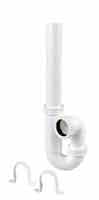 Another, much bigger problem with installing appliance hoses into sink wastes is the noise!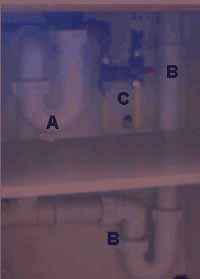 We believe it is much better to spend a bit more time getting the waste pipes done properly so the machines waste can be taken via its own trap to the main drainage outside. There are many solutions to getting rid of the waste water from the various sources in your home, the following project pages may help you further with this:
along with 3 projects on the different types of waste pipes you can get to do the job an how they can be joined:
A washing machine or dishwasher waste is usually made with 40mm plastic pipe. We always prefer to use solvent weld or compression fittings with the waste pipe because once it is made, it stays together and there is no chance of leaky joints.
The image above (apologies for the quality of the image but DIY Doctor is a company of working tradesmen and our examples are real. Other sites draw pretty pictures but have never done the job in their life) shows the sink waste (A) and the isolation valves (C) which turn the washing machine and dishwasher on and off. You will note there is a hot and cold valve so these are obviously for the washing machine.
Due to health and safety regulations a dishwasher must only be plumbed in to a cold water supply. This is so the machine can heat the water to a recommended minimum of 120 degrees Fahrenheit (approx 50 degrees Celsius) which will eliminate all the bacteria. Item (B) is the washing machine waste pipe with the trap at the bottom.
The reason for the trap is to stop foul air getting back into the room as explained in our project on how waste traps work. The washing machine waste pipe, once installed, must deliver its water to the foul drainage system outside your home. This is the same system which takes the toilet and basin waste. It is illegal to put this waste water into your surface water system which is the water collected by your gutters.
We always try to get the top of the waste pipe to a level which is 100mm under the worktop. If there is no worktop then the top of the waste pipe should finish at approximately 50mm down from the top of the washing machine.
The washing machine waste hose usually comes with a pre set bend which takes the hose into the stand pipe about 200mm. The pipe should be clipped to the wall at least twice in its vertical length and at every 400mm along its horizontal length. Any sagging of the pipework can lead to puddles of stagnant water in the pipe which can cause horrible smells.
To take the waste pipe out of the wall see the projects above where you will learn how to drill through your wall easily, how to connect waste pipes to the main drainage and how to connect access plugs so you never have to worry about blockages.
A final way of connecting washing machine and dishwasher wastes is by using an in-line, self sealing waste trap. These little marvels are a tube shape, about 250mm long which fit onto a standard 40mm pipe with a compression fitting. They contain a thin membrane which opens to allow the waste water through but immediately closes again to stop foul air getting back in. This waste is called a HepVO self sealing waste valve.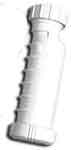 Self sealing waste traps can be put in horizontally or vertically and can be used in bathrooms as well as kitchens. Bends and adapters can be ordered with the fitting so it can be applied in almost any situation. Installing a self sealing vent, because it reduces negative pressure in the waste system, can be used to remove the noises associated with gurgling pipes and basins. It is easy to install and removes the need for air admittance valves.
Take a look at our video section on installing a dishwasher to watch a video on how to hook up the dishwasher waste pipes.