When choosing how to decorate your interior walls there are so many different choices and options that it can make your head spin! The most obvious choices are wallpaper or paint, and there are plenty to choose from within just those two categories, but you also have wood panelling, ceramic tiles, glass tiles, fabric, and a plethora of other different types of wall coverings to choose from.
So how are you meant to select the right one for you and your home?
In this project, we will be highlighting some of the more unusual or lesser-known types of wall covering so that you can be well-versed in all that is wall coverings. With this knowledge – and inspiration from your own personal styles – choosing how to finish your walls will be made much easier.
Before we go into the different types of wall coverings, first there are a few key points you have to think about. The type of wall covering you choose will depend entirely on which wall(s) you are covering.
Somewhere with lots of humidity or moisture like a bathroom or kitchen will need a material or finish that is water and damp resistant.
In areas subjected to high traffic and exposure to frequent contact such as a hallway or staircase will need a covering that is durable, tough, and easy to clean.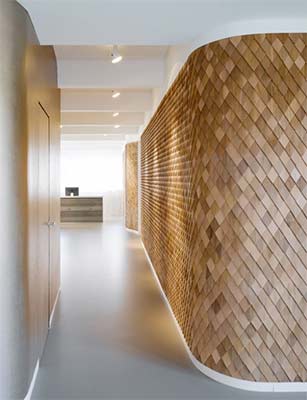 There are other nuances to bear in mind such the colours and/or textures you are working within the room already, how much light is coming into the room, whether you want to room to feel bigger or smaller, how much you are able to spend, and how many walls you are covering with any particular wall covering material.
It can be a lot to take in and can become a bit overwhelming and stressful if not handled properly.
We suggest writing down all the key points and being aware of how colour and light can affect a room, and keeping an open mind about how to go about decorating your home.
Different Types of Wallpaper
As we mentioned above there are many different types of wallpaper to choose from, from the traditional to the unusual.
We'll touch upon some of the less well-known here, but for more information check out our project on choosing wallpaper.
Printed Wallpaper
This is exactly what it says on the tin – paper with a printed design that in some cases can be slightly textured or embossed following the same lines as the design or it may even have a surface texture applied during its manufacture.
Cheaper variations of this may be rather difficult to hang as they are prone to tearing and stretching.
The more expensive types, including hand-printed, are a lot better in this respect, but you have to be careful during the hanging process to avoid getting paste on the face of the paper as it can be rather difficult to clean.
Largely regarded as the strongest printed wallpaper are the Duplex variations as they are made using two bonded sheets of paper.
All of these types can be wiped clean and are also quite easy to strip if needed.
Washable Wallpaper
This type of paper is similar to Printed Paper but has a thin clear plastic top coat applied to it during manufacture. This then makes it water and stain resistant.
The plastic coating can withstand sponging and washing, gentle rubbing but not scrubbing or use of abrasives.
As with printed wallpapers, these can also be textured or embossed. These paper types are ideal for steamy/humid conditions such as bathrooms or kitchens.
The main drawback with this type of paper is that it is rather difficult to remove due to the plastic coating preventing water penetrating and softening the paste.
However, if you score or mark the paper in some way before soaking it with a wallpaper softening agent and also use a steam stripper and a scraper you can get it off much easier.
Vinyl Wallpaper
This form of paper consists of a vinyl plastic film onto which the design is printed, rather than printed on paper and then coated. As with the other paper types this can also be textured or embossed and in some cases can have a metallic effect (see: vinyl foils).
The combination of this creates a wall covering that is much tougher and hard wearing than a washable paper. Stains and marks can be scrubbed away and removed, but only if the paper was hung correctly. You have to be careful when cleaning so as not to lift the seams by over soaking it.
Many of these kinds of wallpaper come ready-pasted and, due to their plastic layer, are extremely easy to strip away, leaving the only paper backing on the wall which can be easily scraped or scrubbed off the wall.
Ideal locations for this type of wallpaper include hallways, landings, a child's room, staircases, and any areas that are prone to contact, brushing, and scraping as due to their hard wearing nature they're less likely to become damaged and are easily cleaned.
Due to the advantages listed, these types of wallpaper tend to be much more expensive than the first two types, and also of a higher quality.
Foam Vinyl Wallpaper
Similar to the previous type, the main characteristic of this paper type is that the surface is aerated with tiny bubbles which produce a slightly cushioned feel.
This not only offers a rather luxurious feel, but it is also partially sound absorbing.
These paper types are also warm to the touch due to the insulation effect created by the air bubbles, which also makes them an ideal choice for spaces that are prone to condensation.
They may also feature heavy textures or embossing of the surface for certain effects such as imitating materials like wood grain or bricks.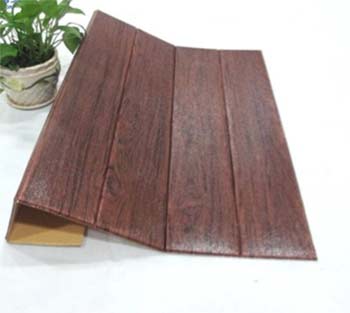 Flock Wallpaper
These paper types are generally either printed papers or a type of vinyl that features a very characteristic raised pile effect, generally made of fine wool or silk fibres on paper types and generally synthetic fibres on vinyl types. This very closely resembles a velvety texture to the touch.
The paper types have to be hung with great care as they are rather delicate and are prone to tearing and/or wrinkling, but the vinyl types are extremely tough and hardwearing and do not need as much care when hanging.
Tiles on Walls
Tiling as a form of wall covering has become very fashionable in modern homes over the last few decades or so – and not just in the bathrooms and kitchens!
With so many different types of tiles out there made from a range of materials and with various looks and aesthetics, it's no wonder that it has grown in popularity.
We won't be going into too much detail on the different types of tiles here as we have a whole project on the subject of different types of wall and floor tiles, and a section on tiling itself and all that goes with it.
The most obvious use of wall tiles is of course as splashbacks in the kitchen and around the bathtub, shower, and sinks, but tiles need not be restrained to just a small part of the house.
Tiles can be used to great effect if the composition of the tiles is given thorough thought and creativity.
With a range of colours, materials, shapes, and sizes you can create an amazing and beautifully tiled wall, be it something minimalist and simple like the classic white subway tiles, or something a little more complex such as introducing a pattern.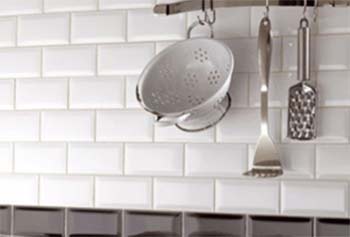 As well as the classic tile-types such as ceramic, glass, and terracotta, over the past few years, there's been a growth in the "material-themed" kinds of tiles – tiles that are either made from certain types of materials or created to give off the effect of the material they are emulating.
Materials such as marble, concrete, and reclaimed wood can be very expensive in bulk and so tiling a wall or floor may be more than it's worth (unless you have that kind of money to splash about), so manufacturers have worked hard to create tiles from inexpensive but quality materials with these looks in mind.
The result is getting the appearance of these aesthetics without the need to pay out an arm and a leg! Not only are they cost effective, but these types of tiles are so much easier to install. Concrete especially can be pretty heavy… could you imagine trying to tile a wall with proper concrete?!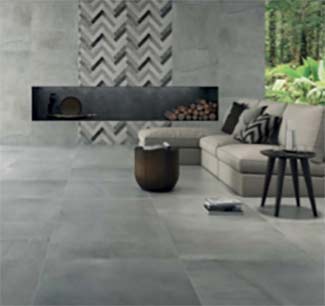 There has also been a growing trend of metallic toned tiles. Tiles made to look like brass, copper, gold and other metallic elements make for a seriously rich texture and they look absolutely fantastic!
In addition to their stunning effects, the reflective sheen allows the light to bounce around the room and can help to open up the space, even with darker tones. Play around with the different tones and shapes to see what you can come up with.
Mixing and matching tiles seems to be very popular in modern homes too. Be that mixing different textures, colours, or shapes, or even different styles, patterns vs plain, gloss vs matte, and also separate materials, this can be used to create a great effect.
However, keep in mind that there is a thing as too much. If a room is too busy it can feel very distracting and unsettling.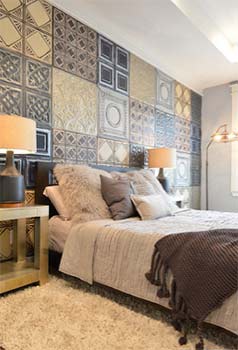 Fabric Wall Coverings
The practice of using fabrics to cover or decorate your walls has been around for a very long time and is evident in many different cultures from all over the world. Lately, however, this is a trend that seems to have just exploded with popularity, especially with some of the younger generation. It's not hard to see why.
Not only does it look rather stylish, but it is also very cost-effective and much less expensive and time-consuming than a lot of the other types of wall covering materials available.
For more information on this subject, we have a whole project on fabric walls, and how to create a fabric wall where we focus on two of the main kinds of fabric walls.
As well as the two types of fabric walls explained in the project above, there are a few other ways to create a great fabric wall covering. Another popular method is upholstery, such as with a chair or sofa.
Depending on the exact appearance you want, there are a couple of different ways to go about creating an upholstered look on your walls.
The most popular seems to be the "headboard" styled version, whereby you turn the wall (or part of it) into the headboard for your bed.
It really defines the space in your bedroom and creates a luxurious and pleasing accent wall that is both stylish and ridiculously comfortable.
This, of course, does not have to be limited to the bedroom. Adding an upholstered wall in the living room, not only makes the space cosier but will also absorb sound.
The most popular and well-known is tufted upholstery. Seen on headboards, sofas, chairs, bed benches, footstools, and, of course, now walls, this is an aesthetic that feels rather lavish and grand.
Tufts are most recognisable for their diamond pattern, but can also be square in shape. Depending on just how plush you want your upholstery to look, you can have shallow or deep tufts, and these are dependant on how thick your foam is under the fabric.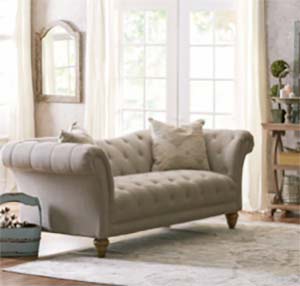 If, however, a full wall of tufted upholstery is a little ambitious, or maybe that's just not the style you want, then another type of upholstery that is more specific to wall coverage is the padded fabric wall panels.
These are not only very modern and chic but are more versatile than the tufts as they can be virtually any shape or size you want, and in as little or as many different fabrics you want. You could go with simple squares or rectangles, or you can miss and match with different sizes and colours.
Just remember to make sure that you measure your wall properly and that you take into account that these panels are padded and so will not lay flush against one another.
Allow a little room in between each panel for the padding. These padded wall panels are easy enough to make yourself and are rather fun too.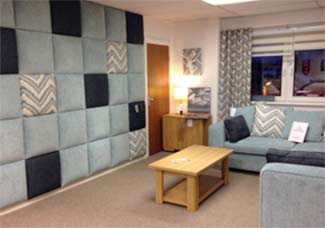 Other Effects and Details for Wall Coverings
Wainscoting / Chair Rail / Shadowbox
Wainscoting, chair rails, and shadowboxes are used to break up an otherwise bland wall. Sometimes a full wall covering can be a little over the top, so by only covering part of a wall, or adding some simple features, it can give your wall definition without too much hassle.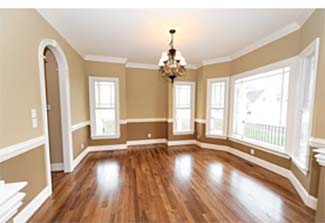 All of these techniques can be used by themselves or in conjunction with one another and there are plenty of examples out on the web to give you an idea on what can be done.
The finished aesthetic can be very "manor house", in the sense that it has a classic and stately feel to the overall look. Chair rails and shadowboxes, especially, are rather easy to create with the right tools and measurements.
Mirror or Reflective Surface
Mirrored walls are very popular in gyms and dance studios, but why not bring this into your home? A mirrored wall will do wonders to open up the space in a room, bounce around the light to make it bright and airy, and give off the illusion that the room is bigger than it actually is.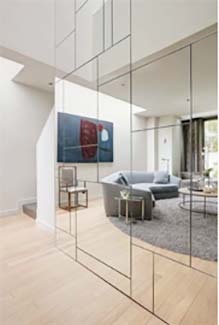 Of course, there is a lot of maintenance and care that comes with a mirrored wall. You have to keep it clean and free of smudges and dust and be very careful not to crack or shatter the glass. A mirrored wall might not be the best idea if you have young children about.
Rugging (tiles)
Rugging is a term for a technique primarily used on tiled floors to either highlight a specific area, such as under the dining room table (hence the term rugging), or to "block off" different areas which can be especially helpful in an open-plan space.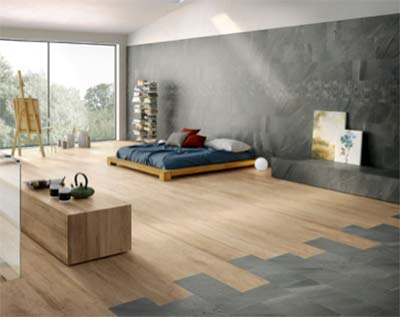 However, this could also be applied to walls with great effects. Perhaps if you have a large bathroom with a walk-in shower, this would be a great way to blend between the two sections while still emphasising that they are different parts of the room. Or in a kitchen-diner for the same effect.
Or, for a truly "seamless" look, why not apply this to the floor and the walls? Blending two styles of tiles together is a brilliant way to create a timeless and stunning design.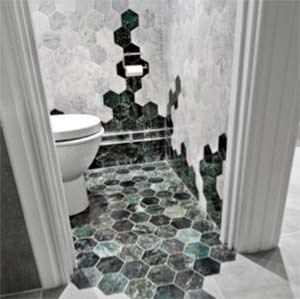 Decoupage
Decoupage is a relatively easy craft to master, and the effects can be stunning. Most of the time decoupage is used to embellish furniture or trinket boxes, but who's to say you can't decoupage a wall? We have a project on decoupage and a simple step-by-step guide on how to decoupage.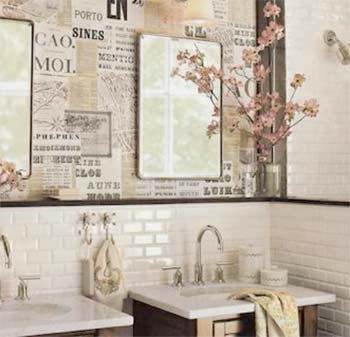 Depending on the material you use, a decoupage wall can look rather busy, so it may be best to limit this to just one wall or part of a wall and make a feature out of it.