Hole saw is the name given to a large diameter drill bit. Hole saws come in as many varieties as normal drill bits and, using the different types, can drill through everything from a bath or basin to insert new taps, to an external wall to insert a six inch soil and vent pipe.
A hole saw placed on a surface would simply slide all over the place, wrecking the surface, if it was not directed exactly by a pilot bit (see our related projects list, left, for pilot holes) in the centre of the hole saw. The adapter used for fitting the holes saw, pilot bit and spindle into the drill is called an arbor. The arbor is threaded so it is screwed into the hole saw to ensure the whole assembly stays sturdy and does not wobble. The image left shows an 80mm holes saw, the arbor and the pilot bit.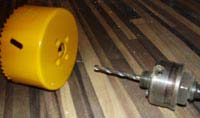 As with normal drill bits hole saws come in two main varieties. High speed for metal and wood and masonry. The masonry bits can be bought with diamond tipped cutting edges which makes the job of cutting large holes in masonry or concrete very easy. The only draw back is that diamond tipped hole saws are very expensive to buy. They can be hired from local tool hire shops however. As you can see from the image on the left the pilot drill extends beyond the face of the hole saw by about 20mm to guide the holes saw into the correct position. You can see from the images below how a hole saw can be used for wood and masonry.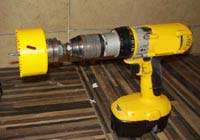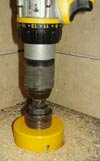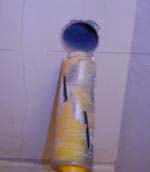 One of the most popular questions to DIY Doctor is about drilling new tap holes through baths and basins. This is not a difficult procedure and is exactly the same as drilling through wood. A major concern is not to try and force the drill bit through the surface you are drilling, just apply gentle pressure and allow the hole saw to cut its way through.
Where ever possible, when you feel the pilot drill bit push through the other side of the surface you are drilling and this applies just as much to drilling through masonry as any other type of construction, go to the other side of the surface and, putting the pilot drill into the hole you have created, drill back through for about 10mm. Then go back and finish the hole from the side you started. This will stop the surface splitting or splintering when the hole saw cuts right through. Hole saws for cutting tap holes through baths can be found in the tool boxes below.
When drilling through masonry dont forget to wear safety goggles dust masks and gloves.