Top Tips for Skirting Board Renovation
Renovating skirting boards can be a tricky job but here are a number of tips that will help you to get them looking amazing again.
Painting Skirting Board
Most of the time renovating your skirting board tends to mean stripping and then painting them. We have a project on painting skirting boards so you should read this, but these are our quick tips for those that want to get on with the job quickly – they cover some painting tricks too.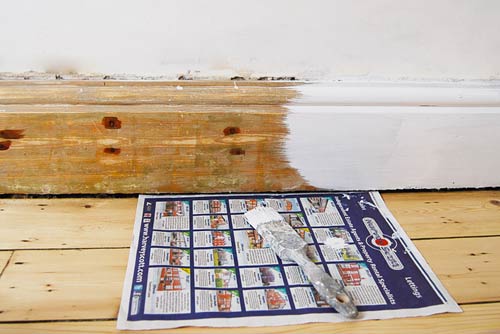 Remove or Renovate in Situ? – Where possible remove the skirting board and strip, prepare and then paint before refitting. Do this before you skim the walls above, as afterwards will be too late. It is so much easier to renovate your skirting boards when they are not in situ
Larger Skirting Can Hide Many Sins – If you have to replace the skirting, you will have to match it with the existing skirting design or something in-keeping if you cannot find the exact same one. A clever tip is to replace the old skirting with new that is slightly deeper so that it covers any messy edges to the plaster
Peel Back the Carpet – If you can't remove the skirting then try removing the floor covering, especially if it is carpet, so that no paint drips on to it, and you can access the skirting easily to prepare it
Old Lead Pain Hazard – Watch out for lead paints! Sanding lead paints can create a dangerous dust which you should not inhale. Find out more about how you should deal with lead paint stripping here
Lurking Electrical Dangers – Watch out for old electrics and wiring! Sometimes, particularly in older homes, all manner of electrical sockets are attached to the skirting board, and wiring's stuffed behind them. Take a little care until you are sure that there is no wiring present, and if there is make sure it is safe – start by turning off the mains
Vacuum before Painting – Don't rush into the painting, but try and hoover up all the dust and sanding particles that you have created when preparing the skirting. If you don't these particles will be miraculously attracted to your fresh paint and stick to it creating all manner of bumps and blemishes
Beware the Springy Carpet – Many people advocate using some kind of paint guard to push down the carpet while you paint the skirting board above it. It is a good idea, but, you must cover the carpet with some form of protection before you do this. If not, it will spring back when you lift whatever you have used to push it down, and touch your nice new, wet paint!
Still Can't Get Rid of all the bumps? If you haven't managed to get the smooth surface you really wanted, a silk gloss paint can be much more forgiving and hide the bumps and blemishes!
Tough Life, Even for a Skirting Board – If you think that you skirtings are going to get a tough life, then you should protect them a little more. We use a polyurethane varnish over the paint to provide a super tough layer than even the most determine toddler will take time to crack through!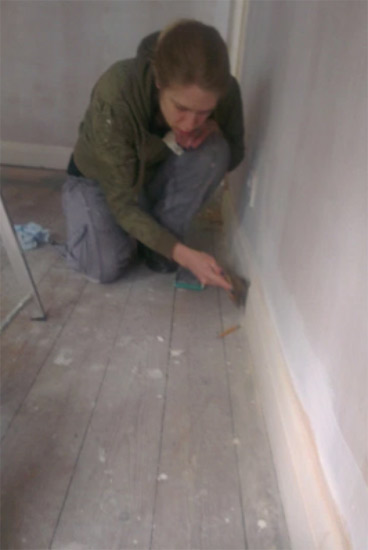 Protecting Skirtings
When it comes to renovating skirtings, this generally means painting, varnishing or some form of waxing. With our top tips above you can get the job done a little easier, and perhaps quicker, but certainly safer.
Renovating the skirting is a worthwhile job, as this is the "frame" that sets off both the floor and the wall. There is often little point going to great lengths renovation walls and floors without at least touching up the skirting, or better still revamping the skirting boards fully.
Save
Save