The Best Dehumidifier for Your Needs
Mould and Damp Problems
With winter not too far away mould and other damp problems are just around the corner. Not only is black mould unsightly but it is very unhealthy too with respiratory problems being a common result from mould inhalation.
Mould starts to grow at a relative humidity level of 65% but did you know that the average annual low humidity level of London is 70%? No wonder mould is so prevalent in the UK!
The best way to keep mould at bay is too keep the humidity levels in your house down at around a healthy 50%-55% level, and the best way to do this is to buy a dehumidifier. But before you run out to buy the first dehumidifier you see here are some tips to buy the best dehumidifier for your needs, on ByeMould.com.
Desiccant vs Compressor Dehumidifier
The first decision you need to make is whether your dehumidifier will be used in an average temperature of below or above 20°C.
Compressor dehumidifiers work better in warmer temperatures such as those over 20°C. While desiccant dehumidifiers work best in cooler temperatures and are best placed in unheated rooms, halls or garages and sheds etc.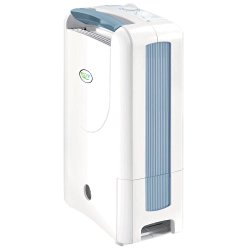 Image from ByeMould.com
There are also a number of advantages of desiccant dehumidifiers over compressor models. These advantages include:
• They are lighter (due to lack of compressor parts)
• They can operate in very low temperatures (down to around 1°C)
• They operate at a lower volume
• They don't contain CFC gasses
Continuous Drainage Option
Typically, the water a dehumidifier collects falls into a water tank which needs to be emptied when full. A continuous drainage option allows you the option of attaching a hose to the rear of the dehumidifier so that collected water can run down the hose into a drain or sink. This way the water bypasses the water tank and will save you from emptying the water tank yourself.
The benefit of a continuous drainage option is that you can use your dehumidifier continuously in less visited places such as garages, shed and boats.
Laundry Mode
Another decision that you must make is if you want to dry washing indoors. Drying your washing indoors raises the humidity level of your house dramatically and creates an ideal breeding ground for mould spores.
To keep the humidity level down and to keep your walls and windows dry you should use a dehumidifier with a Laundry Mode setting.
In Laundry Mode the dehumidifier operates continuously (unless the timer is set) on full power and, depending on the dehumidifier model, can bring the relative humidity right down to a very dry 35%.
On top of that dehumidifiers generate heat when they operate. The Meaco DD8L Compact for instance can raise the room temperature by up to 12°C which obviously helps the drying of washing.
Timer
A timer option is a very handy feature as you can leave the dehumidifier running in the morning while you get ready for work. You could even leave the unit running as you are heading to work.
Be sure to check out the settings as the timer length varies by brand and model.
Energy Saving Technology
Without a doubt you want to save money on dehumidifier running costs. It is well worth spending extra money to buy a dehumidifier with energy saving technology.
Meaco dehumidifiers use a technology called Control Logic which works on algorithms. When the dehumidifier brings the humidity down to your set level the dehumidifier turns itself off for 30 minutes. It then automatically turns itself back on for 5 minutes to check the humidity level in the air.
If the humidity has stayed the same, then the dehumidifier automatically turns itself off for another 30 minutes before checking the relative humidity level again.
If the humidity level has risen over the last 30 minutes, then the dehumidifier will select the most appropriate setting and bring the humidity back down to the target level before turning itself off for another 30 minutes.
You can see that once the target humidity has been reached the dehumidifier only operates on a very low setting for 10 minutes out of every hour. Meaco estimates that this feature makes the Meaco DD8L dehumidifier series up to 80% more efficient than dehumidifiers that don't have this feature.
Hay Fever and Asthma
If anyone in your house suffers from hay fever, asthma or other respiratory problems you would do well to purchase a dehumidifier with an anti-bacterial filter and an ioniser.
An anti-bacterial filter kills bacteria upon contact and provides a much cleaner, healthier air than the air filtered by a standard dust filter.
Breathing difficulties can occur due to a large number of positive ions, such as pollens, spores and dust in the air. An ioniser releases negative ions into the air and these negative ions attach themselves to the positive ions. The enlarged ion becomes too heavy to stay afloat and comes to rest on the ground.
The result is a lower number of positive ions in the air which should make breathing easier.
Be aware that while an anti-bacterial filter and ioniser should provide some relief to respiratory problems they will probably not cure it completely.
The Best Dehumidifier for Your Needs
Using the 6 features listed above you can see which dehumidifier would suit your needs the best. As with most things you buy it is worth spending a little extra money to buy the product that has all the features that you need.