Saving Money on a new kitchen – Tips and ideas from the Professionals
If your budget is tight – or you just like to be economical – you can make easy savings on your new kitchen without compromising on style, or having to go for the cheapest units on the market.
The best way to save money on your new kitchen is to spend the time planning so that you are not fighting against the structure of the existing room and choosing carefully so you have what you actually need in the kitchen, and don't spend money on things you won't use.
Let's be honest a new kitchen is going to be expensive, but if you get it right it will be a pleasure every day and it will last you a long time.
Avoid fads and trends – trying to keep up with the latest designer looks, appliances and gadgets can be expensive. Look for style that is timeless and colours you love rather than following fashion. The kitchen below has a timeless charm which still reflects the personality of the owner, choices of lighting, stools and flooring make it very contemporary – but these elements could be easily and economically changed later if desired.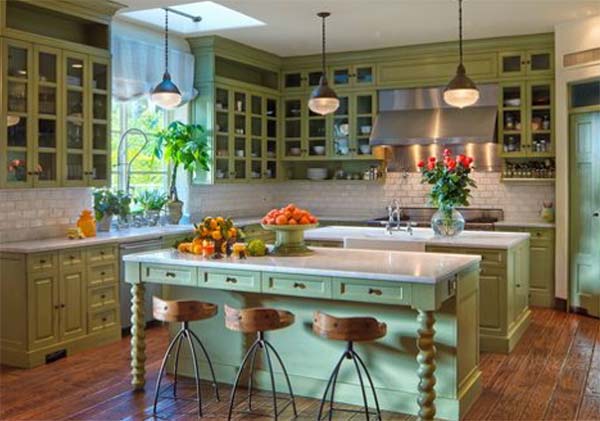 Pick a style that suits your property: As a rule of thumb a cottage suits a cottage-style kitchen and a modern house a modern kitchen. This is not a hard and fast rule – you can really play on mixing eras, if you are a confident designer.
Choose neutral and natural materials if you want a kitchen that will stand the test of time, both in terms of wear and tear and style (such as the kitchen below). You can add colour and design touches with paint, wallpaper, window dressings and accessories – all of which are relatively low cost to replace later on.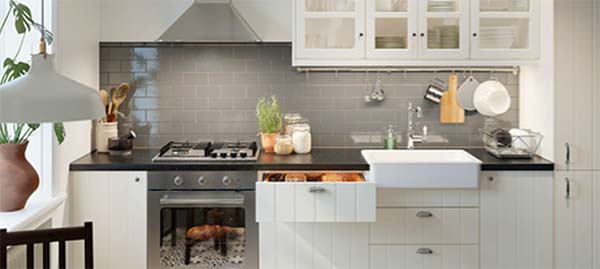 Find out what other people love and hate about their kitchen – and use their experiences to avoid pitfalls and to spend money on the bits that really matter. For instance if you do a lot of washing up you will want a big sink and drainer and maybe even a double. If you put everything in the dishwasher the sink is less important.
This about how you use your kitchen and get the workflow right. If you love to bake you need ample surfaces to knead bread, cool cakes and roll pastry. If you also entertain or have big family meals you will want a double oven, 2 single ovens or a range cooker to allow enough cooking and/or baking space at any one time. If you hate cooking and generally rely on ready-meals then a mid-height oven, a microwave and a dishwasher will make your life even easier.
Look at the basic layout of your room and decide if you can manage to keep the floor plan roughly the same. If you don't have to change the electrics for the cooker, sockets or lighting or plumbing for water, gas and drains that will save a lot of money. However if the sink being in its existing location is going to drive you mad every time to fill a pan with water or wash your vegetables then plan to move it, and consider it money well spent.
If money is really tight you could spend all your budget on getting the units you really want and plan to upgrade your appliances over time. Just make sure if you do it this way that you allow enough space for the appliances you want in the future, not just what you have at the moment.
Many kitchen companies will provide you with a free design and planning service. You want a kitchen design consultant to visit your home, measure the space and one who takes the time to find out what you really want so they work with you to design the kitchen of your dreams.
If you are designing the kitchen yourself make sure you measure everything accurately from the room itself to the units and appliances you want to incorporate – most rooms are not square and you need to be sure you have allowed enough space to get everything in. If you order the wrong amount of units or the wrong sizes it can be costly to and time consuming to arrange replacements. Most kitchen manufacturers will not refund items that have been opened especially if they have been assembled. They also have quite long order times in some shops so if you are employing kitchen fitters they will need to return to finish off which is likely to add costs.
On this note it is a good idea to order everything you need for your new kitchen in plenty of time so everything is at hand for the kitchen fitter to fit in the correct order so it is done in the most time efficient way. Time is money after all.
When everything arrives check that all the components are in place – as this could also slow down your fitters if there are essential bits missing.
Look for functionality and build quality of appliances rather that how they look, and check to see if other stockists have offers on your chosen appliances as this can really save you money. Do you really need the latest duck-egg blue or burnt orange fridge or will a white one at half the price do you just as well? Of course the burnt orange one might really make your day when making your morning tea in which case it might be worth the extra cash to you.
Consider buying free-standing rather than built in appliances – these are usually cheaper.
Find out which stores have offers on – some will do deals where appliances are free. Last season's unit designs might be sold off cheaper but will still be the same quality, and you may find one that will suit you just as well as any new designs.
Be prepared to haggle – if you have a budget and a store can't quite match it, or you have found a similar design elsewhere for less you can always ask if they can knock something off the price, or throw in fitting, appliances or flooring etc to bring the price down.
If you have a small kitchen or like the idea of an eclectic mix of units you can save money by buying an ex-showroom kitchen. Only do this where the original kitchen is good quality, because cheap kitchens will not withstand being dismantled and rebuilt.
With good DIY skills you can fit your own kitchen and this will save you a considerable sum. Even if you have basic skills and can build the carcases this might mean your fitter would charge you less – it is certainly worth checking with them. Bear in mind though that a good kitchen fitter will do the job much quicker than you and will be skilled in the fiddly bits like making mitre joints for worktops, so we would certainly recommend that if you are not confident it is worth getting it done professionally. Living without a kitchen is a pain, and the least amount of time it is out of action the better.
There are loads of helpful kitchen tutorials in our projects section, if you want help with DIY, or you can use our Find a Tradesman section to find a kitchen fitter in your area.