Flooring in the loft or attic must only be done to store items such as empty suitcases. The loft or attic area is not designed to carry loads heavier than this and the horizontal rafter sections in your loft are there purely to hold up the ceiling below. You will see that in any part of the loft where there is, for example, a water tank, the floor is reinforced and, in a lot of cases, the rafters are given additional support by hanging timbers attached to the pitched section of the trusses. If you mean to convert your loft into living accommodation of some kind (please note, even using it as an office or study counts as living accommodation) then you need to find out if you need planning permission from your local Council. You will certainly need Building Regulation approval to convert your loft into anything other than a storage space.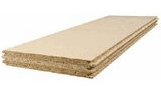 To put a floor in your loft is not a difficult job. It is made much easier by the production of special loft panel flooring. These panels are 18mm thick, 1.2m long and only 320mm wide. This means they are easy to get through the loft hatch. They come in packs of 3 or 5 usually and a pack of 3 is enough to cover a little over 1 square metre.
You must make sure you do not lay the floor right up to the edge (eaves) of the floor space as air must be allowed to circulate in the loft to avoid condensation. The loft panels have tongue and grooved sides and ends to allow you to slot one into another. This gives them strength. The long sides should be laid at 90 degrees to the joists and the ends should always meet on a joist. All fixings to the joists or rafters should be done by screwing the panels down as excessive hammering on the panels, if trying to use nails, will dislodge, or at least disrupt, the plasterboard below. Floor board joints should be staggered for greater strength.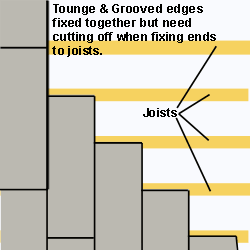 It is very rare for the boards to meet naturally on a joist. Normally a board has to be cut so it finishes in the middle of the joist as shown in the above diagram. This means of course that the tongue and groove need to be cut off both boards where they meet. This does not matter as the joint will be very strong when it sits on the joist. Do not be tempted to join boards between joists as they will soon sag and cause a weak spot in the floor. Each screw should be countersunk and a pilot hole drilled. This makes fixing the boards easier and takes the heads of the screws below the level of the floor so when you slide suitcases along the floor they do not catch and tear on the screws. Another good reason for using pilot holes is so the boards do not split when you screw them close to the edge.
Floor board panels can be bought from most DIY sheds. Read our project on loft insulation to make sure you have enough insulation in your loft or attic before fixing down floorboards.