The Best Showers in the World | From Artistic Shower to Zany Bathrooms
If you are thinking of replacing your shower or installing a shower for the first time you might like a little inspiration to see what type of showers are around and which is the best for you. From sleek minimalism to futuristic and artistic showers we have picked some of our favourites from around the web.
We have loads of information on choosing and installing showers in our projects section on DIY Doctor.
Minimal Showers
If you like sleek lines and no fuss when you are bathing then go for a minimal shower with the pipework hidden behind a panel – just leaving the shower head and controls in view. See how to fit a concealed shower.
The shower screen is a simple sheet of toughened glass which is held in place with the simplest fittings. The drain is fitted into the floor so there is no need for a shower tray.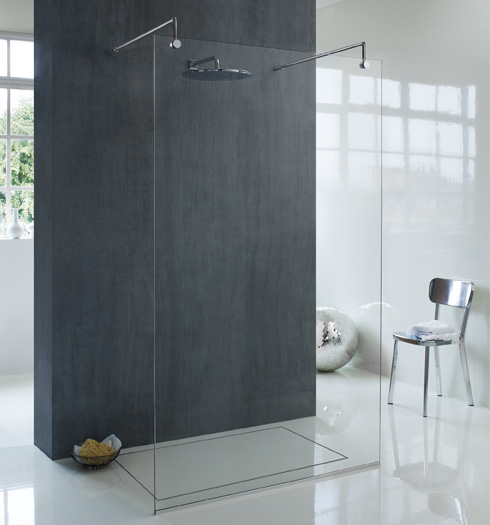 To keep this style of shower enclosure looking amazing it needs to be kept clean and uncluttered at all times – do you think that would suit your household?
Maximal Shower
If you love the thought of a cascade of water coming at you from every direction you cold build a whole shower room with multi directional shower heads – or even enough space fro the whole family like this shower room below.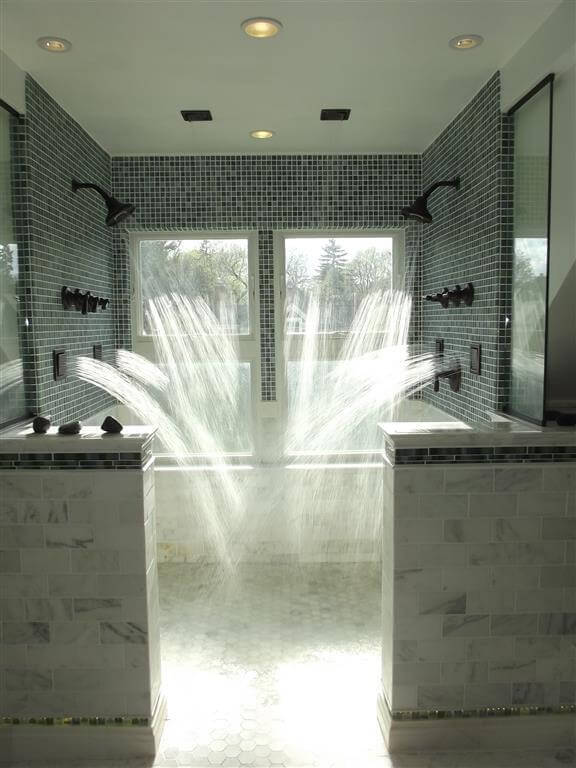 By tiling all the surfaces you are free to splash around in the shower to your hearts content. Because there are so many shower jets in this room we recon you could get the whole family clean at the same time.
Waterfall Showers
If you like a load of water pouring out of your shower you could get a waterfall shower which directs a stream of water directly over your head – just like standing under a tropical waterfall.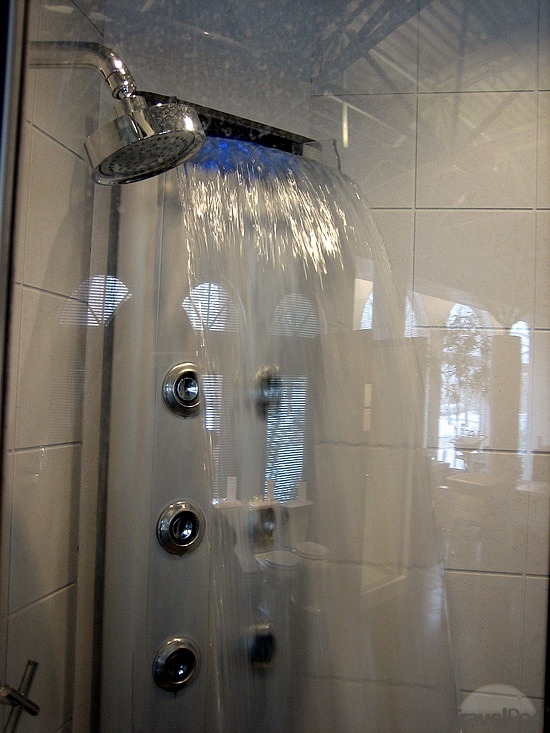 You will need to have a good supply of hot water in your hot water tank or a very fast combi boiler to service a shower like this, otherwise you could end up under a cold mountain stream at the end of your bathing session!
Vertical Shower
For a similar waterfall experience you could have a vertical shower which would use less water than the shower above while still giving the effect of standing in a tropical shower.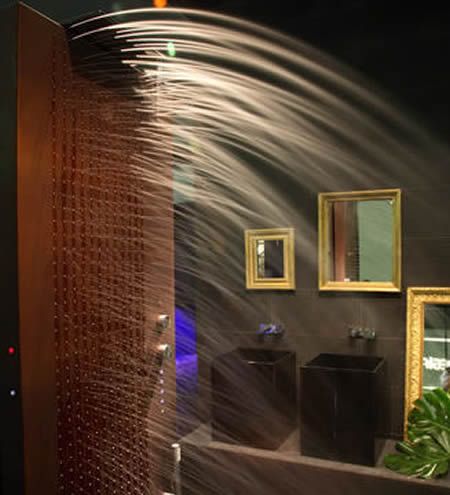 If you like unusual showers why not consider something with space age styling?
Egg Shaped Shower
This beautiful egg shaped shower would make a wow factor in your bathroom if you have the sort of space to accommodate it.
Imagine stepping into this space-age capsule to get clean every morning!
Artistic Shower
If you like something less Star Trek and more Heath Robinson you might like this amazing artistic shower which shows all the copper fittings on the way to the shower head. It's a bit mad – but in a good way. The pipework becomes part of the structure as well as being the plumbing for the actual shower.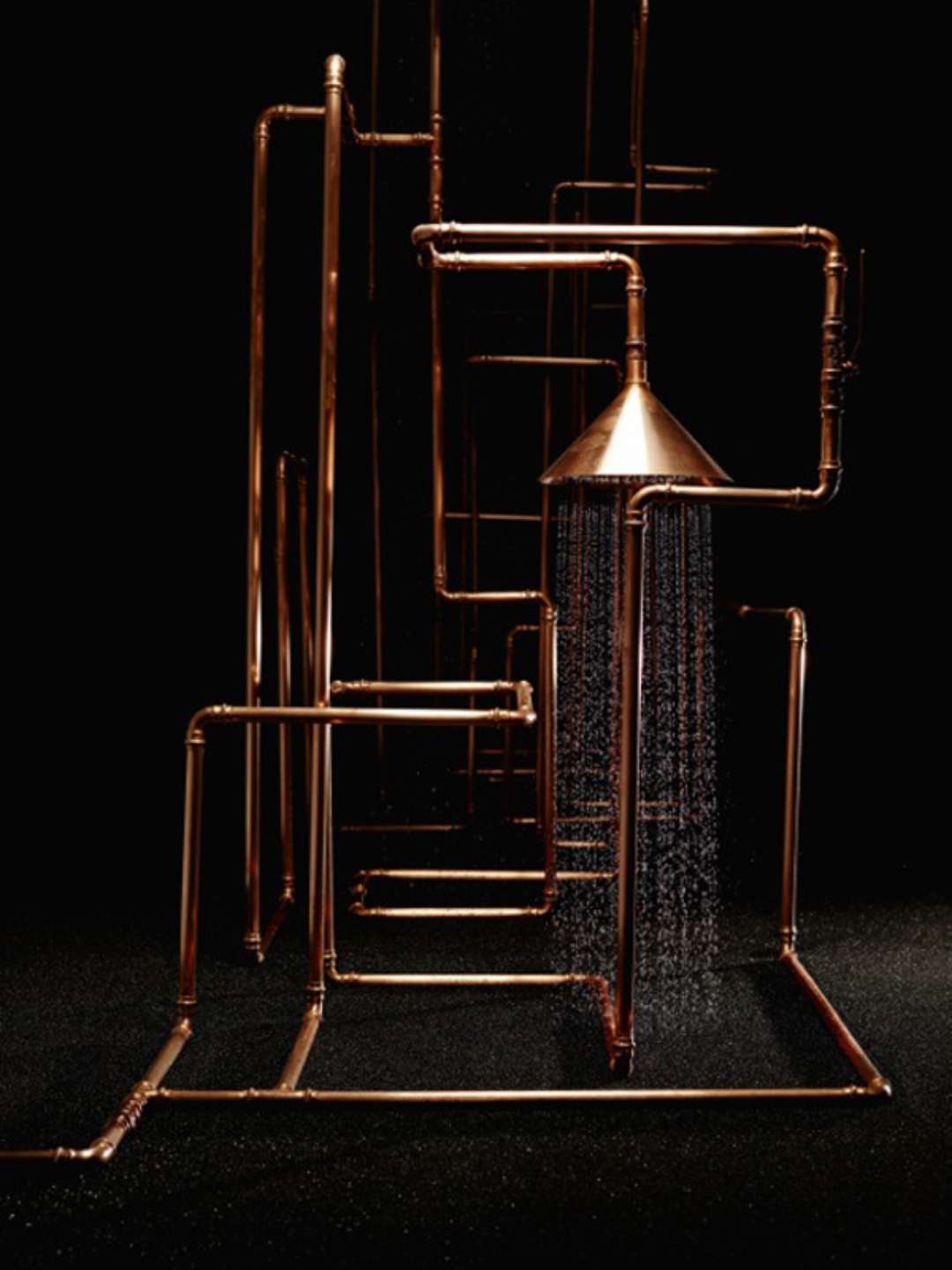 We suspect this might be more at home in a gallery than your bathroom! However you could certainly have fun working with a soldering iron and an armful of copper pipe.
If you fancy a bespoke shower you could also think about putting plumbing out in the garden:
Rose Garden Shower
This private courtyard makes a great spot for a cooling shower in the garden.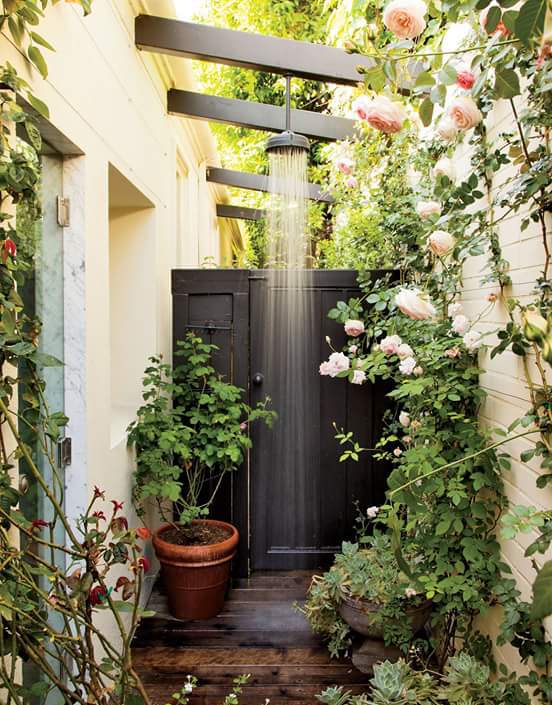 Image: TheStlishDirective Blog
The pipework is hidden in the pergola structure which also gives support to trailing and climbing roses – what a refreshing way to water the garden.
Pebble Bath and Shower
If you like the choice of a bath or shower outdoors how about this fabulous pebble-shaped bath with a shower above it?
Kids would love to splash around in the bath in hot weather, and if you have an outdoor swimming pool this set up would be a lovely way to shower off after taking a dip.
Cutting Edge Shower
Turned one way this bathing sensation is an artistic shower cubicle, spin 180 degrees and it becomes a sensational wall bath.
This may be our favourite artistic shower or bath, no shower . . . you get the point! See the video at the bottom of this page to see the Rotator in action.
Vintage Showers
Step back in time and clean up in an antique chrome shower – you could stand this in a Victorian-styled bathroom to fit in with the theme, or place it in an ultra modern bathroom to create a stunning contrast.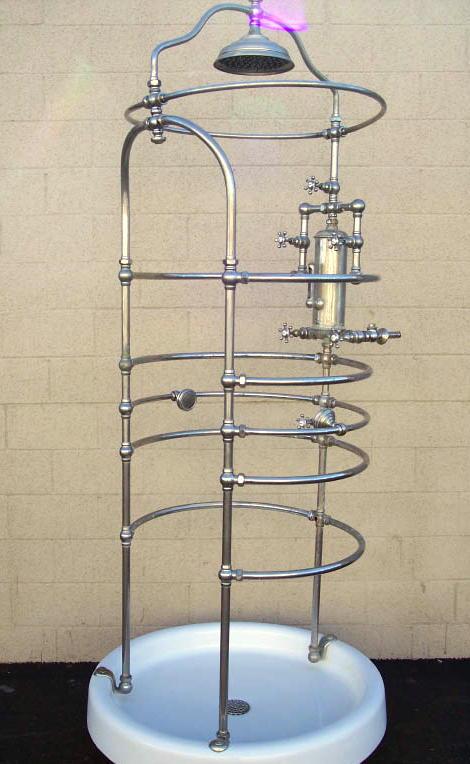 You might find the frame a bit constricting while you are scrubbing away – so why not consider a shower without walls at all.
Beach-side Shower
Be totally unconstrained as you bathe under this huge shower head, with no shower screen in sight.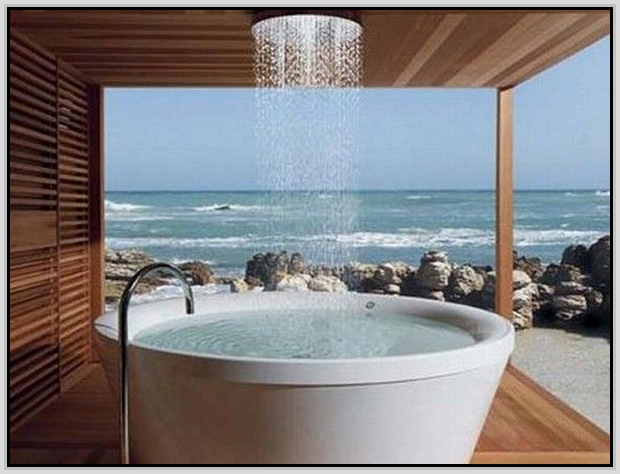 This huge shower head set over an oversized round bath tub doesn't need to be set on the edge of a private beach to give you the feeling of freedom. You could have the same set-up overlooking your own garden, or have a favourite photograph blown up into wallpaper to create a picture wall of your choice.
Find out how to build a wetroom that won't leak.
As promised here is a demonstration of the Rotator truely an artistic shower if ever we saw one!