Your bathroom and kitchen is a rather unique place. No other rooms in your home are subjected to the huge variations in temperature or moisture levels in the air than these two spaces.
You may be thinking; why does it matter that they get hot or cold and a bit steamy? Well, when it comes to ensuring that black mould is not allowed to form or condensation is prevented from causing a whole host of issues then this matters a great deal.
The only way to manage the volumes of water vapour and moisture in the air in both of these spaces is through the use of ventilation and extraction, to remove it and ensure that the air that's replacing it is clean and fresh.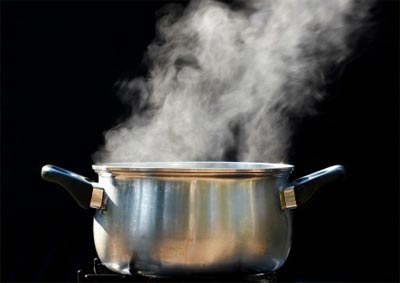 This process can be as simple as opening a window, but generally involves the installation of an extractor fan or cooker hood and extractor with any associated ducting.
To these ends, we will run through what's involved in ensuring that the air within your home is as fresh and clean as possible and how you can easily and cost effectively achieve this.
It's also worthy to note that Kitchen and bathroom ventilation is now an important green issue.
Why do you Need Ventilation in Kitchens and Bathrooms?
As we have briefly mentioned above, kitchens and bathrooms can be humid places. A pan boiling on top of a cooker can chuck out a huge amount of steam and water vapour as can kettles and also other cooking activities.
With all of the activities mentioned above, heat is also a key player. With cooking you are dealing with boiling water and pretty much the same with baths and showers, although the water is not quite as hot as the water you will be cooking with.
During any of these activities, any heat that is given off will quickly start to heat the room or space that you are in, plus also give off lots of steam and water vapour.
The chances are that none of the walls in your room will be at the same temperatures and in pretty much all instances, will be a fair bit colder. When hot, humid air meets a cold surface, the water within that air condenses onto the surface. This is commonly known as condensation.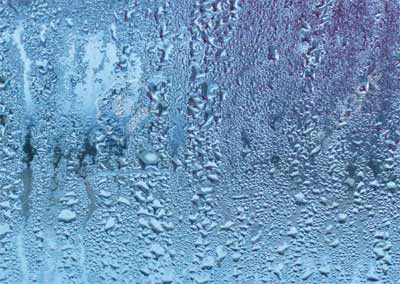 The life style of washing and cooking for an average couple living in a standard sized house will produce about four litres of moist air per day, that's quite a bit wouldn't you say.
If this process is allowed to repeat again and again with very little or no ventilation or extraction, over time it can lead to issues with black mould than can in turn damage plaster, painted surfaces, timber and, more importantly, also harmful to your health!
With this in mind, I'm sure you can appreciate that it is of high importance to control and limit the volume of humidity in a room space and also reduce the possibility of any form of mould forming.
In previous years, natural draughts and ventilation within a property would have taken care of much of this moist air but in the drive to retain heat in the home through cavity insulation, double glazing etc to be much more environmentally friendly and energy efficient, this moist air can become trapped.
If you would like to find out more about condensation and it's causes and cures, see our project here.
Ventilation and Extraction in Kitchens
Firstly an obvious one – open some windows. Although maybe a little obvious, sometimes this isn't always practical. If it's in the dead of winter and freezing cold outside, the last thing you might want to do is open your windows and let any precious heat out.
Aside form this, if it's not winter, then an open window can go a fair way to letting out unwanted steam and humid air, so if you can, do it.
Next, and in all honesty probably the best and most common route is to install a cooker hood.
These are quite common place in most homes these days, but if you have never seen one or used one, essentially it's a fairly large hood that is fixed to the wall above your rings or hobs that has a suitable size extractor fan build into it.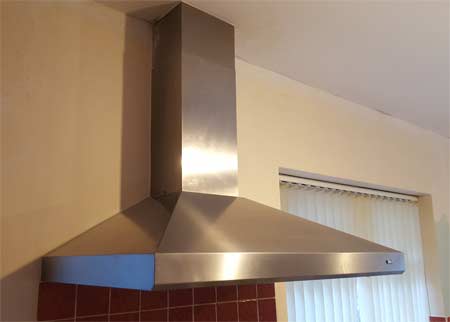 When the fan is switched on, is sucks all the steam generated by any items cooking or boiling below up, upwards through one or more ducts or sections of pipework to a place where it can be vented externally. Most of the time this will be a vent in your wall or soffit.
In most cases, installing a hood can block a lot of light from your rings or hobs, making it hard to see whatever is on them. Fortunately cookers hoods also feature a handy in-built light that can be turned on so that you can see what your doing and how your cooking is progressing.
There are quite a few different types on cooker hood available on the market today, but this is in essence how pretty much all of them operate.
Installing a Cooker Hood
In terms of the complexity of this job, if you have a good grounded knowledge of DIY and basic electrics then this should be no trouble at all. If not, then we would strongly advise that you get the professionals in.
If you do feel that you are capable, read on.
What to Think of Before Installing a Cooker Hood
The type of cooker hood that you have will dictate how it is fixed to the wall and also where any ducting will need to run to get to an external wall in order to vent externally.
For the purposes of this tutorial, we are going to be installing an externally venting chimney cooker hood. These are a fairly common choice when it comes to installing hoods after the initial installation of a cooker.
With this type of hood we are going to need a way to vent it externally. This essentially means making a fairly large hole in a wall.
In order to do this, we firstly need to check the outside wall of the property to make sure there is noting that's going to get in the way of where we need to make our external vent.
For example, gas mains sometimes run up and along external walls so if something like this is in the way, it will need to be moved by a GasSafe registered Gas Engineer.
Similarly, you will need to run over the internal wall area where the hood is to be fitted with a cable, pipe and stud detector to make sure that there are no pipes or wires buried in the wall that could easily be drilled into.
For help with using a stud detector, see our project here.
What Different Types of Cooker Hood are There?
In respect to the different types of cooker hood, there are a few. Just so that you are aware, they are as follows:
Integrated – Built and designed to fit perfectly with integrated kitchens and units. Normally hidden and a door or flap needs to be pulled out so that it can be used

Integrated cooker hood – Image courtesy of stovesrus.co.uk

Ceiling Mounted – Normally used for island cookers (cookers located in an island in the centre of a kitchen), these are either flush-mounted in the ceiling or dropped down in a housing to become more of a feature

Ceiling mounted cooker hood – Image courtesy of extractair.co.uk

Designer – Generally for more modern and contemporary kitchens, they are built to form a feature within the kitchen

Designer cooker hood – Image courtesy of arredatutto.com

Conventional – Standard cooker hood, normally fitted within a wall unit so that they continue a run of units, they are not hidden and are fully visible

Standard cooker hood – Image courtesy of tlc-direct.co.uk
Each of the variations above, including our chimney hood, will either be an air extraction or air recirculation type.
As the name suggests, the air extraction version will extract all the steam, cooking smells etc to the outside of your property, whereas the recirculation type will clean the steamy vapour through a series of grease and charcoal filters and then re-distribute the warm air back into your kitchen.
Both have advantages and disadvantages, the main ones being that pumping warm air that can be used to heat your kitchen outside is a terrible waste, but likewise, pumping warm air around a kitchen in the height of summer can make for an uneasy space to work in.
There's no right or wrong solution, it's really up to you.
Note: One point to note though is that you will be unable to use a recirculating hood if you have any gas appliances in your kitchen. If you do then you will need to use an extraction hood.
As a few final closing notes on the types of hood, when choosing your a hood, always look at the EU Energy label and go for the most efficient model you can. Ideally noting less than an A+ version.
The newer hoods should also feature an LED light over the older type halogen. LED's are generally a much brighter and more efficient option to go for.
One of the major bugbears with cooker hoods is the noise, so pay attention to the levels of noise each produces. Tis will be measure in dB (decibels). Something around 60dB will be fairly quiet.
An equivalent to this level of noise will be something like general conversation or background music in a restaurant.
What Heights can my Cooker Hood be Fixed at?
Moving back to installing our hood, firstly we need to mark on the wall that the hood will be fixed to, the height that it needs to be fixed at.
When it comes to cooker hoods, the rules for installation heights are as follows:
Minimum of 550mm for the hood above an electric cooker
Minimum of 650mm for the hood above a gas cooker
Maximum of 800mm for the height of the hood above both gas and electric cookers
Measure and Mark Centre Points on the Wall
With the above rules in mind, work out how high your hood is going to be above your rings or hob. This may be dictated to you by the height of your ceiling and the height of the actual chimney section of the hood in that the chimney section might reach all the way up to fit flush with the ceiling at the correct height of between 600mm and 800mm from the hob itself.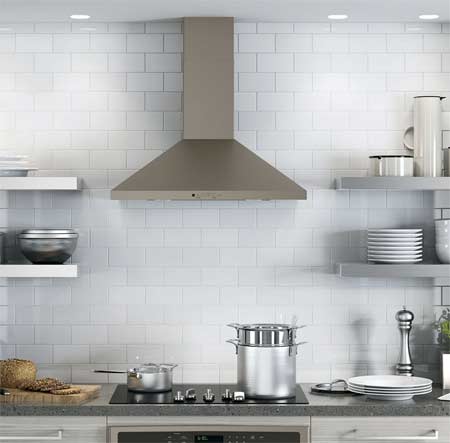 Measure and mark a point on the wall either side of cooker with a pencil at the correct height that you want your hood to be positioned at.
In most cases you will be measuring up off of your worktop. This should be level but it's best to check. Using a spirit level, place this horizontally on the marks that you made on the wall and check that all is level.
If not, lift one end of the level until it is and remark the wall so that you now have 2 level points. Draw a pencil line between these 2 points so that you now have a level reference point for your hood.
Next we need to ensure that your hood will be central to your actual hob/cooker below. Measure the width of your cooker and divide this number by two.
Now, position your tape measure at the rear left side of your cooker/hob and measure to the right the number you arrived at above and mark this point on your wall.
Position a spirit level vertically right on this mark and level up the level, using the pencil mark as the centre of vertical alignment (make sure the level is long enough to go all the way up to your horizontal line that marks the height of your hood).
When the spirit level itself is level, draw a vertical line across your horizontal line. This point now marks the horizontal and vertical centre for your hood.
Finally, measure the width of your hood, divide this number by two and then measure and make a small mark of this distance on the rear of your hood so that you can see it. This will mark the centre of your hood that you can use to align with the marks you now have on your wall.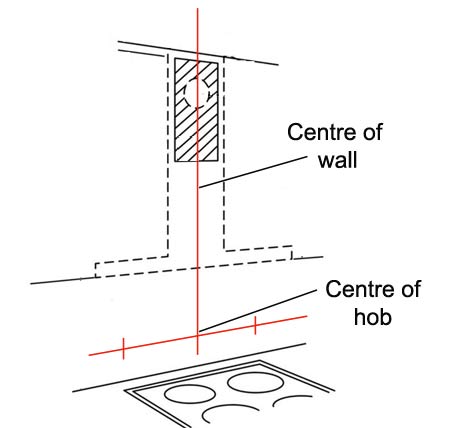 Measure and Mark Fixing Points for Hood and Ducting
When it comes to actually fixing the hood in place, each manufacturer will have their own method or specially designed fixings or brackets, so make sure you refer to your user manual for details on what fixing should be used where, but generally, the principles of installing each will be the same.
Most hood kits will come with a set of instructions that show all the dimensions of the fixing points on a given surface.
Unfortunately, without knowing where the points on the instructions relate to with your own wall, in most cases they are pretty much useless, so generally it's better to get it on the wall so that you can mark the fixings yourself.
In this instance, we are installing a hood that has the first section of ducting integrated on top of it. The hood itself is screwed to the wall and the ducting above it is hung on some brackets.
The final section of ducting then sits over the integrated ducting to hide the external vent position and is itself, secured to the wall by mounting brackets.
It's a good idea to get some help from a second pair of hands at this stage. The hood and ducting was lifted up into place making sure that the centre line of the hood is positioned at your vertical centre line mark on the wall and that it is also horizontally level with the level line marked on the wall.
Ask your second pair of hands to hold the hood firmly in place, ensuring that it doesn't move, while you use a pencil to mark a point on your wall for each of the fixings for the hood and ducting.
With the fixing points now marked, remove the hood and duct and put it safely to one side.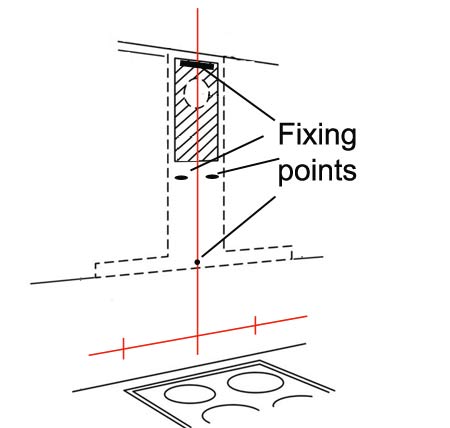 Drill out all Fixing Points
With all of your fixings now marked on the wall, it's time to drill them all out.
If you have manufacturer-specific fittings then they should state in the instructions the size of hole that you will need to drill. In most cases, this will be somewhere between 6mm and 8mm.
If you are drilling into solid masonry, you will need to use a masonry drill bit and a suitable sized drill or combi drill/driver (more can be found about drills and drivers in our project here).
If you are fixing into a plaster boarded stud wall then you will need to use suitable fixings. More can be found about plasterboard fixings in our project here.
In this instance we are fixing into a masonry wall and the manufacturer states to use an 8mm masonry bit for the size of wall plugs supplied.
Insert the drill bit into the drill and then drill out each of the holes. Make sure you run the drill in and out a few times once the hole has been drilled to clean out any dust and debris.
With the holes drilled, insert your wall plugs according to your instructions.
Test Fit and Mark Position of Vent Hole
To insure that the any vent holes are made in the right place, it's a very good idea to test the hood and ducting so that you can then accurately mark where you are going to need to make your vent hole.
With some additional help, get the hood and duct up and lightly fix it in place. Once there you can then see where the top of duct exits the hood and form there, where you will need to run the additional ducting from that point, to the point where it will be vented externally.
In terms of actually getting the air outside, you may have a few choices:
Through the Wall: In most cases, this is going to be the way to go. A large hole is drilled through the wall and ducting connects to a vent on the outside wall
Over the Wall and out the Soffit: Particularly good with bungalows or properties with deep soffits and hoods that run up to the ceiling. Ducting runs from the hood, through the ceiling and into the loft space and then over the top of the wall plate and down out through the soffit
Both of the above methods are suitable to use. If you can go up through the ceiling and then out through the soffit, this will be a lot less work and mess as you won't have to drill any large holes through walls, but it does have a downside.
In order to go up and over there are in most cases going to be some quite sharp bends. This can easily lead to trapped warm air and moisture in the pipework which in turn can lead to mould growth in the pipes themselves which is not ideal.
Additionally, venting straight downwards from the soffit can result in the moist air being expelled to actually travel back up into the vent or even become trapped under the soffit causing damp and mould growth.
Ideally, venting should be done in as straight a line as possible so that the resulting exhausted air and fumes are forced away from the building itself.
With the above in mind, if you can do this then going through the wall should offer the best results, so this is the way we are going to go.
Some manufacturers supply a template that can be placed on the wall and used to mark the position of where you need to drill your vent hole. If not, check the manufacturers instructions for the size of hole you need to make. It should either be 120mm or 150mm.
Mark the width of the top of the ducting area on the wall either side and then, using a spirit level, mark a vertical line upwards, either side of the ducting on the wall using a pencil.
This will mark the width of the top section of duct, so that you can then find the centre between the two lines. Measure this width and divide by two, to find the centre and then mark this width in two places, top and bottom, between your ducting lines and then use a spirit level or straight edge to join them together making a straight line.
Measure up the line, from the top of your ducting section on top the hood somewhere between 400mm and 600mm and make a pencil mark on your straight line. This now marks the point that you will need to bore your vent hole.
The manufacturer may state in their installation instructions what height your vent hole needs to be made at, if so, follow these guidelines. If not the guidelines above should be suitable.
As long as you have enough space to run from the top of the duct to the vent hole with some additional ducting using as smooth a bend as possible, this should be fine.
With your vent hole position marked, remove the fixings and your hood and duct and put it all out of the way in a safe place.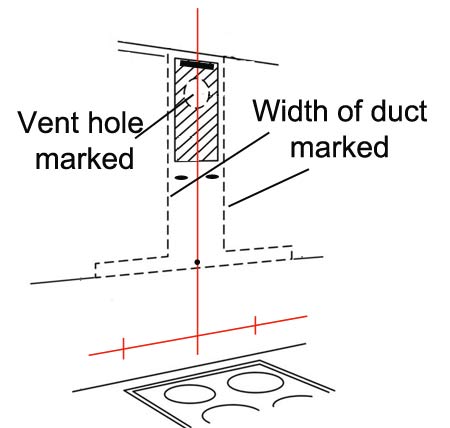 What are the Main Vent Options?
When it comes to getting your extracted air through the wall to the outside world, you do have a couple of options:
Rectangular Flat Channel: As you may have guessed, this is flat and rectangular. Quite new and has emerged over the last 10 years or so. Designed to be just a bit smaller than a standard domestic brick meaning that a brick can easily be knocked out of a wall and this size vent or channeling can replace it

Rectangular flat channel ducting

Circular 100mm Flexible Ducting: This type of ducting is what is traditionally used for most venting jobs. Made of either PVC or aluminium, it can easily be extended and shaped so that it can be routed to pretty much any location

100mm flexible pvc duct

Soil Pipe: This may not be the obvious choice, but it can be used as ducting, although due to it's rigid nature, can be hard to get into the exact location you need and also join to other type of duct without the use of adaptor sockets
In this example we are going to go through the wall. With your cooker hood kit you should also have supplied a through the wall pipe kit. This should consist of an external wall vent, internal adaptor plate and a section of (normally, but can be solid) flexi pipe to run between the two vents through the wall.
In terms of this, you may be thinking; why can't I just vent into the cavity? There are many reasons why this is a really bad idea.
The point of why we are doing this is to remove humid, moisture-laden air from our kitchen to the outside to prevent any associated damp and moisture related issues in the kitchen.
If we simply dump this into our cavity, this again will make the cavity damp, which will seep through to our internal walls causing untold damp issues and damage.
Additionally, the warm moist air can also rise up in our loft space, again, causing damp issues and potentially mould and rot in the many timbers that hold your roof up!
Drilling the Vent Hole Through the Wall
Due to the size of the hole that's needed, we are going to use a 110mm diamond core bit.
If you have never seem one of these before, checkout the image below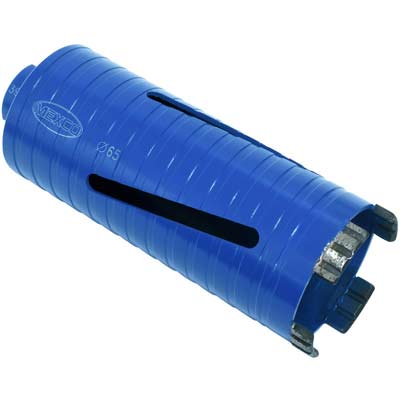 As I'm sure you can imagine, a bit of this size is going to need some grunt to get it to cut cleanly through a solid masonry wall.
To power the drill bit we are going to need to use a large SDS drill of at least 800w. Checkout the link above to our type of drill and drivers project to find out more about large rotary SDS drills.
The chances are that you are not going to own any of this kit so the best option is to hire it from your local hire shop. If you pop in to your local branch and explain what you are doing they will get you sorted with the right kit for the job.
Before you start drilling, this is a very messy and dusty job so remove as much from the area your working in as possible and cover up anything that can't be moved.
With your drill and drill bit at the ready, get yourself in a comfortable position and put the centre drill of your arbour on the mark you made earlier for your vent hole.
Start drilling slowly and build up the speed. Make sure that you hold the drill totally level to prevent the core drill binding and jamming while you're drilling.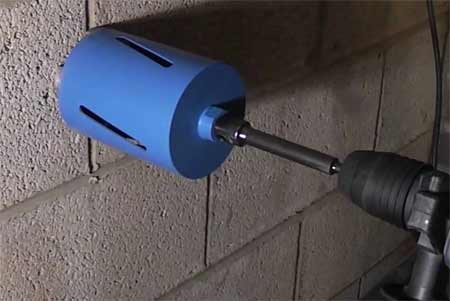 While drilling, don't push on the drill too hard. Let it and the core bit do the work. Also, periodically stop drilling to check your work and let the bit and drill cool down a bit.
When you are about 15-20mm from finishing, stop drilling on the inside and move to the outside.
The centre pilot drill of your arbour should now have burst through the external wall so you can use this point to start again from the outside and drill towards the inside to finish.
You may be asking yourself why you would do this, why not just drill straight through form the inside?
In answer to this, as a drill of this size bursts through when you get to the outside wall, the force that this happens at generally takes huge chunks out of the surrounding wall, causing a fair bit of damage.
To prevent this form happening, you drill from the outside in so that you are left with a nice tidy hole.
If you are using the rectangular channel ducting then you are going to need to remove a brick or to. To do this see our removing and replacing a brick project here.
Install External Vent and Ducting Through the Wall
With your hole drilled you can now get the external duct fixed in place. In most cases, your hood kit should include an external vent, associated pipework and internal duct connection.
If not, you will need to get a kit yourself, something similar to the below should be fine. Just make sure that the circular connectors on the internal wall plate are the same size as connection point on your cooker hood duct.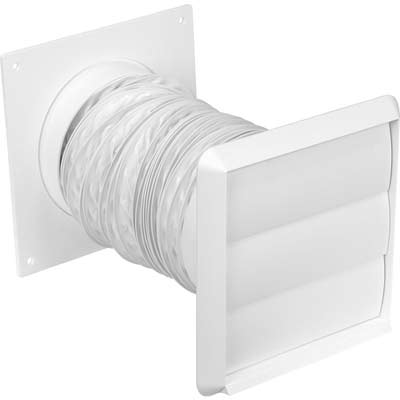 Generally, this should be the case as they are usually 100mm.
Start by mounting the internal plate on the wall. Do do this, put in in place over the hole in the wall and ensure it's level using a spirit level.
Marks each of the fixing holes through the hole of the plate on to the wall so that you know where to drill.
Put the plate to one side and, using a suitable masonry drill (6mm should be fine), drill out each hole, clear any debris and then insert a wall plug in each.
Before actually fixing the plate to the wall you will need to attach the section of pipe (normally flexi pvc) that runs through the wall to the mount. The fixings to do so should be supplied with the kit, if not, a large zip tie will do the trick. Just make sure it's done up tight and that the pipe is securely gripped.
Thread the pipe through the wall to the outside and pop the plate back up on the wall and screw it into place.
Now head outside and repeat the above for the external plate, but this time you will need to pull the pipe as taught as possible and trim off any excess before fixing to the external plate.
If the pipe is too slack then it will affect the efficiency of the extraction process and could cause a buildup of mould.
You won't physically be able to get it taught enough to pull out all of the folds but get it as stretched as you can.
Get the Power Supply in Place
The final job before actually getting everything fixed in place is to get a power supply in place for the hood fan and light.
Essentially this can be done one of two different ways:
Fused Spur: A spur is taken off of a nearby lighting or socket circuit using a junction box to provide power. If using this method, it will need to be proceeded by a fused unit with a 3amp fuse e.g. Existing circuit > Junction Box > Fused Spur > Power to Hood
Plug and Socket: A new socket can be spurred off of the existing circuit via a junction box and placed within the top ducting area or loft if the duct runs up to the ceiling. A 3-pin plug is then fixed to the hood, that features a 3amp fuse which is then plugged into the socket
Either of the 2 options above should be fine, so it really comes down to which is the most convenient, but in most cases, the fused spur option will probably be the one to go for.
If you have good access within your loft area, then locating a power supply to spur from should not be an issue.
When it comes to the actual electrical work itself, before you do any work what so ever, make sure that any circuits you are working in are isolated and not live! More information on working with electricity safely can be found in our electrical safety project here.
In technical terms, what you will be doing is creating a "spur socket". This is a new socket that runs off of an existing circuit.
For a full explanation of how to wire a spur socket, see our project page here and also check out our project on radial circuits as this also explains the process.
It is important that you read the two projects above, as together they run through the correct and safe procedure for getting the power supply prepared for your new hood.
One point to note is that as we are only powering a light and a relatively low power fan, we can safely use 1mm or 1.5mm flat cable
In the event that you do not have a hood that runs all the way up to the ceiling, having an unsightly wire flapping around in the empty space may be rather less than desirable.
If this is the case then it's a good idea to chase the wire into the wall and hide it. As we have already made a mess by chopping a great hole in the wall, now's the ideal time to make a little more.
This process involves cutting a small channel (about 20mm wide and 10-15mm deep) in the wall that the wire will run down. Once the wire is in place, the channel is filled in with a simple filler or cement mix that then hides the wire from sight.
For a full explanation of the rules and steps involved in cutting and filling a chase, see our project here.
Fix the Hood and Ducting into Place
With the vent hole drilled, power in place and fixings all ready, it's now time to get the hood and ducting on the wall.
Give your second pair of hands a shout for some help again and between you, get the hood and duct section up in place on the wall, aligned with your fixing points.
If your particular cooker hood features a hanging bracket setup in terms of the fixings, hang the fixing points of the hood on to the brackets. This will now provide some support while you get the additional fixings secured.
Start with those fixings on or nearest the actual hood section and get these secured to provide some support to the base area and then get any others secured. Your hood and bottom section of duct should now be fixed securely in place.
Next, connect up your power wire to the hood in accordance to the manufacturers instructions. Again, before you do anything, make sure the power to the circuit your working on is isolated and your new wire is not live!
With the power connected, turn the circuit on at the point of isolation (at the consumer unit or fuse box) and test both the fan and the light to make sure they both work as expected.
Connect Hood Duct to Internal Vent Plate
We're almost there now, not much left to do.
One of the final jobs is to connect the top of the hood duct to the inner vent plate.
Both should feature a 100mm (4 inch) circular aperture that is designed to take 100mm PVC or aluminium ducting. If you can, go for the PVC type as this is a little less prone to tearing than the aluminium, plus the aluminium tends to create an echo effect within the pipe when the fan is running, creating unnecessary noise.
As we did above, secure one end of the duct to the top of the hood using cable ties and run the rest of the pipe up to the connection on the inner wall plate.
As before, get the pipe as taught as possible, removing as many creases as possible and then secure it to the inner wall plate.
Before moving on to our final task, just check the joins to make sure they are secure and do not move.
Get the Top Duct Cover in Place
Depending on who manufactured your particular hood will depend on how the top cover is mounted.
You should have the brackets or fixings already in place from the steps above, but if not, now is the time to get them on the wall. Refer to the manufacturer instructions for how this should be done if they are unique to the hood itself.
Your centre lines should already be in place on the wall so use these to find any centre points.
In most cases the top cover section of your cooker hood should slip over the bottom section with a bit of an overlap. This is to allow you a little height adjustment to compensate for the many differing ceiling heights.
With some systems, the top section will in fact slide down inside the bottom section, this is something to be aware of. Check your instructions for exactly how it should fit together.
When getting the cover in place, just be careful not to slide it up and down the bottom section as this can cause scratches and marks and if it's stainless steel, you'll never get these out.
With the cover in place, make sure it's sitting on any brackets or mounts correctly and then secure it to the wall.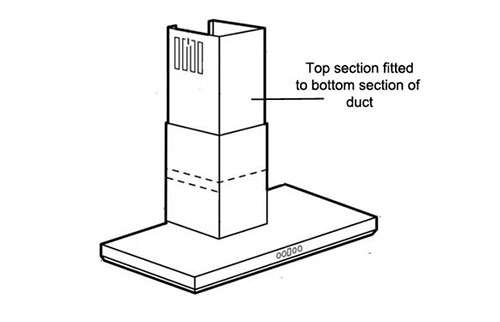 You should now be pretty much done. Just run the fan on all the different settings or speeds to make sure it's working as it should and finally test the light again.
Installing a cooker hood and ventilation ducting is a relatively straight forward job as long as you take your time and plan everything out.
As we have mentioned, ensure you stay safe at all times when working with electricity, see our project above for more help and advice.