Warning: To complete electrical works you must comply with Electrical Regulations. Click here for more information.
There are two distinct types of shaver socket, one with a transformer to low voltage for use in bathrooms and the other without a transformer which may be placed in any other area of the home, typically a bedroom. Shaver sockets are available as separate units and are also available as part of a multi-functional unit, such as a light and also an illuminated mirror.
Shaver sockets without transformers should not be used in a wet area such as a shower room or bathroom. When choosing a shaver socket for a bathroom, look for the British Standard BS3535. Both types of shaver socket should be connected through an FCU or Fused Connection Unit, with the lowest fuse rating e.g. 3 amp.
Fused Connection Units can be switched, un-switched and another type incorporates the flex which is fed out from the face of the box. Usually FCUs will be mounted onto a junction box and they can also be added to a ring main or to a spur, as part of the ring main. The manufacturer's installation instructions must be followed carefully, especially if the unit is required to be earthed. In certain situations, it is possible to add a shaver socket to the lighting circuit of the room; however it is probably best to consult with a qualified electrician before attempting this, especially in a bathroom situation.
Using electrical equipment in bath or shower rooms has always needed great care to ensure safety. The IEE Wiring Regulations (16th Edition) identified particular Zones within the bathroom to indicate what type of electrical equipment that can be installed, within each Zone. The Zones have now been updated by the 17th Edition of the IEE Wiring Regulations.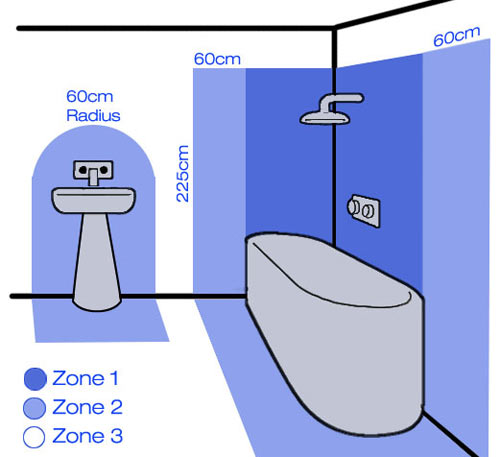 Zone 0 – the interior of the bath or shower which can hold water
Zone 1 – the area directly above zone 0, limited vertically to 2.25m above the bottom of the bath or shower, also 1.2m horizontally from the centre of a shower outlet to the height of the outlet, or 2.25m whichever is the higher
Zone 2 – the area beyond zones 0 and 1, 0.6m horizontally and up to 2.25m vertically. Zone 2 also includes any recessed window with a sill next to the bath
Providing the Shaver socket is reduced to 110V it should go in zone 2 or preferably, zone 3, never in zone 1. There should be no 240V sockets in the bathroom at all.
Dual Voltage shaver sockets are also available and have the advantage that they can be used for 240 volt or 115 volt appliances. Some electric toothbrushes have charging units with a 2-pin plug, suitable for use in a shaver socket, so the socket can be used for them also. Ideally look for a model with double wound isolating transformer, integral overload protection and shutters for safety. This example requires a standard 2 gang 47mm back box.
The actual installation of units like this is fairly straightforward. Work should be carried out only by a qualified electrician. The unit should be earthed. Once the mounting box has been correctly installed, the supply terminals situated below the cover should be loosened and the incoming cables should be connected to the terminals as shown in the diagram below: the live (brown and red) to the left hand terminal, marked L and the neutral (blue or black) to the right hand terminal N. The earth cable (green or green/yellow) should be connected to the earth terminal, tap left of transformer, marked E. The shaver unit can then be fitted to the mounting box with the screws provided. The mains supply can then be switched on again.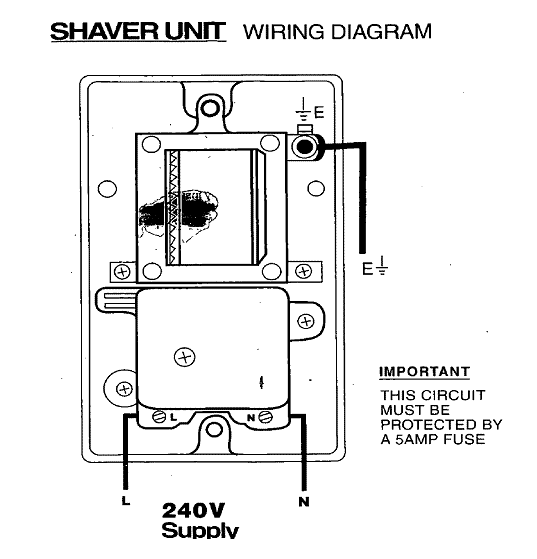 Reader comment: Steve contacted us with this valid point, which we thought would be useful to share with you:
The transformers in shaver sockets are not to provide low voltages (although, they are of course used to produce 110V). The transformer is there to provide electrical isolation from the mains (older shaver sockets offering 110V used an autotransformer, with a centre tap on a single winding and should never be re-used on a new installation as they provide no mains isolation). So people should be very careful of those. In general, if it fits into a single pattress box it's an old type (and they do not provide any mains isolation).