In times past a shaver socket was a staple feature in almost all bathrooms as pretty much all electric shavers needed to be mains powered.
Today with the huge leaps in battery technology that have occured over the past 20 or 30 years they are less common as today, most electric shavers are cordless and rechargable.
Never the less, rechargeable batteries also need to be recharged somehow so at some point even a cordless rechargable shaver needs to be plugged into the mains.
Due to this, shaver sockets in bathrooms are still a fairly common feature, but as opposed to just bathrooms they can now be located anywhere in the home, more often than not, also on bedrooms.
In this DIY how-to guide we will show you how to install a shaver socket in any room in your home.
NOTE: In Wales and England, installing a shaver socket is notifiable works as stated by Part P of the Building Regulations, so will need to be done by a Part P registered Electrician.
Warning: To complete electrical works you must comply with Electrical Regulations. Click here for more information.
Different Types of Shaver Socket
There are two distinct types of shaver socket, one with a transformer to low voltage for use in bathrooms and the other without a transformer which may be placed in any other area of the home, typically a bedroom.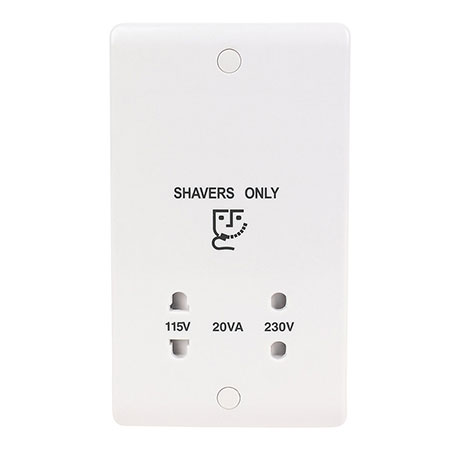 Shaver sockets without transformers should not be used in a wet area such as a shower room or bathroom under any such circumstances, these are only to be used in other rooms outside the bathroom.
When choosing a shaver socket for a bathroom, look for the British Standard BS3535 mark (this is the specification for industrial and domestic safety isolating transformers) to ensure it's designed specifically for the job.
When purchasing a shaver socket always refer to the manufacturers specifications for voltage output and the location it can be installed in.
Dual Voltage shaver sockets (such as the one in the above image) are also available and have the advantage that they can be used for 240 volt or 110/115 volt appliances.
Some electric toothbrushes have charging units with a 2-pin plug and are spcifically designed for use in a shaver socket, so the socket can be used for them also.
Ideally look for a model with double wound isolating transformer, integral overload protection and shutters on the plug inlets for safety.
These types of shaver sockets require a standard 2 gang 47mm back box.
Shaver sockets are available as separate units in their own right and are also available as part of a multi-functional unit normally featuring a light or an illuminated mirror.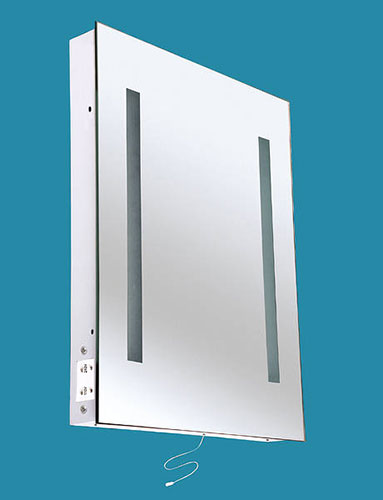 Should a Shaver Socket be Connected to a Fused Connection?
In short, yes, a shaver socket should always be connected using an FCU (fused connection unit). Shaver sockets without transformers should not be used in a wet area such as a shower room or bathroom. When choosing a shaver socket for a bathroom as mentioned, look for the British Standard BS3535 as this will confirm it is safe to use.
Both types of shaver socket should be connected through an FCU or Fused Connection Unit, with the lowest fuse rating e.g. 3 amp.
Fused Connection Units can either be switched, un-switched or the type that incorporates the flex which is fed out from the face of the box.
One final point to confirm is that the supply to a shaver socket will always have to be RCD protected. In most cases if you are running a supply from an existing lighting or socket circuit (more on this below) then both of these circuits should be RCD protected.
However depending on the age of the property and how it's wired, this may not be the case for the lighting circuit so you will need to confirm this.
Where can I Install a Shaver Socket in a Bathroom?
Using electrical equipment in bath or shower rooms has always needed great care to ensure safety due to the obvious risks of mixing water and electricity.
With this in mind the building regulations, the 17th Edition of the IEE Wiring Regulations and 18th Edition Wiring Regulations (Section 8.1, 18th edition on-site guide) all state specific "Zones" in which appliances such as shaver sockets can be installed, see image below.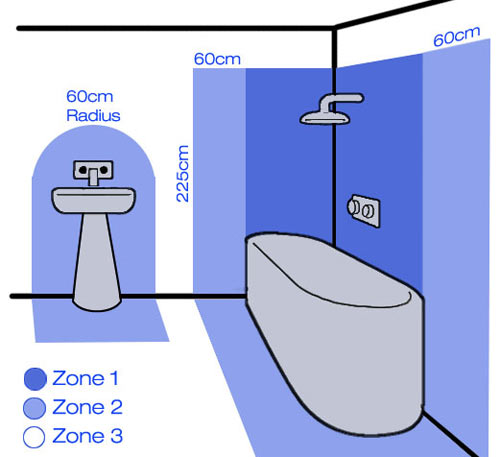 Zone 0 – the interior of the bath or shower which can hold water. No applances should be installed here period!
Zone 1 – the area directly above zone 0, limited vertically to 2.25m above the bottom of the bath or shower, also 1.2m horizontally from the centre of a shower outlet to the height of the outlet, or 2.25m whichever is the higher
Zone 2 – the area beyond zones 0 and 1, 0.6m horizontally and up to 2.25m vertically. Zone 2 also includes any recessed window with a sill next to the bath and also around the wash basin
Outside Zones – The areas outside of zone 0, zone 1 and zone 2
Providing the Shaver socket is reduced to 110V it should go in zone 2 or preferably, zone 3, never in zone 1. Also it's worthy to note that there should be no 240V sockets in the bathroom at all.
Where you can only install in zone 2 ensure that the you place your shaver socket as far away from any water sources as possible to reduce any chance of splashing. Although all shaver sockets have splash guards on the plug outlets, it's essential to minimise any risks as much as possible.
Different Methods of Wiring a Shaver Socket
In terms of wiring up a shaver socket there are two different routes that you can go down:
Existing lighting circuit: Taking a feed wire from the bathroom lighting circuit to connect to shaver socket. This is generally the most popular method as an existing ligting circuit should be present in most bathrooms
Existing socket circuit: A feed wire is taken from an existing socket circuit and then run to an FCU. A feed is then taken from the FCU to the shaver socket
Wiring a Shaver Socket From a Lighting Circuit
In certain situations, it is possible to add a shaver socket to an existing lighting circuit in the room; however to be sure this is safe to do it is probably best to consult with a qualified electrician, especially in a bathroom situation.
In this scenario a 1mm twin and earth (T&E) cable is run from the loop in in the ceiling rose down to the location of the shaver socket.
For this, in the majority of cases, a cable is run out of the top of the ceiling rose (in eth loft if possible where access is better) out to the wall where the socket will be installed.
A "chase" (see out project on cutting chases here for more information) is then down into the wall in a straight vertical line down to the location of the shaver socket.
The wire is then set into the wall and capped with protective sleeving and then the chase is filled, smoothed off and the either painted or tiled over.
As mentioned the cable should be run vertically in a straight line down to the socket inline with the safety zones for electrical cables rules.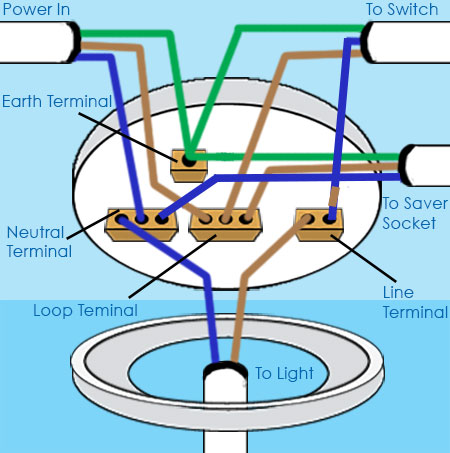 Note: Your particular wiring setup may differ from the above and should always be checked by a qualified professional electrician!
Wiring a Shaver Socket From a Ring Main or Ring Final Circuit (socket circuit)
One other method of wiring up a shaver socket is to run an electrical feed from an existing socket circuit or ring main/ring final circuit.
As socket circuits tend to carry more current than the lighting circuit mentioned above you can't simple run a wire from from a socket straight to your shaver socket, as we have stated above you will need a fused connection unit (FCU) between the two.
The fused connection unit or FCU features a replacable fuse that, in the event of any issues will blow and cut power to the shaver socket. As mentioned above, the fuse itself should be a 3 amp fuse and the FCU should be placed outside of the bathroom if fitting your shaver socket in a bathroom.
In terms of wiring, the cable running form the existing socket circuit to the FCU should be 2.5mm twin and earth and the cable from the FCU to the shaver socket should be 1mm twin and earth.
When it comes to fitting a shaver socket, usually FCUs will be mounted onto a back box that is chased into the wall. As they are fairly deep this will in most cases need to be a 47mm back box. The manufacturer's installation instructions must be followed carefully, especially if the unit is required to be earthed.
How to Install a Shaver Socket
Now that we have looked at whats involved in wiring up a shaver socket, what different types of shaver socket there are and whereabouts they can be installed, lets see actually how they are installed.
1. Locate a Suitable Electrical Supply
The first job is to locate a suitable electrical feed to power the shaver socket. Depending on which room you are installing in will depend on how much of a job this is.
If you are installing in a downstairs bathroom on a wall with a socket or light switch on eth oposite side of the wall then in most cases it's possible to take a feed from here.
If no supplies are this conveiniently placed then it may be that you have to take up some floorboards in an above room and run your supply from here.
However if you are installing in an upstairs then you may be able to locate a suitable supply in the loft. This is often the easiest route as everyting should be much more accessible.
Once a suitable supply has been found the next task is to isolate the supply to the circuit you are using! If in any doubt, turn off the power to the whole house to be on the safe side.
As previously mentioned, if you are sing a lighting circuit make sure it's RCD protected. If it isn't then you can't use it.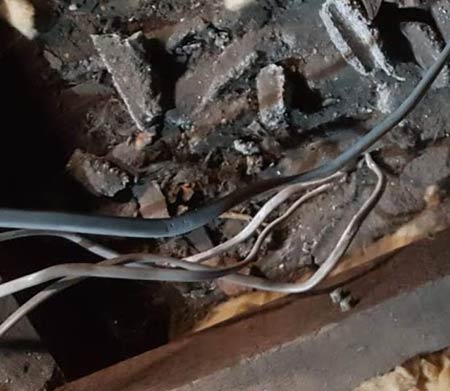 2. Choose Suitable Path for Electrical Supply Cable
With the supply located the next job is to mark out a suitable path to run the cable from the supply to the shaver socket.
Again, this will depend on the supply location, whether the installation room is a ground or first floor room, the wall type (brick, block or stud) etc. In the majority of cases the best route will be the most direct route.
One point to note is that if you are installing an FCU then you will need to run from the supply to the FCU and then from the FCU to the shaver socket. In most instances the FCU is installed around the doorway somewhere, normally above it.
In the majority of cases the supply cable is run from the point of supply out to a wall and then down through the ceiling into a chase that runs down to the shaver socket.
As we have mentioned above, when running down a wall to a power supply unit such as this the cable will need to run vertically down in a straight line to comply with regulations.
Once the cable route has been mapped run the correct sized cable is then run from the supply location to the shaver socket location (via FCU if required).
The cable is then normally capped (covered with a protective upvc capping) or run through soem upvc trunking/pipe to protect it and hold it in place in the chase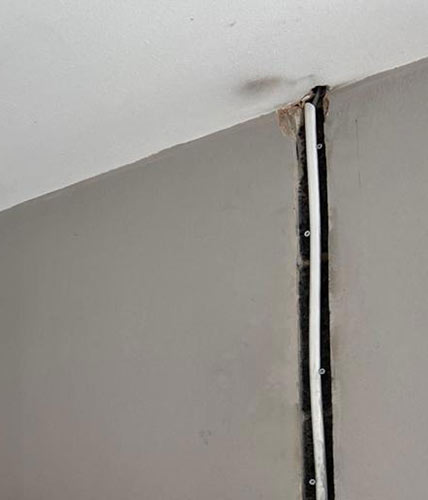 3. Install Fused Connection Unit (FCU)
In this guide we are pulling our supply from a lighting circuit so we don't need to install an FCU, but when using a socket circuit this is mandatory.
If an FCU is required, run a 2.5mm twin and earth cable form the supply point to the FCU. If you are chasing cables then you can run the supply feed cable down the chase from above and then the shaver supply back up the chase and out to the shaver socket.
4. Run Supply Cable to Shaver Socket Location
In this example here we are using an existing lighting circuit so a 1mm twin and earth cable is run out from the top of the ceiling rose, down through the ceiling and down a chase that was cut into the wall.
The cable was then secured in place using upvc capping to not only hold it but also protect it from any damage that might from any potential future work.
Once in place the cable was then tested to ensure there were no breaks etc. This is a necessary step as once the cable is filled over it's a nightmare to have to dig it all out if it's damaged.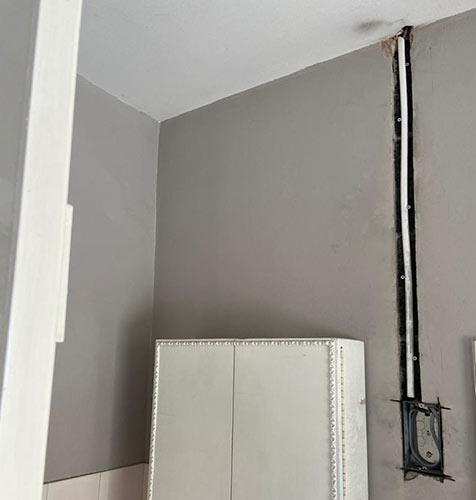 5. Install Back Box
To ensure that the shaver socket face plate is fixed securely in place a back box will need to be fixed into the wall so that it can be screwed to the front. As we have stated above this will need to be a 47mm deep back box to take the depth of the back of the shaver socket face plate.
Due to its depth this will also need to be chased into the wall so that it is flush with the outer surface of the wall. Once the chase for the back box has been cut out using either a chasing machine of hammer and bolster, test fit the back box to ensure it fits.
Before fixing the back box in place, knock or push out one of the blanks where the cable will come in and then fit a grommet. This will prevent the cable from chafing on the metal and wearing through the insulating outer sleeve.
Once fitting correctly pull the end of the cable through the blank hole and then mark and drill the fixing holes in the back of the back box, insert some wall plugs and screw the back box into the chase hole.
6. Making Good
With the cable in place and back box fixed one of the final jobs now is to make good any damage e.g. fix around the back box and also fill in the cable chase.
For this you can use patching or bonding plaster or some good quality filler.
Fill all areas of the chase and any gaps around the back box ensuring there are no voids or air pockets using a trowel or filling knife and then level off to the surface of the wall.
Allow your filler of patching plaster to fully cure as stated by the manufacturers guidelines and then sand it back so that it is smooth.
7. Connect Shaver Socket to Supply
With everything tidied up and all gaps filled the shaver socket face plate is then fitted.
This is a fairly straight forward job and involves connecting the yellow and green earth wire to the earth, the blue neutral wire to the neutral and finally the brown live wire to the live on the back of the socket (more information on cable colours can be found in our cable colours project here).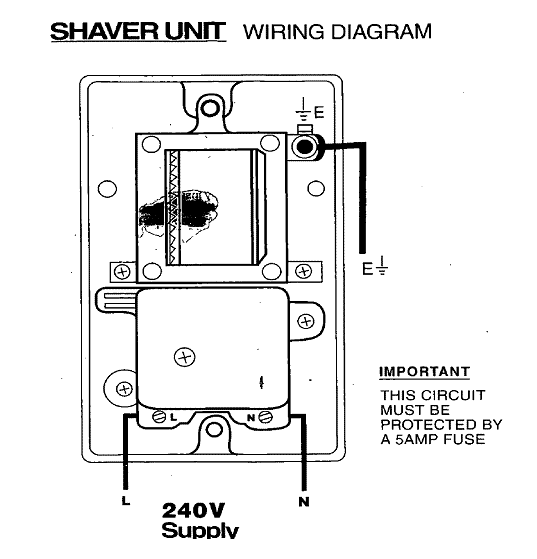 When securing wires ensure that the retaining screw that holds the wire in place is tightened fully and that it has plenty of bare wire to clamp down on to.
Once all the wires have been connected pop the shaver socket on to the back box and fix it in place using the screws provided.
8. Test and Inspect Shaver Socket
As fitting a shaver socket is notifiable works under the Part P regulations it needs to be fully tested and signed off by a Part P registered electrician or "competant person".
Once fully tested to ensure both the socket itself and all the associated wiring is safe then the work is fully signed off.
Reader comment: Steve contacted us with this valid point, which we thought would be useful to share with you:
The transformers in shaver sockets are not to provide low voltages (although, they are of course used to produce 110V). The transformer is there to provide electrical isolation from the mains (older shaver sockets offering 110V used an autotransformer, with a centre tap on a single winding and should never be re-used on a new installation as they provide no mains isolation). So people should be very careful of those. In general, if it fits into a single pattress box it's an old type (and they do not provide any mains isolation).
Fitting a shaver socket is a fairly straight forward job but it must be done by someone with the correct knowledeg and qualifications to fully test the system and also ensure it is instaled in the correct location and any cabling must also be run correctly.