(Building regulations are not the same as planning permission)
WHAT ARE THEY?- This project is an overview of the Building Regulations. For information and an explanation of each individual regulation please see the appropriate project.
All building work has to comply with the building regulations, which are part of the Building Act 1984 (Amended by the building regulations act 1991). These regulations stipulate the precise method of constructing a building in, at the moment, 13 different areas of construction. The regulations are updated, amended or changed from time to time and your builder should be conversant with the changes, via the architect. The regulations only affect the new work being undertaken when done as an addition to an existing building or on a "stand alone" basis. It is not necessary to bring any existing structure into line with the current regulations unless stipulated by the local authority.
There is a legal requirement for all new building work to comply with building regulations and even when no planning permission is needed, building regulations may be. You can get this advice from your Local Authority.
Where building regulations have to be complied with, the "Building Control" office of your local council will appoint an officer (BCO- Building Control Officer) to inspect the work at regular intervals to make sure it complies.
It is also possible to arrange with the NHBC (National House Building Council), who are licensed to inspect building control, to do the same job. The NHBC also operate a 10 year guarantee on the work they approve.
The costs of the above will depend on the work involved.
Please note with all of the above it is important to contact your local council to make sure you comply with your obligations.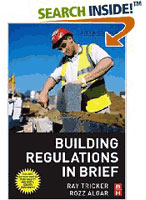 The book on the left gives an easy to understand insight into the building regulations. You can buy the book by clicking on it and if you want to look at the contents, click on the search this book link - Search this book:
The building regulations come in booklet form and can be purchased from Her Majesties Stationary Office:
HMSO Publications Centre: PO Box 276 London. SW8 5DT……………Mail, Fax and Telephone orders only.
TEL ORDERS: 0171 873 9090, FAX ORDERS: 0171 873 8200
GENERAL ENQUIRIES: 0171 873 0011
HMSO also has a number of official bookstores from which the regs can be purchased. Use the general enquiries helpline for the location of these.
LATEST BUILDING REGULATIONS AND AMENDMENTS:
Approved Documents
Please be sure to check on the Government Planning Portal website for updates to any Building Regulations before commencing work.
For convenience, the most recent versions of the Approved Documents (see also legal status) for the fourteen technical "Parts" of the Building Regulations' requirements are accessible from the details contained on this page. For previous versions and related documents please navigate using the list of Parts to the left.
Part A - Approved Document A - Structure (2004 edition)
Part B - Approved Document B - Fire safety (2000 edition consolidated with 2000 and 2002 amendments)
Part C - Approved Document C - Site preparation and resistance to contaminates and moisture (2004 edition)
Part D - Approved Document D - Toxic substances (1992 edition)
Part E - Approved Document E - Resistance to the passage of sound (2003 edition)
Part F - Approved Document F - Ventilation(2006 edition)
Part G - Approved document G - Hygiene (1992 edition)
Part H - Approved document H - drainage and waste disposal (2002 edition)
Part J - Approved document J - Heat producing appliances (1992 edition)
Part K - Approved document K - Protection from falling collision and impact (1998 edition)
Part L - Dwellings - Approved Document L1A: Conservation of fuel and power (New dwellings) (2006 edition). Approved Document L1B: Conservation of fuel and power (Existing dwellings) (2006 edition)
Part L - Buildings other than dwellings - Approved Document L2A: Conservation of fuel and power (New buildings other than dwellings) (2006 edition). Approved Document L2B: Conservation of fuel and power (Existing buildings other than dwellings) (2006 edition)
Part M - Approved document M - Access to and Use of Buildings (2004 edition)
Part N - Approved document N - Glazing (1998 edition)
Part P - Approved document P - Electrical safety (2006 edition)
Regulation 7 - Approved Document for Regulation 7 (1992 edition)
PLEASE SEE OUR PROJECT ON PART P BUILDING REGULATIONS FOR INFORMATION ON DIY ELECTRICAL INSTALLATIONS.