How to Choose the Best Shower Pump for Your Home
It may be a small thing in the greater scheme of life's problems, but a shower that doesn't have enough power behind it is pretty annoying. It's usually due to poor water pressure, and the best solution to improve this is to install a shower pump.
Shower pumps are suitable for many homes, but finding one that's compatible with your heating system can often be difficult.
Shower pumps cannot be used with a combi boiler – instead look for pumps that boost the pressure for the whole house.
If you have a conventional boiler with a cold water tank in the loft and a hot water cylinder, you can use a shower pump to boost your shower water pressure; however you will need to install a different type of pump depending on where your shower is in relation to your cold water storage tank. If the distance between the base of your cistern tank and your shower head is 500mm or more vertically, you need a positive head pump. If it's less than this or above the tank, you'll need a negative head version which is able to raise water from the tank to deliver it to the shower head.
A positive pump needs a flow rate of at least 0.6 litres a minute and relies on gravity to start the impellers to pump hot and cold water. A negative shower head pump works by sucking water from the tank to the shower and is the best choice for when the shower head is at the same level or higher than the water tank. This can be used in loft conversions, for example.
If you have more than one shower, you also may need to look at more powerful shower pumps. A standard 1.0 bar pump offers a low level of boost, but there are 2.0 and 3.0 bar versions available if you need more pressure.
You'll also need to decide if you need a single or double pump. A single pump only boosts one side of the supply – usually the hot, as the cold will be at mains pressure. However, if you suffer from low pressure throughout the house, then you may need to boost the cold side too with a double pump.
Once you have found the perfect pump for your home, this will solve the problem of low pressure but it may create a new problem, a noisy shower pump. If you are struggling with a noisy shower pump, the pump specialist team at Anchor Pumps recommend the following three shower pump models that stand out for their combination of high performance and low noise levels:
The Stuart Turner Monsoon Pump Range
Stuart Turner pumps se low voltage, brass bodied pumps with anti-vibration feet to guarantee minimal noise. There is also the Monsoon Extra range which is designed for whole house solutions for larger homes and small commercial solutions. Generally, the Monsoon range is the most popular as it is designed to boost the water pressure for a range of applications from a single tap or power shower to a complete bathroom or the whole property. The range includes both twin (for both hot and cold) and single pumps (for only one, more commonly hot). They are generally sold with a 5 year manufacturers guarantee and have noise levels starting from 50 dB.
Stuart Turner are a British company based in Henley-upon Thames.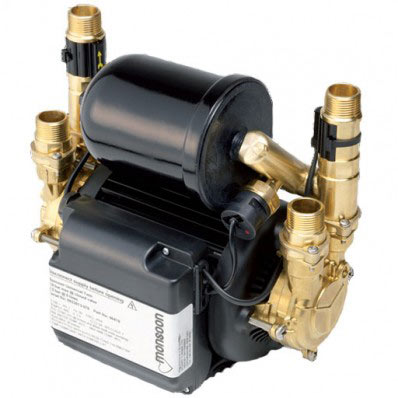 The Salamander CT Force Range
One of the quietest pumps on the market, Salamander has a reputation for producing quiet pumps in general, but this particular model includes noise vibration reduction technology. This is a very popular pump among plumbers; they are very similar in performance to the Stuart Turner Monsoon range. In the CT range, Salamander make a range of pumps which will be suitable for single showers or for the whole home. Their noise levels are similar being in the 50 dB range, rising to over 60dB for their CT Xtra range. As you would expect, this range includes both single and twin pumps with various pressure ratings.
Salamander are another British company based in Sunderland, Tyne and Wear.
The Grundfos Amazon Range
This range represents probably the quietest of the Grundfos pump range. Known for their performance and reliability, the Grundfos Amazon range uses both low-noise motors and anti-vibration feet to deliver minimal noise output. With very similar performance statistics to both the CT and the Monsoon pumps, the Amazon range offers a sound alternative. Like the other there are various pressure models in the range which come in single and twin versions.
Grundfos is a massive Danish company which employees over 18,000 people.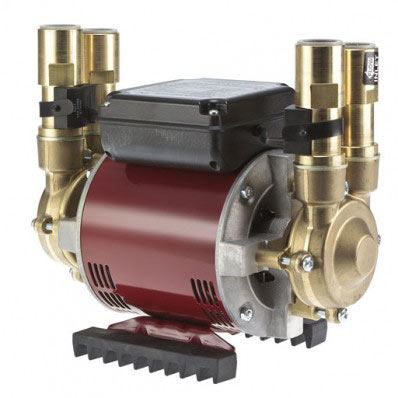 For more information about fitting a shower pump to make a power shower, have a look at our project describing how you should do it