Air Bricks in a Cavity Wall
DIY Doctor has been spending time re-writing some of our projects and the one on air bricks has been republished with lots more information including what air bricks are for, and why you should look after your air bricks to make sure they are providing enough ventilation.
Below are some of the questions we deal with in this new project A Guide to Air Brick Installation and Maintenance to Prevent Condensation and Dry Rot to Timber Floors
Fitting Air Bricks in a Cavity Wall
You will need to fit an air duct to ensure the air travels straight under the floor from outside and doesn't disappear into the cavity wall. These are special telescopic ducts you can fit, to make sure you get proper ventilation and avoid problems with your floor timbers. . . Read more in our Air Brick DIY Doctor Project on the main website.
My Air Bricks are below ground level
If your external ground level has build up over time you will need to fit a special Z-shaped duct to make sure that you continue to get sufficient airflow under the floorboards for your suspended timber floor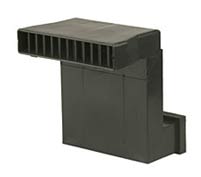 See how to fit a Z shaped sleeve to combat rising garden levels in old houses in our Air Brick Project, click on any of the images to read more.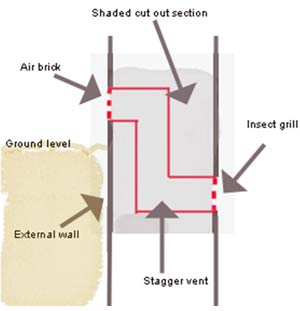 My New Extension will block the existing air vents
Our Air brick project tells you how to get over this problem – and here is a quick illustration.

If you are planning an extension have you tried our free Price Doctor software, which allows you to calculate the cost of your extension, and you can upgrade to get material lists and workplans.