Warning: To complete electrical works you must comply with Electrical Regulations – Click here for more information.
Please also see our project on the New Wiring and Cable Colours.
Make sure the power is turned off and any circuits you are working on are completely isolated. See our electrical safety project.
If you need extra sockets in a new room or turn an old room into an office, it may not be possible to add extra sockets from your existing ring main.
It is not particularly difficult to extend a ring main but you must remember that certain rules apply about the floor area and length of cable one ring main may serve and use. These rules can be found in our ring main project. These rules apply to spurs also.
The diagrammes below show how you can break into a ring main with junction boxes to extend it. There is no set limit to the number of sockets on a ring main as long as you stay within the rules mentioned above.
Obviously you will not want to have surface cables all over the place so remember if you place new cables in any floor, roof or ceiling void they must not be covered in insulation which will make them too hot and if they are buried in the wall they must be in a protective conduit and only run vertically from above or below the sockets. Socket and switch plates in plastic stainless steel and brass can be bought by clicking on the banner above or below.
The first image shows a simple ring main to and from the consumer unit

The image below shows the main extended via 2 new 30 amp junction boxes.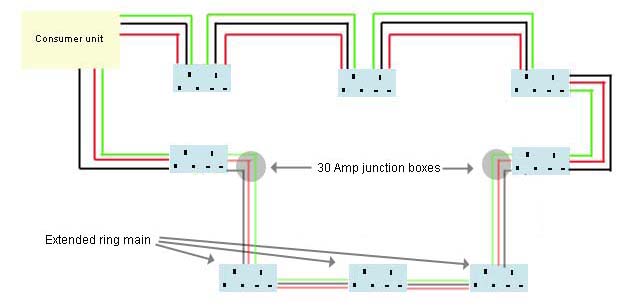 Please also check the rules very carefully for ring mains and radial circuits. You are limited in the length of cable you are allowed to use in both circuits and long spurs could make you exceed the limit.
If this is the case you are asking the circuit to use much more energy than the circuit is designed for. More energy = more heat and cables can catch fire. Part P of the new building regulations could involve a check on any additional circuitry by qualified electricians when you sell your home.
This can affect your sale, you could be breaking the law and your house insurance may not be valid. Please be absolutely sure you know what you are doing and get all of your work checked by a qualified electrician.
For regulations governing heights of sockets etc, please click here.