If you have wooden stairs, a painted finish can give you a nice, clean, old-fashioned look. Whether you've just removed an old carpet or you're just refreshing an old paint-job, our guide below has everything you need to know.
What Will I Need To Paint Stairs?
We'll start by assuming the stairs are plain wood, that any carpet or other covering has been removed. You'll need to sand the stairs. If there is old paint or the surface is a bit rough, you'll need an 80-grit sandpaper first of all, followed by a fine sandpaper to smooth it ready for painting. You'll also need detergent for cleaning the wood down.
Of course, you'll need a hard-wearing paint for your stairs. An primer is advised – buy a wood primer and make sure it is suitable for the type of paint you are planning to use. When it comes to paint for stairs, floor paint is the most suitable – it is very hard-wearing, cleanable and resistant to stains. Floor paints are available in a variety of colours, make sure you choose one that is suitable for wood floors.
It's worth investing in a good quality brush to use on your stairs – it will make painting the edges much easier and shouldn't leave as many brush marks.
Preparation For Painting Wooden Stairs
If you've removed the carpet from your stairs, make sure there are no nails or staples left. You're going to need a few days to complete this job between sanding, cleaning, and various coats of paint, so try to make sure the stairs will be used as little as possible during this time – especially while the paint is drying!
Sand the stairs with the rough sandpaper, removing any old paint and making the boards smooth and level. A mouse sander will make this job easier and enable you to get into all the corners. Make sure you do the risers as well as the treads. Then go over it with the finer sandpaper, making the surface nice and smooth.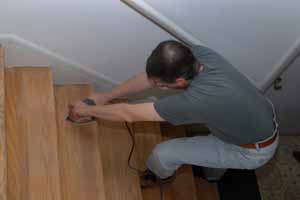 Once you've finished sanding, give the stairs a really good clean to remove any dust and grease. Use a cleaning detergent diluted with water, and rinse with clean water afterwards. Let the wood dry out completely after you've washed it – this might take a day or two.
Painting Wooden Stairs
Paint the stairs with your primer first. This will give the floor paint something to adhere to and stop the paint from just soaking into the wood. Allow the primer to dry, then give it a quick sand with a fine sandpaper to smooth it down. Wipe off any dust, then start on your top coat.
Paint carefully trying to keep it smooth and make sure there are no drips down the risers. Don't be tempted to slap on a really thick coat – the paint will last much longer if you paint multiple thin coats than one thick coat.
Check on the paint tin for drying times between coats, and once the last coat is on leave for 24 hours if possible before walking on the stairs – the longer you leave it to dry, the stronger the paint will be.
Painting Styles For Woolden Stairs
You might choose to paint your stairs plain white, or you might decide to go for a bold statement and choose a strong colour. You could paint the risers and treads different colours, or you could use masking tape to mark out a pattern. Using different colours for the centre and edges, to give the effect of a carpet runner, is a stylish pattern to use. If you are using more than one colour, paint the lightest colour first, then wait for it to dry before using masking tape to mark your lines and paint the darker colour.