The amount of heat we lose from our homes, through poor insulation, is staggering. A huge 45% of all the heat lost comes straight out of the external walls. This is especially true of the 10 million homes in the Uk which do not have cavity walls.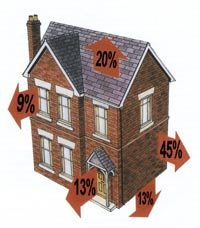 Much fuss (quite rightly) is made of Loft insulation, double glazing and low energy bulbs etc, but a colossal amount of heat is simply disappearing through the walls of older properties which were not built to the high insulative standards we have today.
At the moment the only protection against this loss is a 13mm layer of plaster and maybe two coats of paint or a sheet of wallpaper.
This is changing. With the introduction of a hugely scientific, yet easy to understand solution, even the worst DIYer can insulate their own walls (and floors and ceilings) in as much time as it takes to decorate.
The solution is a product called Sempatap Thermal. Sempatap Thermal is a 10mm "Magic Wallpaper" which, unlike the old rolls of polystyrene wall insulation, carries a fire rating of class M1. It's unique construction allows it to be redecorated, filled and even tiled. It has very high insulation ratings both in warmth and sound and it provides a very warm wall solution to condensation. There is even a type of Sempatap which is specifically designed for floors – Sempafloor.
Take a look at the images below to see just how much heat is lost through the walls. The camera does not lie!
Heat loss as seen through a heat seeking camera, is shown in yellow, orange and red and before Sempatap it is like throwing some of your salary straight in the waste bin when you get home.
Sempatap comes in rolls which are 1m wide and 12.5m long. They are applied just like wallpaper with a special Sempatap adhesive. Joints can be filled with decorators caulk and, when finished the walls can be decorated just as your original walls would be.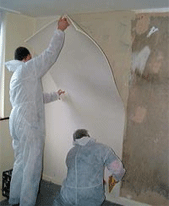 Wallpaper can be stripped from Sempatap walls, even with a steam stripper. Should you accidentally damage the fibreglass surface it can be made good easily with polyfiller or plaster. Sempatap has a life span longer than plasterboard and it can be stuck to ceilings as well. Not only will it keep you warm, but it will reduce noise considerably.
In certain parts of the country there are discounts available for the purchase of Sempatap.
DIY Doctor certainly recommends the use of Sempatap in any home suffering from heat loss. This product is a unique DIY way of saving a huge amount of money from your fuel bills every year while, at the same time, reducing the amount of energy used.
For more information on Sempatap application in your home visit our video section