Hand Tool Review of the Irwin Magnetic Drive Guide
The Irwin magnetic drive guide offers an ideal solution to the problems of putting screws in which are a little crooked because they shift a little on the screwdriver bit when you start to screw into the timber.
As the video shows, the strong magnet holds the screw firm onto the bit and the sliding cover keeps it straight as it drives into the wood.
In first fix carpentry work this is ideal as it allows for greater precision but with greater speed. For second fix carpentry work we would recommend drilling pilot holes and countersinking, or plugging, screw heads rather than driving them through the surface of the timber.
The screwdriver bit cannot slip off the head of the screw because the sliding case keeps it in position so the situation of a rogue bit scuffing across a surface and scratching it, is all but eliminated.
Most tradesmen, and many hobbyists, simply hold the screw in between their fingers when using a cordless driver. The screw is allowed to turn between the fingers while they keep it upright.
This has been known to cause quite a number of injuries as the screw has tilted, the bit slipped off and the end of the bit (still turning) has plunged down onto one or more fingers. The Irwin Magnetic Drive Guide stops this happening.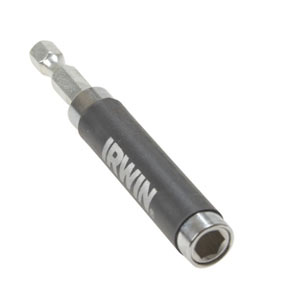 How the Irwin Magnetic Drive Guide Works
By using a very strong magnet in the drive guide, Irwin have managed to remove the problems associated with many other drive guides which is one of the screw falling out of the end of the guide the moment it is tilted ready for screwing. The guide itself is strong but light and there is little fear of buckling or inaccuracy.
As the screw is dragged into the timber by the thread, the guide is pushed up out of the way allowing the head of the screw to penetrate the surface of the wood.
With the driver torque set on the correct number, every screw can be placed to the correct depth without incident.
Features and Benefits of the Irwin Magnetic Drive Guide
Very strong magnet
Strong but light guide slide
Different lengths for different situations
Allows greater speed and accuracy when screwing into timber
If you would like to find out a bit more or even purchase this handy tool check out our DIY superstore.
The Doctor's Rating
Reviewed by: Mike Edwards

(4 out of 5 stars)